Has it snowed where you are today? It certainly has near Toyota GB HQ – in fact, it's beginning to look a lot like Christmas. As we all know, though, heavy snow and ice can create difficult conditions for road users.
For the staff of BEN's Birch Hill Residential Care Centre near Berwick-upon-Tweed, accessing the Centre via the surrounding country roads is vital, whether it's snowing or not. Thomas Rosselle, Head of CSR and Environmental Affairs for Toyota GB, understood their needs and came up with the perfect solution: a top-of-the-range Toyota RAV4, supplied on a complimentary, long-term loan.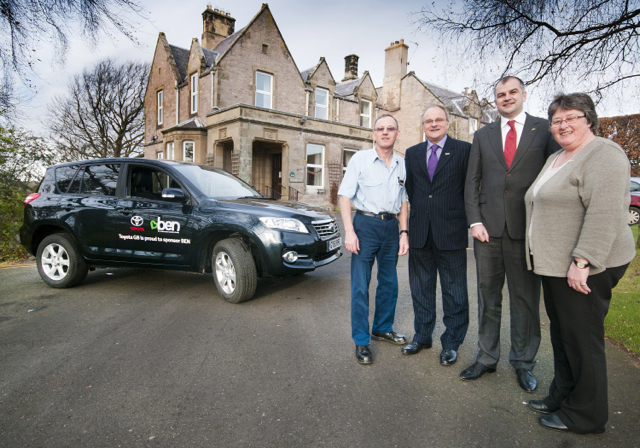 The 2.2-litre D-4D XT-R grade RAV4 is superbly equipped to deal with all weather conditions. The Active Torque Control AWD system automatically transfers torque between the front and rear wheels for optimum performance, while safety features such as ABS, Electronic Brakeforce Distribution, Brake Assist, Traction Control, Vehicle Stability Control + and Integrated Active Drive System provide added reassurance.
Thomas travelled to Birch Hill last week and saw for himself some of the work that BEN does. He said, "The day was a demonstration of the importance and the quality of the service provided by BEN and its passionate workforce. It was a pleasure to spend the day with them and their residents and we are just delighted that Toyota has been able to help them in this way."
Winter tyres can help keep you safe on the roads in cold weather conditions. They are available for a range of Toyota vehicles. To find out more about Toyota winter tyres, click here or visit your local Toyota Centre.