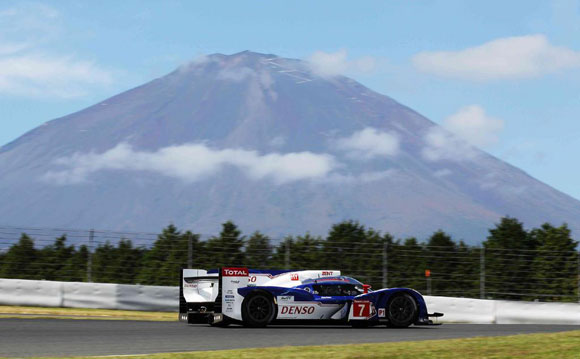 Toyota Racing has confirmed it will enter the 2013 FIA World Endurance Championship, including the Le Mans 24 Hours, with two TS030 Hybrid racers.
Entries were announced by the Automobile Club de l'Ouest at a press conference today in Paris. The team is entering the 2013 WEC with the aim of challenging for the championship and taking first place at the Le Mans 24 Hours.
Toyota Racing will retain the same driver line-up from the successful 2012 campaign, with Alex Wurz, Nicolas Lapierre and Kazuki Nakajima sharing the #7 car and Stéphane Sarrazin, Anthony Davidson and Sébastien Buemi in the #8. It had previously been rumoured that only one car would run for the entire season.
The TS030 Hybrid was entered into only six of the eight WEC races in 2012, but provided a genuine test to Audi by winning three races – in Sao Paolo, Shanghai and on home turf at the Fuji Speedway near Tokyo.
On top of the announcement of the 2013 entry, the team has already started developing a car that meets the regulations of the 2014 championship.
Toyota TS030 Hybrid – 2013 spec
Aiming to improve on last season's success, the Toyota TS030 Hybrid will receive an updated monocoque and aerodynamic package, taking advantage of the removal of the front hybrid motor.
Other measures will be taken to minimise the impact of the rule change-enforced 15kg minimum weight increase, while more interchangeable and serviceable parts such as illuminated number panels will be added to improve pitlane efficiency.
No major changes will be made to the hybrid powertrain.
More details about Toyota Racing's forthcoming season will be provided on 19 February, so stay tuned to the Toyota Blog!