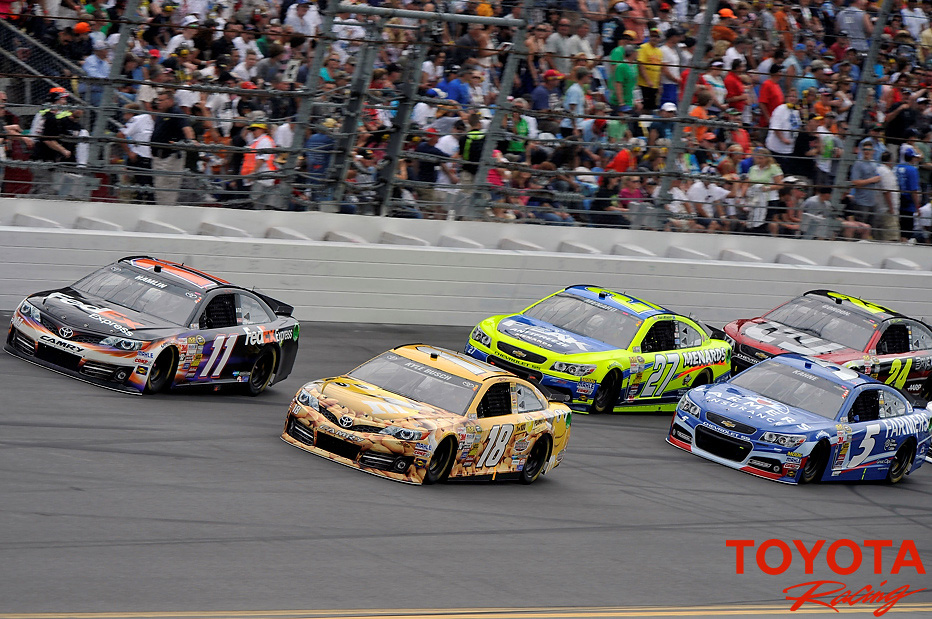 Toyota is aiming to celebrate its tenth anniversary of competition in the tough American NASCAR championship with a series win in 2014.
Toyota joined the legendary championship – run principally on banked ovals – in 2004 making history as the first manufacturer headquartered outside the U.S. to compete in the sport.
And while the company's reception on arrival has been described as "frosty" by some of those who were there at the time, the firm has gone on to become a respected competitor.
And the signs for success in this year's championship are good. Toyota has already opened the account with a second place result in the NASCAR Sprint Cup Series opener on Sunday 23rd February.
Driver Denny Hamlin brought his FedEx-sponsored Toyota Camry home in second place at a rain-delayed Daytona 500.
Powered by a 5.9-litre V8 engine, producing around 850bhp, The Camry is believed to be capable of a top speed in excess of 210mph. And though exact performance remains a secret, it's reckoned that the car is capable of sprinting from 0-60mph in less than 3 seconds.
It was Hamlin's best finish in the Daytona 500. His previous best result was a fourth-place finish in 2012.
"The race was intense," said Hamlin after the event. "It was a great race from my standpoint. It was just so hard to pass. You can block your way to a victory, and really [race winner] Dale (Earnhardt Jr.) just played it perfectly once he got out front on that last fuel run."
But the result could have been even stronger, had a technical gremlin not spoiled Hamlin's radio contact with the pits and robbed him of vital information.
"After we came back from the rain my radios weren't working so I had to wing it those last 150 laps on my own. With not having a spotter there on that last green-white-checkered I didn't know whether to back up more. They give us vital information for you to get runs so that's why we kind of lost our luster after we came back after the rain. But, it was just me trying not to wreck anyone, trying not to get into any trouble, trying to spot all six corners by myself. Still a great run, but I am a little disappointed."
Toyota's first foray into Nascar was in the pick-up truck Camping World Truck series in 2004, but it wasn't until 2007 that it joined the famous Sprint Cup – represented by three teams: Bill Davis Racing, Red Bull Racing and Michael Waltrip Racing.
The Cup teams were far from elite and they registered only two top-five finishes all year in 2007.
Since then Toyota has enjoyed considerable success, not least with the Red Bull Racing Camry team, that put in regular appearances at the Goodwood Festival of Speed.