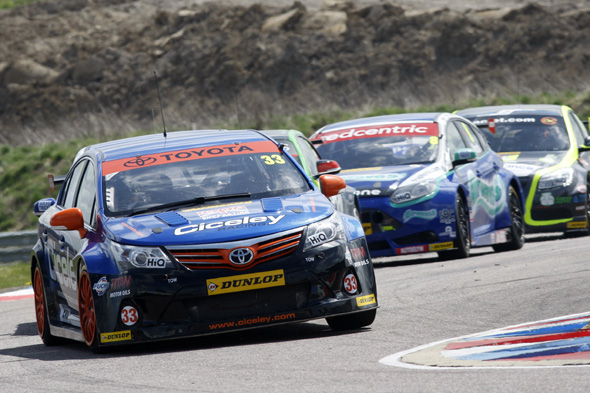 Toyota independent racer Adam Morgan maintained his 100 per cent scoring record in the Dunlop MSA British Touring Car Championship with a hat-trick of top-12 finishes at Thruxton at the wheel of his Ciceley Racing Avensis. Dave Newsham was another Toyota man to claim a clean sweep of points scores, but there was disappointment for Dynojet Racing's Frank Wrathall, whose poor luck continued its run.
Lancashire racer Morgan started his Thruxton campaign with a solid 10th in the day's opening race, managing his tyres well despite the unique demands of the circuit, the fastest on the BTCC calendar. In race two he battled back to eighth from 20th after losing ground in an opening-lap excursion. "The first lap was just a case of three into two wouldn't go and I was forced wide. However, the Toyota felt really good and I knew I could push to make up places, although I didn't expect to get up that high. I thought I could possibly catch the train ahead and the Safety Car helped, but I was surprised to be able to not only get ahead of them, but to pull away. I'm really pleased with the end result."
The reverse-grid draw put Morgan on to the front row of the grid for the finale, alongside the pole-sitting Vauxhall of Jack Goff. Adam made the better start to overhaul Goff and built a big lead before an error forced him off track at the fastest part of the track, Church corner.
Said Adam: "I carried a bit too much speed into Church and just went off and over the grass. I knew it was a problem the minute I went off – the temperature went up and I had to stop so they could clear the grass out of my air intake. It's annoying, but I've learned a valuable lesson." Morgan's stop dropped him to 24th and left him with another battle on his hands to get back into the points; he broke into the top 15 on lap 10 and went on to steal 12th on the final lap.
Morgan is one of only six drivers to have scored in all nine BTCC rounds of 2013; he holds seventh overall in the drivers championship and retains second in the Independents Trophy category.
Inverness-based Newsham equalled Morgan's best placing, eighth, in the first race of the day, and went on to record 12th in race two and ninth in the finale. It's the first time this season that the Speedworks driver has finished all three races in a BTCC weekend, and he took that as a positive: "The three finishes is the only thing to take from today," said Dave. "We just haven't been able to get a handle on the car's handling on certain parts of the track, and overall it's been a bit poor."
For 2012 race winner Wrathall – only once this season a top-six finisher – the bad luck persisted. Again his Dynojet Avensis was the leading Toyota qualifier, in eighth, but handling problems in race one saw him finish 15th. His Avensis was a handful still in race two but his biggest drama came when he had to take to the grass to avoid the spinning Ford of Aron Smith; Frank had to pit for the grass clogging his radiator to be removed and the lost time meant that 19th was the best he could achieve. Race three was over before it had begun for Frank, thanks to mechanical issues. "It's been a weekend to forget," said Wrathall.
Ollie Jackson continued his progress in the second Speedworks Avensis, finishing races one and two just outside the points. He looked to be on for a score in race three before a big spin ruined his tyres and forced him to retire.
Toyota's quartet have five weeks to regroup, and the opportunity for some much-needed testing, between now and the next BTCC races on 9 June at Oulton Park.