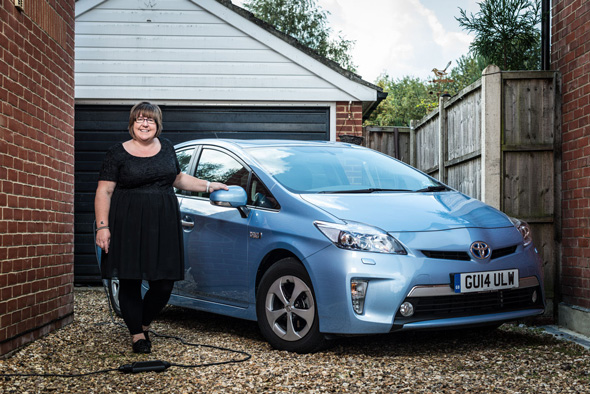 No matter what age you are, the phrase 'back to school' still strikes fear into the heart of many people, not just children and their teachers. Particularly for parents, the return to school signals a return to the twice-daily trauma that is the school run, negotiating busy, congested streets, struggling to find a parking space and attempting to do it all without inadvertently taking out little Johnny's best friend. To make it worse the morning gauntlet coincides with rush hour, adding an extra level of stress to the proceedings.
To find out how Toyota's hybrid cars can ease the strain on harassed mums and dads, we caught up with award-winning Britmums blogger and (more importantly) mother-of-three Mummy Barrow to find out about her experiences with the Toyota Prius Plug-in.
Mummy Barrow has been long-term testing Toyota's first plug-in hybrid vehicle for several months as part of the Government's 'Go Ultra Low' campaign, which promotes ultra-low emissions cars that produce 75g or less of CO2 per kilometre.
With lithium-ion batteries providing up to 15.5 miles of electric-only driving and Toyota's Hybrid Synergy Drive system for normal driving over greater distances, the Prius Plug-in achieves 'Go Ultra Low' status with emissions of just 49g/km and combined fuel economy of 134mpg. However it's even better for a typical school run, where there may be no need to use anything other than electric power, as we found out from Mummy Barrow
Toyota Blog (TB): The school run is a nightmare for many parents – can you describe your journey and the challenges it presents?
Mummy Barrow (MB): You aren't wrong there! My school run is a 32 mile round trip, so everyday I am doing over 60 miles just on school runs and each one takes an hour. It's a mixture of driving in my home town, out onto faster A-roads and then some B-roads where I crawl in commuter traffic, and finally more town driving.
TB: How has the Prius Plug-in coped?
MB: Superbly – I found the car handled the school run better than me, to be honest! The Prius Plug-in's electric power gets me to school, and then I use the hybrid engine on the way back. And when I return home in the morning, I charge it up ready for the afternoon. If my school run was shorter, I'd be able to get there and back on electric and as the rest of my journeys in town are short, I'd never use any fuel!
TB: Many people find that driving a hybrid is a calmer experience than a conventional car. Has it been similar for you?
MB: Oh, totally, it's much less stressful! The Prius is a fabulous car to drive – the driving position is great and visibility is superb. The reversing camera also makes it really easy to make sure there are no children standing behind the car that I might not have seen. There are so many safety features built into the car, the specifics of which I can't even being to describe properly! But things like hill assist – is it called that? – when pulling away from being stationary on a hill, you can engage hill assist and not roll backwards. It makes me feel very safe being in the Plug-in.
TB: The daily school runs and also the summer holiday period present an excellent opportunity to test how well the Prius Plug-in stands up to the rigours of family life. What's it been like for you?
MB: It has been a great family car for us. I was worried about a lack of boot space – after all, where is the battery going to go? – but Toyota have managed to get the battery in and still leave a huge boot. We went to France for two weeks and got everything, and I mean everything, in the boot.
There are little things too like USB charging points in the armrest. It's a godsend when the kids get in with dying phones and tablets to not all be hogging the one power socket in the front!
Something else I love is the keyless technology – basically as long as the key is close to the car, you can open the doors and start the engine. When heading off on the school run at 7.30am or getting back to the car with armfuls of shopping, there is nothing worse than trying to rummage in a huge handbag full of all the usual junk trying to find a key.
TB: It sounds like the Plug-in has taken everything you've thrown at it and really won you over. What's been the reaction from your family and friends?
MB: The reaction has been really, really positive. We were on holiday in France with two groups of friends and they were very impressed. They loved the idea of being able to plug a car in and were really surprised that because of the hybrid engine, you could drive as you normally would and not have to worry about range. It took some explaining to my 87 year old granny, though: "Don't you need a very long cable if you are going to drive it and plug in?" Bless her, assuming it was like a food mixer!
Toyota were kind enough to take us to a test track for an afternoon to show us all the features we might not have played with, and my son Jonnie, who is 18 and a bit of a petrolhead, declared it "the most fun I have had in a car!" High praise indeed from a teen where image is everything.
Loving driving our Prius Plug-in round a test track, thanks @ToyotaGB pic.twitter.com/XedWY6BNZR

— Jonnie Brewin (@Jonniebrewin) August 27, 2014
TB: Why would you recommend a hybrid Toyota like the Prius Plug-in to other families?
MB: For starters, the Plug-in has more than halved my fuel bill – if it weren't for the longer distance of the school run, it would be even less. When you add to that the fact it is a lower insurance band than my current car, no road tax and no congestion charge for my husband when he commutes, well, what's not to love?
I also feel I am doing my bit for the environment as I do feel guilty about a 60 miles-a-day trip just to school and back. And because it's a hybrid, it means we can go further afield on holiday or to visit relatives without worrying about having to stop and charge up.
I'm not sure I would be brave enough to have a solely electric car, but I will definitely have a hybrid when I get my new car. So it's not a case of 'why would you buy a hybrid?', but more like 'why wouldn't you buy a hybrid?'!
@ToyotaGB another reason why we want to keep the Prius. Zero road tax versus TWO HUNDRED AND SIXTY FIVE QUID @GoUltraLow — MummyBarrow (@MummyBarrow) August 7, 2014
Mummy Barrow has discovered firsthand how the Prius Plug-in improves the daily routine of dropping off and collecting the kids from school, as well as the financial benefits of its cheaper running costs and low fuel consumption.
Even if you don't have children, any daily commute or regular urban driving would be improved in the calmer environment of a hybrid Toyota. Why not try one for yourself? Request a test drive by leaving a comment below and we'll get in touch to arrange it with you.
[slider_pro id="221″]