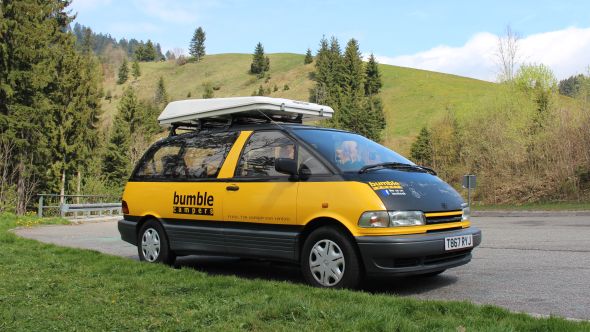 This year's relatively long, hot summer got many people thinking about 'staycations' here in the UK. And whether it is for carrying all the family's clobber, towing a caravan, or even providing a comfortable home away from home, Toyota is delighted to produce a vehicle that's perfect for the job.
But we doubt anyone could have envisaged that almost 25 years after its launch, the innovative, mid-engine Previa people carrier would be enjoying a new lease of life as a campervan – a favourite choice for road trips and festival goers. We guess the clue was in its identification as a multi-purpose vehicle…
This discovery got us thinking, so we asked a conversion specialist at Bumble Campers why he thinks the first-generation Previa lends itself so well to being transformed into a campervan.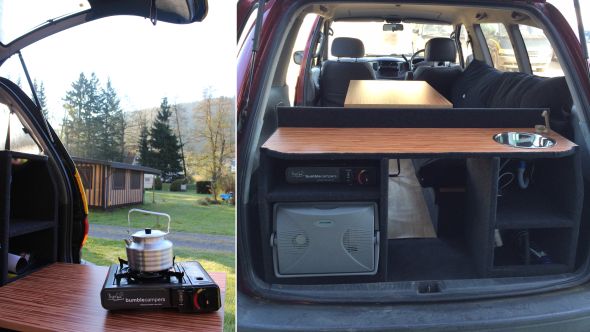 He commented that it has excellent accommodation space thanks to being originally developed to carry seven or eight people, and unlike other MPVs it has a reasonable size boot, too. The sliding side door offers excellent access and the large, lift-up tailgate is perfect for standing underneath when cooking, especially if the weather is bad. Finally, the four pop-out rear side windows deliver effective ventilation as well as the comfort of knowing you are safely locked inside.
The flexibility of the Previa has enabled Bumble Campers to offer three configurations: two-seater two-sleeper, four-seater two-sleeper, and a four-seater four-sleeper option made possible by installing a clever roof box that transforms into a two-berth tent.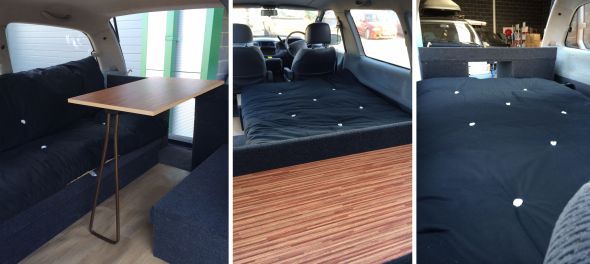 Unfolding a double bed inside the car does use up much of the available space, so the boot is usually compartmentalised to house everything from a portable cooker to the kitchen sink. However, the adaptability of the overall design is such that it has been possible to tweak it to include additional storage for items such as snowboards and wakeboards.
While this may not as luxurious or practical as Toyota GB's official campervan conversion on the Proace, could you see yourself buzzing away for a road trip in a converted Previa? Might it provide your ideal base for a music festival or surfing weekend? Bumble Campers normally builds these conversions to order but also has a small fleet of bumblebee-coloured rental vehicles so you can try a Previa campervan for size yourself.