Toyota marked the arrival of its Mirai fuel cell saloon on Britain's roads with the handover of vehicles to its first customers at a ceremony hosted today at Toyota (GB) PLC's Surrey headquarters.
Dr Johan van Zyl, President and CEO Toyota Motor Europe, joined Paul Van der Burgh, President and Managing Director Toyota (GB) PLC, to present the cars to Dr Graham Cooley and Professor Roger Putnam CBE, respectively CEO and Chairman of ITM power, and Julia Thomas, Managing Director of greentomatocars.
Mirai is the world's first hydrogen fuel cell saloon, benefiting from Toyota research and development into fuel cell technology spanning two decades, and world-leading experience in hybrid vehicle power systems.
Using hydrogen gas to generate electricity within a fuel cell stack, Mirai produces no tailpipe emissions other than water. Spacious, refined, comfortable and safe, it combines its advanced technology with superb practicality: a full-tank driving range of around 300 miles bears comparison with a petrol-powered car and the refuelling process only takes about three minutes to complete.
The UK is among the first wave of national markets in Europe for Mirai, together with Germany and Denmark. Toyota expects 12 to be on the road in the UK before the end of this year, including four vehicles announced by Transport for London.
Dr van Zyl said: "Mirai and our hydrogen fuel cell technology are important elements in our mission to help create a future zero emissions society. We are proud of the technology we have developed, but if our ambitions for sustainable mobility are to be achieved, our vision needs to be shared by our customers. That is what we are seeing today, with ITM Power and greentomatocars embracing Mirai and hydrogen power at the earliest opportunity. We thank them for their support and advocacy."
Paul Van der Burgh added: "This is a proud moment for Toyota in the UK, which fittingly comes in our 50th anniversary year of selling vehicles in this country. Toyota has made Britain one of the first markets in Europe for Mirai, thanks to the commitment of government and business here to put in place the infrastructure and resources needed to make hydrogen power a viable, practical and effective proposition. Our first customers for Mirai are true pioneers who recognise the valuable rewards hydrogen can deliver."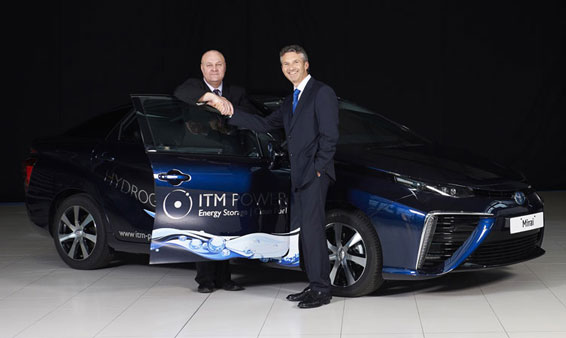 Dr Graham Cooley, Chief Executive Officer, ITM Power, said: "It is an honour for ITM Power to be one of the first customers in the UK to receive a Toyota Mirai. The Mirai fuel cell vehicle is, quite simply, the future of transport and we are delighted to be part of that future. We will be working closely with Toyota to ensure that Mirai drivers have the most rewarding driving experience possible."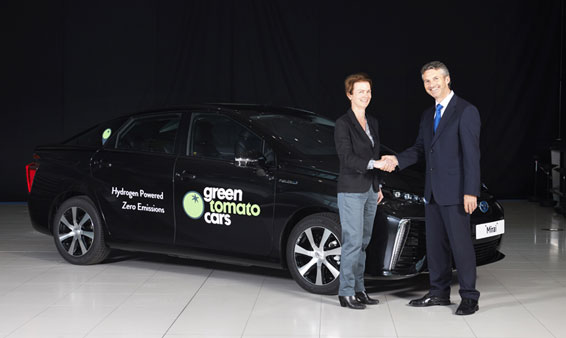 Julia Thomas, greentomatocars Managing Director, said: "We are a leading green private hire car company with a personal investment in the future of London and are always researching and exploring the latest technology to provide our quality service in the most environmentally advanced vehicles. The Toyota Mirai is groundbreaking in its development of a hydrogen fuel process resulting in no harmful emissions, providing us with a cost effective, environmentally forward thinking and sophisticated vehicle for the future."