BTCC racer Frank Wrathall dropped in at the Toyota Motor Manufacturing UK factory yesterday to meet the people who helped create his Toyota Avensis touring car, and to help celebrate 20 years of production at Toyota's Burnaston facility.
Frank and the Dynojet Racing team took a tour of the Derbyshire plant, the global production centre for Avensis, en route for Silverstone, the circuit playing host this weekend to the penultimate meeting of the Dunlop MSA British Touring Car Championship.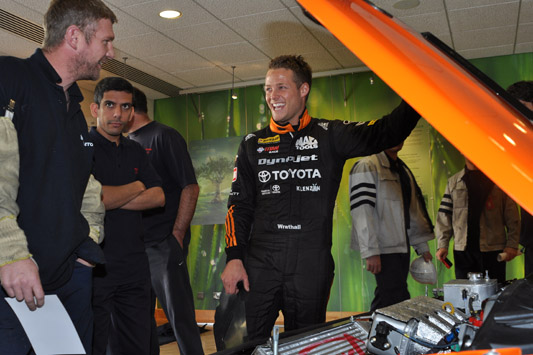 The Burnaston visit was also something of a birthday treat for Frank, who turned 26 on October 4th, and the chance to give Burnaston team members an opportunity for a close-up look at the racing car which began its life in their care.
"Everyone at the factory had the chance to come and look over the car and to have a chat, and it went down really well," said Frank. "But I expected it to be popular: the Burnaston members build the Avensis every day, so to see what we've done to one was a real eye-opener for them. I think some of them were a bit surprised to see the complexity of a BTCC car."
It was in 1992 that the first Toyota rolled off the line at the Toyota Motor Manufacturing UK facility – a Carina E, like that raced in the BTCC by Will Hoy, Julian Bailey and others. Twenty years on, the plant is gearing up to build the new Auris compact family car alongside Avensis.
"I was lucky enough to get a get a guided tour," added Frank. "I didn't know what to expect really – I knew it would be pretty big but it's absolutely massive; there is so much to take in that you could spend a week there and still find things to amaze.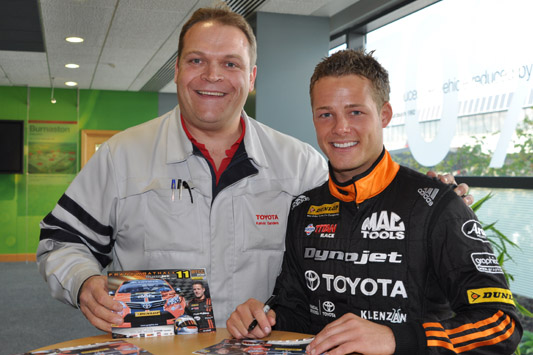 "I was also taken for a passenger ride around the factory test track in a new Auris – that was great, and the banked corners were certainly a new experience for me."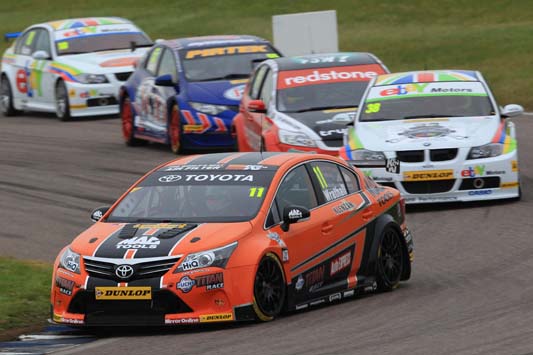 It's been a busy week for the Dynojet team members. On Monday they were shaking down the Avensis at an airfield near the squad's Lancashire base, and practising starts. "Starts were the top of our agenda, following Rockingham," said Frank. "We put quite a bit of effort into it, setting up a beacon and light system, and trying various different methods of getting the Toyota off the line. It went well, but of course the only thing we couldn't replicate was having 20 other cars around me. We've really studied the data and hopefully it will make a difference at Silverstone."
Wrathall says a race win at Silverstone would be his best birthday present but he's not making any bold predictions: "Every time I make a prediction it turns out wrong, so I'm not going to make any…" He hopes at least for a solid three-race return to the top 10, and an improvement to his ninth place overall in the drivers championship.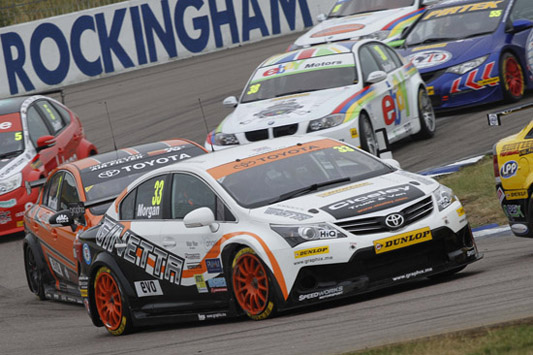 Speedworks Motorsport's two drivers, Tony Hughes and Adam Morgan, will be in action at Silverstone also in their Toyotas. For Morgan it's a return to the scene of his biggest motorsporting triumph – it was at Silverstone at the end of last year that the 23-year-old clinched championship victory in the Ginetta Supercup, which won him Ginetta's scholarship drive in the BTCC.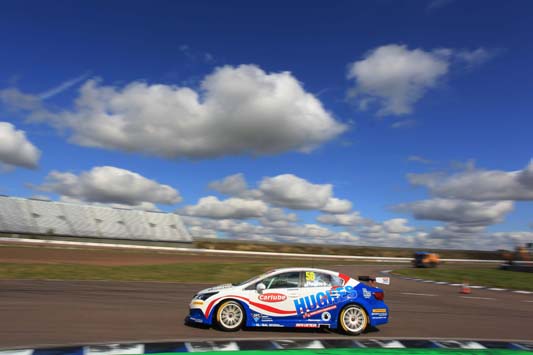 "I have very fond memories of Silverstone from last year, and winning the championship," said Adam. "I was pretty quick there and set fastest lap in the last race. It's quite a basic track, but I enjoy driving it and it suits me, so I am looking forward to the weekend."
Saturday's Silverstone qualifying session will be streamed live on itv.com/btcc from 1510 with all three of Sunday's races, the first of which is due off at 1145, live via the web and on television, in HD on ITV4. Radio Silverstone, which can be accessed via silverstone.co.uk or tunein.com, will be live from the track throughout the weekend also.
Read our previous Frank Wrathall interview here.