[slider_pro id="45″]
Toyota's motorsport team is trading the track for the slopes next month as part of German athlete Andrea Eskau's bid for gold at the Paralympic Winter Games.
Toyota Motorsport GmbH (TMG) has used its advanced composite technology, honed in the World Endurance Championship and the Le Mans 24 Hours, to develop a cutting-edge sled to help Andrea in her quest for medals in Sochi.
Andrea, 42, will be competing in seven events at the games: 6km, 10km and 12.5km biathlon; 1km, 5km and 10km cross-country skiing and a team relay. She will be looking to add to the silver and bronze medals she won at Vancouver in 2010 and the three cycling golds she won at the London 2012 Paralympics and in Beijing in 2008.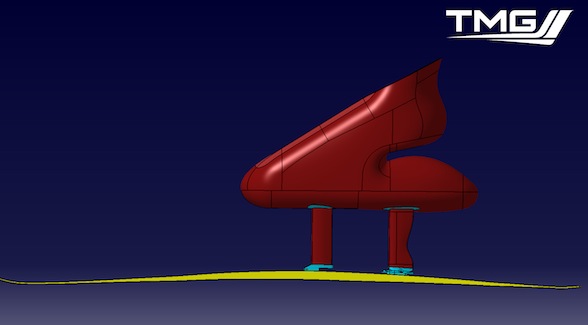 The TMG sled, co-designed with Andrea, is made entirely from carbon fibre – meaning it weighs only 4.172kg compared with the 5.5kg one she used previously.
Andrea's relationship with TMG begain in 2011 when the Cologne-based company co-operated on a seat insert for her racing bike ahead of the London games.
The initial project team of Andrea and TMG staff Gerard Winstanley, Norbert Schäfer and Sergej Blech developed the most ergonomic shape for the sled, targeting comfort and weight saving as well as ensuring reliability in temperatures as low as -20C; much colder than those faced by any of TMG's race cars.
Genuine F1 parts have made it to the final design, with suspension elements from F1 cars used to create strong and aerodynamic legs for the sled, which are bonded to the main chassis.
One of the team's big challenges was the creation of a mechanism that allows the skis to be easily clipped on and off the legs, saving weight and ensuring performance at speeds of up to 50kph.
Most of the sled's bodyshell is just 1.5mm thick, with the section directly under Andrea's body half a millimeter thicker to support the loads generated by her movement. A foam insert developed by orthopaedic specialists Rapp und Seifert fits inside to increase comfort.
Andrea says: "In my sport, a sled has to feel like it is part of you and the TMG sled really feels like a second skin. The quality of design and finish that Gerard and his team have achieved is extremely impressive; when you see the sled it is obviously the result of some serious engineering and manufacturing expertise.
"I have been training extensively with the new sled and through this process we have fine-tuned the design to deliver optimal performance. As an athlete it is vitally important to focus entirely on the challenge ahead; you don't want to be distracted by equipment which doesn't fit you perfectly or moves too much during the event.
"Thanks to TMG I now have absolute confidence in my sled and I'm determined to reward their energy with medals in Sochi."
Gerard Winstanley, TMG's composite, fabrication and rapid manufacturing manager, added: "It was an awe-inspiring experience to meet Andrea after the London Paralympics and actually hold her two gold medals; everyone involved in the project was energised by that and her dedication.
"It has been an interesting technical challenge and one for which we have used a very personal approach, tailoring everything exactly to Andrea's needs. The end result is a unique prototype which we hope will help Andrea to win more medals, which she richly deserves."
Andrea's first event at the Sochi 2014 Paralympic Winter Games is the 6km Biathlon (Sitting), which takes place on Saturday, March 8th at 6am GMT.
 Find out more about TMG's 2014 car, the Toyota TS040 here.