The Toyota Mirai, the world's first production hydrogen fuel cell saloon, has been honoured with the Technology Award in the 2016 What Car? Awards.
Mirai's achievement comes just a few weeks after its debut in UK, bringing to the market a revolutionary vehicle powertrain that Toyota began developing more than 20 years ago.
Jim Holder, What Car? Editorial Director, hailed Mirai as representing "the future of motoring".
Holder said: "Supporters say hydrogen fuel cell technology holds the key to the future of sustainable motoring. Critics point out that there is next to no recharging infrastructure, that developing it will be hugely costly and that the fuel cell technology itself is far too complex and expensive to hold any mass appeal. Our judges' counter to that was that all-new technologies need early champions, and that Toyota's bravery in trying to force change is to be applauded."
Mirai shared the Technology Award with the Hyundai ix35 Fuel Cell SUV, which was also brought to market in 2015.
Paul Van der Burgh, Toyota (GB) PLC President and Managing Director (pictured below), said: "We are tremendously grateful for this award, an acknowledgement of how Toyota continues to push the boundaries of technology to realise our ambition of delivering sustainable mobility as part of a cleaner, safer low carbon society.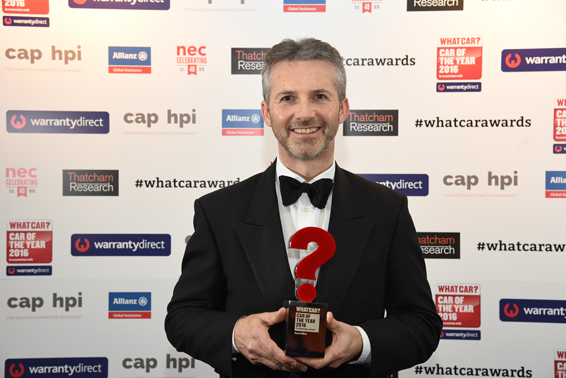 "Mirai is seen as the start of an exciting new era of zero emissions motoring, but in fact it is the latest chapter in a technology journey we began with hybrid and Prius. We believe hydrogen power has the potential to bring real change and help the world meet critical environmental challenges."
Although Mirai is powered by advanced fuel cell technology, it is designed to be every bit as practical and convenient to drive as a conventional car, with a driving range that matches an equivalent petrol vehicle and a refuelling time from empty of around three minutes.
The UK is among Toyota's first European markets for Mirai, its introduction linked to the development of a national infrastructure for supplying and selling hydrogen fuel. Hydrogen is stored in the car's high-pressure tanks and used to generate electric power in a Toyota-designed fuel cell system. Rooted in Toyota's hybrid technology, Mirai's drive system marks a significant step towards achieving sustainable, zero-emissions mobility as part of a low carbon society. When driven, the car's only tailpipe emission is pure water.
Avensis Tourer Safety Award Commendation
The Toyota Avensis earned a commendation in the What Car? Safety Award for its provision of comprehensive safety features at an affordable price for customers. The judges highlighted the British-built model's strong performance in Euro NCAP crash testing, and the standard provision of autonomous emergency braking, as part of the Toyota Safety Sense package of active safety and driver assistance features.
Read more: 10 surprises in the Toyota Mirai
Read more: How does Toyota's fuel cell vehicle work?