The three independently-run Toyotas in the Dunlop MSA British Touring Car Championship are on course for a big points haul at Oulton Park after a competitive qualifying session ahead of Sunday's three rounds.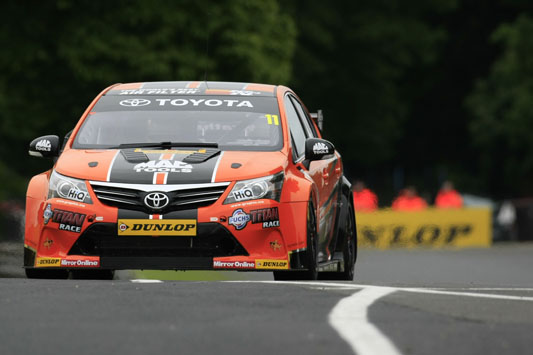 Frank Wrathall will line up in seventh place in his Dynojet Avensis after a superb performance in qualifying. The morning free practice sessions had been held in mixed conditions and the sessions were stopped on a number of occasions as rivals crashed. That meant Wrathall was unable to get any significant running to fine-tune the settings on his Avensis.
Despite that, and a small electrical problem that restricted his track time in the qualifying session, the 25-year-old posted a lap time that was good enough for the fourth row of the grid.
"It isn't ideal to go into a qualifying session when you are still making a guess at the set-up," said Wrathall. "And then we had a problem when the electrical system died and we lost time while it rebooted. That meant we had only two shots at going for pole, and I stayed out for a long time at the end on a used set of tyres, so I am pleased with my position. To be in the ballpark given the disjointed build-up to the qualifying session and to not be a million miles away from pole is very encouraging."
Adam Morgan, who was handling the Ginetta-backed Speedworks Toyota Avensis for his first BTCC round at Oulton Park, was also encouraged with his speed. He was seventh in the damp opening practice session and repeated that performance in the drier second period.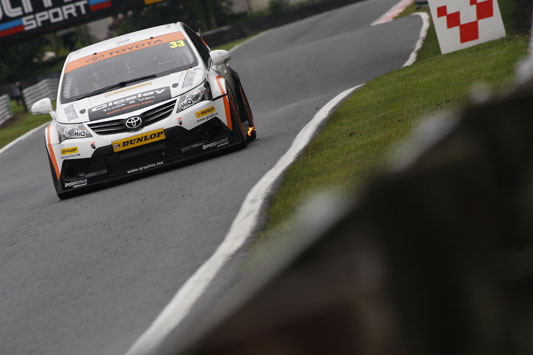 In qualifying, he plumped for four new tyres for his shot for a quick lap and thought that he had made a slight misjudgment. Nevertheless, the 23-year-old posted the 16th fastest time and predicted a climb through the field during the races tomorrow.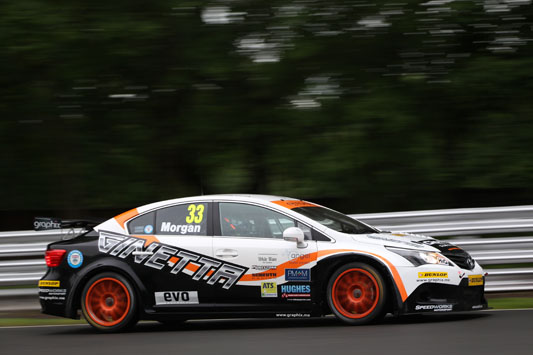 "The choice to go for four new tyres, rather than use just two and two used ones, was down to me," explained the Ciceley Racing man. "I was confident of my pace after the lap times earlier on and I thought it was the right way to go but the track was still damp in a couple of places and I struggled to get all four Dunlops up to a decent temperature. It is frustrating, but I have shown that I have good speed here and if I can keep out of trouble at the start of the races tomorrow, I think the top eight is a realistic target."
Tony Hughes was ruing a slight error during the 30-minute qualifying period that meant he will line up 22nd. The Speedworks Toyota man explained that he had locked up at the Island hairpin and that left the Avensis with a flat spot on the tyres, which caused a vibration.
"I had just gone out on new tyres and I was ready to push for a lap time, but it got away from me as I came to the hairpin.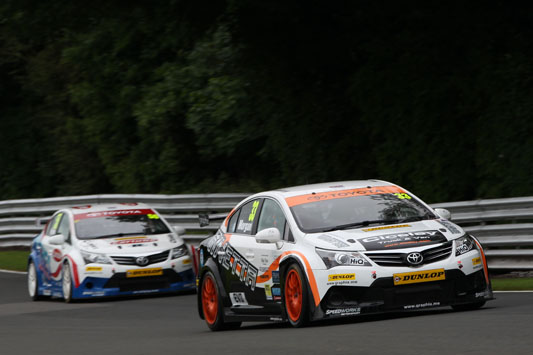 I had to stop and turn around, but the rubber was already ruined," explained the 54-year-old. "After that, I found it hard to get back into my rhythm. Despite that, I was pleased with the car in the free practice sessions and I know there is more to come."
The three Oulton Park rounds of the Dunlop MSA British Touring Car Championship, which kick off at 12.20 on Sunday afternoon, will be shown live on ITV4.