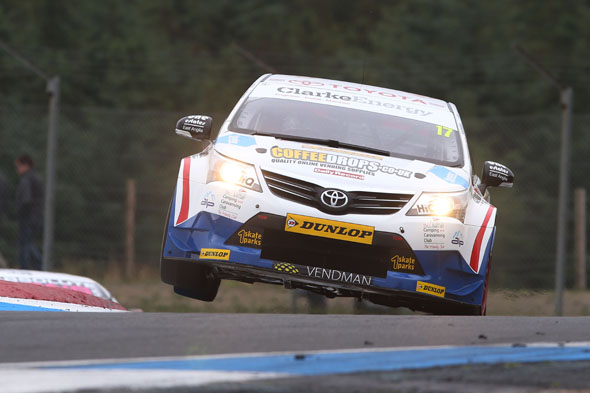 Two of Toyota's four Avensis BTCC privateers – Adam Morgan and Frank Wrathall – put in strong qualifying performances for the seventh meeting of the Dunlop MSA British Touring Car Championship season at Knockhill. Adam and Frank were both able to qualify inside the top eight after a frantic qualifying session at the Scottish circuit, but both Dave Newsham and Ollie Jackson have been left with work to do in Sunday's three races.
As in both free practice sessions, Adam's Ciceley Racing Toyota was the quickest of the quartet, with the Lancashire racer posting the seventh best time. With Pirtek Racing's Andrew Jordan carrying a six-place grid penalty into the weekend, Adam will start the opening race of the weekend from sixth position, matching his best starting slot of the year to date.
"I can't grumble with sixth on the grid, although if I'd managed to string my best sectors together, I could have been third," said Adam. "However, the Toyota was consistent and if we can run like that in the races then we're in a good position. Hopefully we'll move forwards through the three races."
Frank's Dynojet Racing Avensis qualified one place further back and he benefits also from Jordan's penalty to move up to seventh spot. "I'm happy with that," said Frank. "The aim was to be inside the top 10, which we achieved, and the race pace was strong. I only got one flying lap as we made some changes to the car during the session which were a step too far, so I didn't get a second. However, we're in a good position for tomorrow and hopefully we can bring home a top 10 in race one and then build from there."
While Adam and Frank were left pleased with their sessions, it was a more challenging affair for Dave, Ollie and the Speedworks team. Newsham suffered suspension issues earlier in the day and was forced to miss second practice while the team strived to carry out repairs to allow him to take part in qualifying. Then a driveshaft failed on his first qualifying run. While the team was able to replace the part to enable him to rejoin the session, he had to settle for 14th place.
"I feel deflated," said Dave. "The boys did a fantastic job to repair the car for qualifying, and I couldn't believe it when the driveshaft then failed. It was a mega job to get the car out again but I was just lacking laps. The car didn't feel the same as it did in free practice but new parts are on their way to the circuit, and it's going to be a late night to carry out proper repairs for race day."
Ollie, who is competing in a front-wheel drive car at Knockhill for the first time this weekend, also lost track time with suspension problems earlier in the day. He qualified 19th. "I'm disappointed but, to be honest, I don't think I could have done much more with the track time I've had," he said. "It's a shame, but tomorrow is another day and I'll focus on moving forwards."