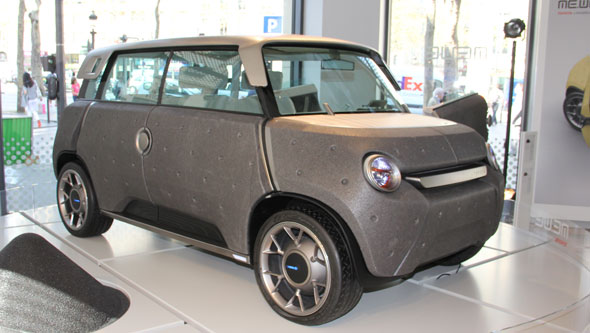 Toyota's latest ME.WE concept is the new centrepiece exhibition at the company's Rendez-Vous atelier on the Champs-Élysées in Paris.
Unveiled on April 25th, the new concept was designed by renowned French architect and furniture designer Jean-Marie Massaud in collaboration with Toyota's ED2 design studio in southern France.
The ME.WE was created to explore new possibilities for sustainable design.
"I was in charge of experimental projects at ED2 and looking for a partnership," recalls ME.WE project chief designer Laurent Bouzige. "The goal was to find new solutions and avenues for the B segment."
Bouzige says he chose to collaborate with Massaud because of the industrial designer's philosophy on design, which revolves around the idea of creating harmony between human beings and their natural surroundings. "We liked Massaud's way of thinking and found many similarities to Toyota's Vibrant Clarity design approach, which allowed us to do this project together."
Massaud was given free reign to design a B-segment car he would like to drive. Working in parallel with Toyota designers, he created a pared-down, essential car built using renewable and recyclable materials such as bamboo and hemp. But the icing on the proverbial cake is the ME.WE's expanded polypropylene body panels that weigh just 14kg, cloaking a lightweight aluminium tubular space frame.
"We wanted to show what was possible for the modern day; not something for the future but a vehicle that uses technologies currently available," Massaud told Toyota Blog.
The innovative vehicle tips the scales at a scant 750kg, roughly 180kg lighter than a conventional B-segment vehicle with steel construction. Its polypropylene panels can also be customised to suit a wide range of tastes and appeal to people of all walks of life, from wealthy French women in their 60s to surfers on the Atlantic coast. Scale models on display at the venue depicted numerous build options, highlighting the ME.WE's status as an adaptable, lifestyle vehicle.
"If we want to make progress we need to abandon this idea of image and consumption, and recognize that every individual has to exist in a singular manner," Massaud continued. "For me it was important to present something that would allow for a singular expression; to free yourself of these societal constraints and democratise the car for the people."
Featuring in-wheel electric motors adopted from Toyota's slick new i-ROAD personal mobility device, and underfloor batteries from the electrically powered iQ, the ME.WE is also a technological showcase. The powertrain maximises space in the cabin and allows for a flat floor, which is covered in bamboo. Massaud says he chose the material because of its low maintenance as well as its recyclable qualities.
Innovation continues in the interior with polypropylene drawers nestled under lounge-inspired seats made of natural hemp fibre. These speak to Massaud's strength as a furniture designer and his fondness of renewable yet comfortable materials.
While the ME.WE doesn't herald a new aesthetic for the Toyota brand, it demonstrates what is technologically feasible using sustainable design methods. With Toyota's history of creating innovative, eco-sensitive hybrid powertrains, it seems only natural that the company will soon implement environmentally responsible materials in vehicle design as well as their construction.

Watch a video with the designers as they talk about the ME.WE concept.