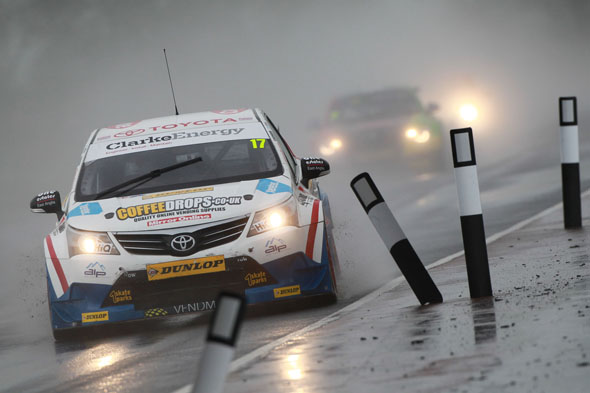 Speedworks Motorsport driver Dave Newsham was Toyota's leading Independent finisher in the Croft rounds of the Dunlop MSA British Touring Car Championship today, the 45-year-old Inverness man claiming his best result of the season so far.
Newsham bounced back from a first-race retirement to climb from the back of the grid to a remarkable ninth in race two, and used that as a springboard to move up to fourth place in the early stages of the rain-drenched finale. "It was treacherous out there," said Dave, "and it was a case of just trying to stay on the circuit. At the end I thought I might be able to hold off Gordon Shedden and take fourth but then a downpour came and I went into Sunny to find a river on the track. I went off and on to the grass and Gordon went by. Fifth is all right, I'm quite happy."
Toyota's leading championship contender, Ciceley Racing's Adam Morgan, was twice caught out at Clervaux corner by slippery conditions – he went off there at speed in the second free practice session on Saturday and clouted the barriers, badly damaging his Avensis. But the Ciceley mechanics worked wonders to return him to the track in time for qualifying, and he rewarded them with 10th place on the grid. Adam went on to finish 11th and eighth in races one and two, but aquaplaned off the circuit in sodden race three to post his first retirement of the season. Nonetheless, Morgan retains seventh overall in the drivers championship and is third among the Independents Trophy runners.
Frank Wrathall's run of bad luck continued. The Dynojet Racing driver demonstrated the pace of his Avensis by qualifying seventh but took a knock early in race one which sent him spinning down the order. Frank battled back to 20th, and then secured 13th in race two. He was relishing the prospect of the wet third race, but it lasted less than a lap for him: "Someone ran straight into my right rear wheel," said Wrathall, "and something snapped. I had been praying for rain all day because it would have given us a good opportunity, and then this happened."
He fared rather better than Speedworks man Ollie Jackson, whose 'stock' TOCA engine failed early in race one. The team toiled to replace it in time for race three, but Ollie fell victim to the weather on the opening lap, aquaplaning into another car and out of the race.
There's now a six-week break before the second half of the BTCC season gets underway at the Snetterton circuit in Norfolk in early August.