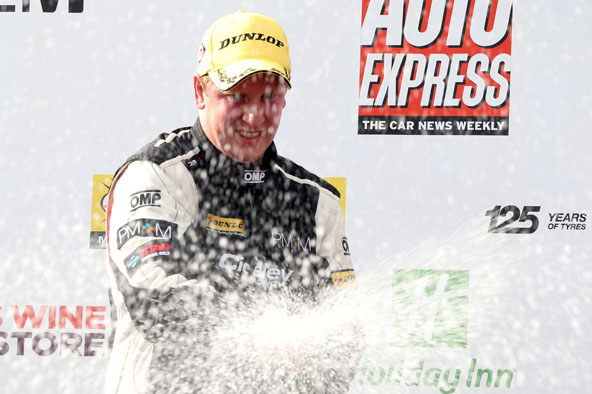 Toyota Avensis racer Adam Morgan is celebrating his maiden BTCC podium finish after a gutsy drive to third place for Ciceley Racing in the final race of the Dunlop MSA British Touring Car Championship's Oulton Park raceday. The result was not only a personal best for the 24-year-old from Lancashire on his home circuit, but also the best BTCC finish so far this season for a Toyota driver.
Morgan's success came at the end of another remarkably consistent day for the Toyota independent – he finished ninth and seventh in the earlier races to maintain his run of form. He's one of only four drivers to have scored in every race and has claimed a top-10 result 11 times from 12 starts.
"It's fantastic to get a podium finish, especially at a circuit that has been a bit of a bogey one for us in the past," said Morgan, who holds seventh place in the drivers championship and is second in the Independents Trophy standings. "I have to give massive thanks to the guys in the Ciceley Racing team and to all our sponsors for their support, as I wouldn't be here without them."
Adam's podium charge saw him battle past Adam Welch's Proton for third in the early laps to latch on to the tail of the lead battle, being disputed by Jeff Smith's Honda and Rob Austin's Audi. Smith ousted Austin from the lead at mid-distance and Morgan followed him through for second before being returned to third by Andrew Jordan's Honda. Jordan went on to win from BMW driver Colin Turkington, with Morgan holding off a determined challenge from multiple champion Matt Neal (Honda) by just 0.078s at the line.
Added Adam: "It is fantastic for me to be able to race side-by-side with people like Colin Turkington and Matt Neal – and it was a great feeling to hold off Matt at the end when my tyres were shot. We'd gone with an aggressive set-up and I knew we had to push early on to get ahead."
There was a strong showing today also from the Speedworks Motorsport team and in particular Dave Newsham, who scored his and the team's best results of the season – fourth in qualifying and eighth and sixth respectively in races one and two. Unfortunately a thump from another car led to a spin in the finale after he showed strong early pace. "We have really turned a corner with the Toyota," said Newsham. "It's better to drive and we showed we had a good qualifying car. Today, we struggled in race one but made changes and now we have a good race car as well, so I feel very positive for the future." His team-mate, Ollie Jackson, scored his first point since the season-opener at Brands Hatch with 15th place in race three.
After a good qualifying performance, Dynojet Racing Toyota driver Frank Wrathall endured another day of misfortune. He started the first race from sixth on the grid but a knock from another car in the first-lap melee knocked his Avensis about sufficiently to demand a pit stop for investigation; Frank rejoined a lap down and finished 23rd.
In race two Wrathall drove brilliantly to claim back 11 places and secure 12th position, which he used as a springboard to race to ninth in the finale. "The Toyota felt really good and was strong, but we were up against it because of where we started," said Frank. "We set the fourth-fastest lap in the final race, which showed what we were capable of. We were really on the back foot as a result of the first race – it is so difficult around here to make up places from the back of the field."
Toyota's quartet of independent racers will be back in action in a fortnight (23 June) at the Croft circuit in North Yorkshire.