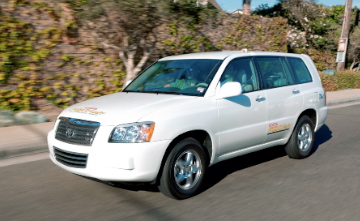 Toyota has further shown its commitment to the development of sustainable mobility by joining the Clean Energy Partnership (CEP).
As a new international auto partner for CEP, Toyota will contribute five of its zero-emissions FCHV-adv hydrogen fuel cell vehicles to CEP's hydrogen filling station and fuel supply programme in Germany.
Tadashi Arashima, President and CEO Toyota Motor Europe, stated: "We firmly believe that fuel cell hybrid vehicles will play a major role in reducing emissions and achieving sustainable mobility, alongside petrol and plug-in hybrids and pure electric vehicles. These various applications of full hybrid technology will each play their role and co-exist in the future."
This exciting development confirms Toyota's aim for the commercialisation of hydrogen-powered vehicles by 2015.