The eighth edition of the World Para Athletics Championships took place in London from 14-23 July. Hundreds of para-athletes in eligible impairment groups travelled from all over the world to compete in this biennial games.
Among the 229 para-athletes competing for Japan this year were three young athletes sponsored and employed by Toyota Motor Corporation (TMC): Hajimu Ashida, Keita Sato and Tomoki Suzuki.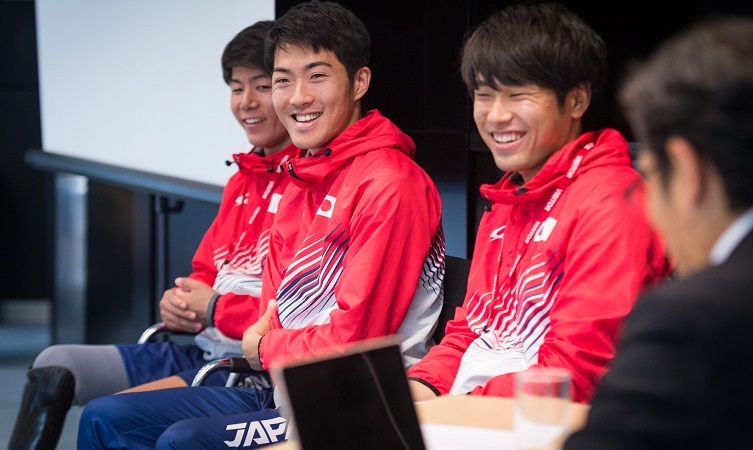 Following a well-earned day of rest, the trio visited Toyota (GB) Ltd. to talk about their experiences in London and their on-going training for what should prove to be the highlight of their athletic careers – competition in the Paralympic Games in Tokyo in 2020.
Para-athlete: Keita Sato
We began talking with 25-year-old Keita Sato, who has had a limb impairment (T44 classification) for ten years following the amputation of his lower right leg due to a rare form of cancer. Keita wears a variety of prosthetic lower legs to assist his mobility and performance in running and jumping events. He works as a safety officer in TMC's production engineering administration department.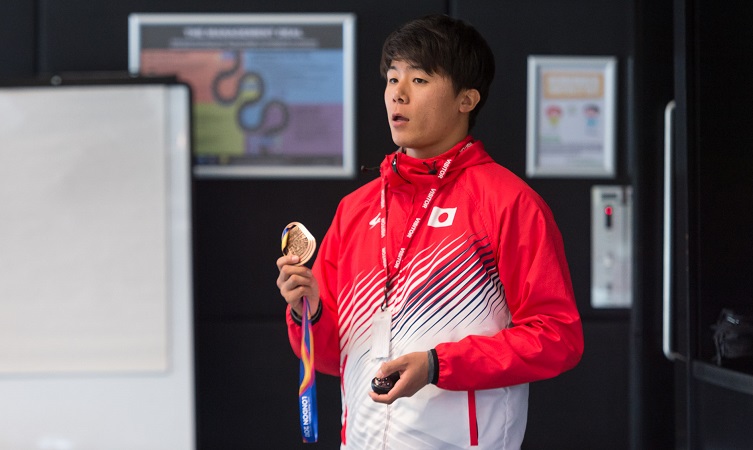 Blog: You took up para-athletics almost ten years ago, not long after the amputation. Was sport part of your rehabilitation programme?
Sato: I was really into football before the amputation, so as I wanted to get back into the sport I had to start running again as part of my rehabilitation programme. Running then became so enjoyable for me that I actually continued with para-athletics instead.
Blog: How has the technology and materials for prosthetic limbs improved in the past ten years?
Sato: In terms of the material, the carbon fibre itself hasn't really changed but what has evolved over the years is the form it can take. Different types and different weaves are now used, so you can increase the rigidity of the prosthetic part. That has led to improvements in speed and new records.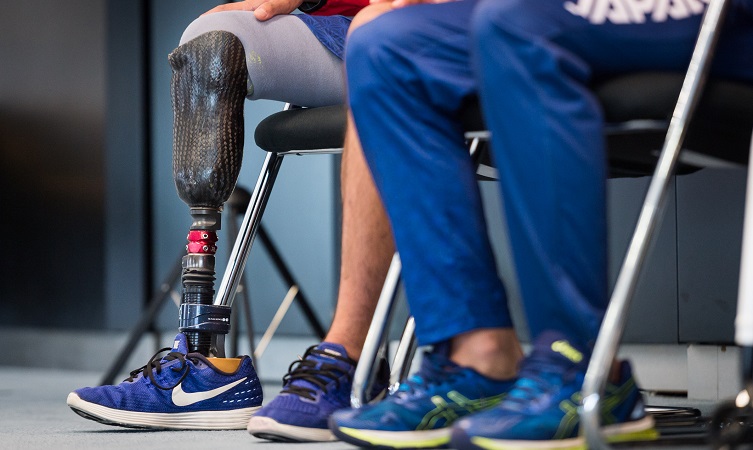 Blog: Is there a difference between an everyday prosthetic and a racing prosthetic?
Sato: Yes, there is. My everyday prosthetic is designed to give stability as it is shaped to give me a heel, ball joint and toes, whereas the competition limb has no heel and is a little more unstable. But this design works better for running because you always run on the ball joint of your foot and on your toes. You wouldn't want to wear it in everyday life but it makes you faster on track.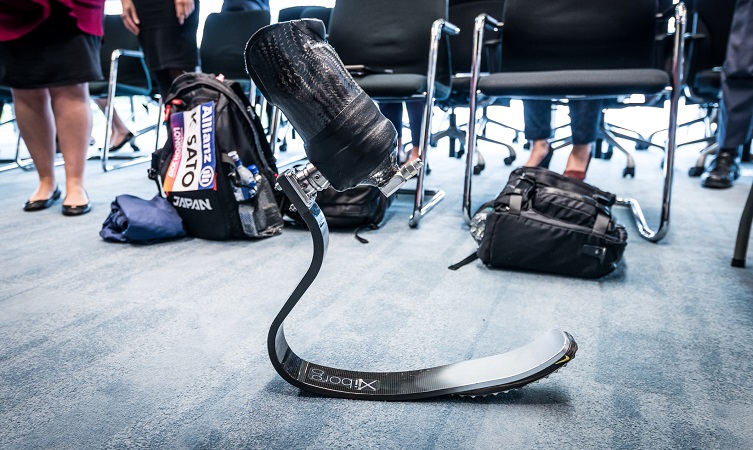 Blog: Congratulations on achieving bronze in the 4x100m relay final. Did this experience bring back any memories for you?
Sato: It felt like I was back in the 2012 Paralympics in London because I remember the enthusiastic cheers from the crowd. This hasn't changed, so I felt really happy to be in the finals again.
Para-athlete: Hajimu Ashida
Our conversation continued with 23-year-old Hajima Ashida, who has a functional impairment of his lower right arm (T47 classification) following the diagnosis and treatment of cancer from the age of five. His impairment does not require a prosthetic limb, only a protective cover for the end of his arm. He currently competes in running and jumping disciplines.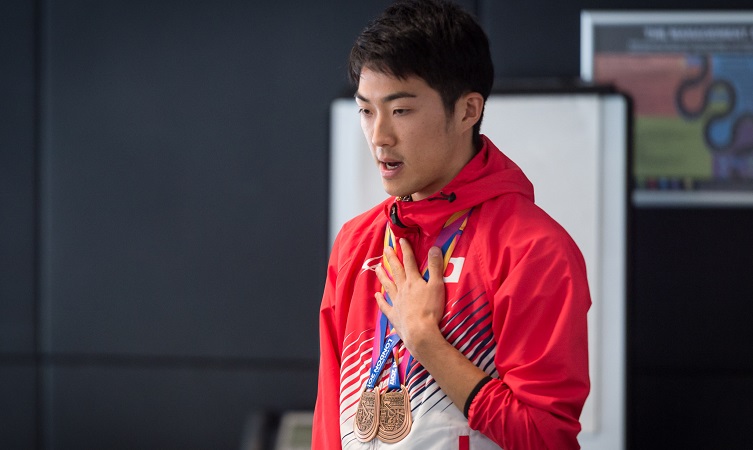 Blog: You won bronze last year in the Paralympic Games in Rio. How does it feel to win bronze again in the triple jump?
Ashida: I would say that one of my biggest objectives for this World Championships was to be able to get a medal in an individual event. So I think that by succeeding in this I've been able to increase the value of my performance as an athlete.
Blog: What are your plans between now and the 2020 Paralympic Games in Tokyo?
Ashida: My target is to win a gold medal in the Tokyo Games, so I've been reflecting back on my performance at the Paralympics in Rio. I've realised that if you wanted to win gold in Rio you needed to have the performance to achieve a medal three years beforehand. I've now got a medal in London, so I hope I'm on the right track for Tokyo in three years' time.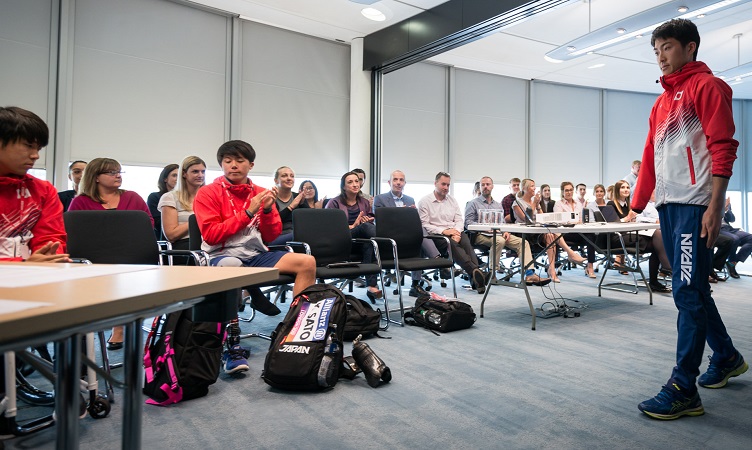 Blog: Has technology been able to assist you and your performance?
Ashida: What is interesting about my T47 class is that we're not dependent on tools in order to compete. Yes, we have a functional impairment of some kind but we are battling it out to the best of all the functions we have left.
Blog: We understand you have an interesting job at TMC that is also related to your sporting activity. Can you tell us any more about that?
Ashida: I belong to the Olympic and Paralympic departments, so my job is to raise awareness and increase momentum in the activities leading up to those events – especially the Paralympics in Tokyo. I feel really fortunate that I'm involved in this way because I can compete on the front side as an athlete but in the background also help make the events a success.
Para-athlete: Tomoki Suzuki
Last of the trio of athletes was 23-year-old Tomoki Suzuki, who has experienced paraplegia (T54 class impairment) following injuries to his spinal cord after a traffic accident when just eight months old. His parents encouraged Tomoki into para-sports from the age of five, where he was inspired to take up athletics by Japanese marathon wheelchair racer Nobukazu Hanaoka. More than simply an influence on his sporting career, Nobukazu has been Tomoki's personal trainer for the past 12 years.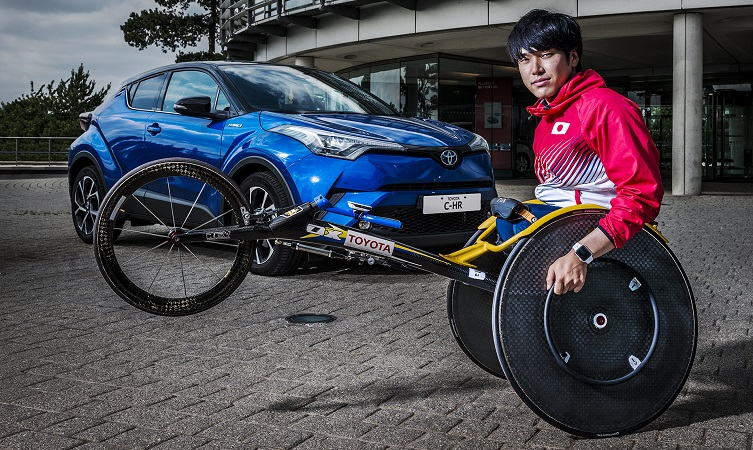 Blog: First of all, congratulations on getting to the 800m final. Do you think this will prove influential in your goal for the 2020 Paralympic Games in Tokyo?
Suzuki: I've always believed that acceleration, the power of the sprint, was the most important thing for me in my competition. Having now participated in the London Games, I think I'm on the right track. So I would like to continue in the same way, training towards the 2020 Paralympics.
Blog: How have you seen wheelchair technology improve in the time you've been competing?
Suzuki: Ever since I started using wheelchairs in my childhood there has been tremendous progress in technology. First of all, the use of carbon fibre has made a big improvement, and because of this the wheelchairs are much, much lighter. My racing wheelchair, for instance, weighs just nine kilos. This results in me being able to use the wheelchair as part of my body.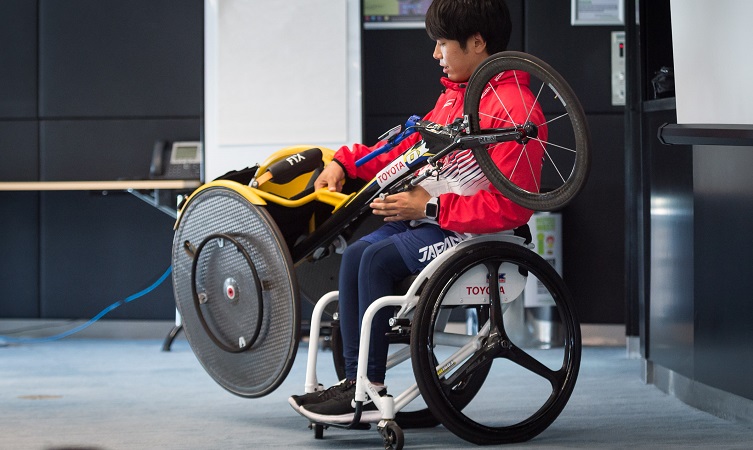 Blog: What are the main differences between your everyday wheelchair and your racing wheelchair?
Suzuki: I think the biggest differences are that the racing wheelchair has three wheels, and that the rear wheels are cambered. The seat is also engineered so that I can take an optimal racing posture – my legs folded underneath and my upper body held low for stability.
Blog: What work do you do at TMC and how does this fit in with your training regime?
Suzuki: I belong to a department that analyses social contribution. My everyday schedule is to work in the mornings and then try to train for around four hours in the afternoons. I think I've found a really good balance between work and competition life.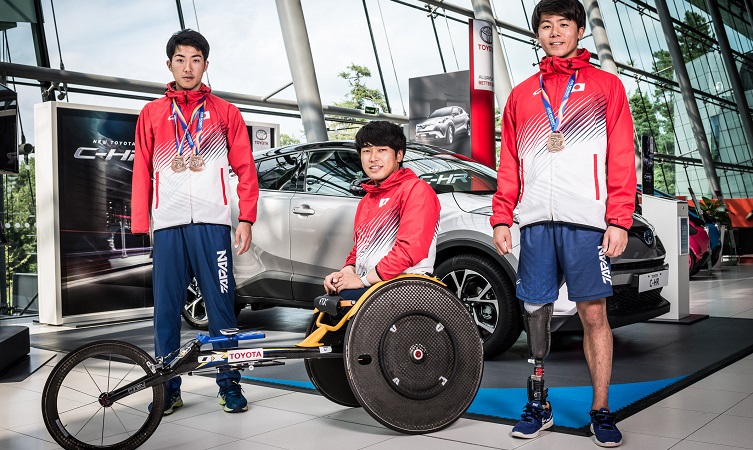 Blog: Thank you all for your time today. And may we at Toyota GB take this opportunity to wish you all the best for your on-going training and the competitions leading to the 2020 Paralympic Games in Tokyo.