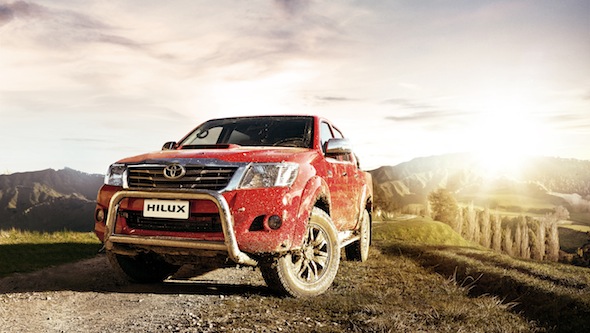 Toyota is one of the world's biggest companies, and has a presence in more than 160 countries and regions – but no two markets are quite the same.
In the first in a new series of snapshot features on Toyota around the world, we thought we'd travel as far from the UK as we could get and bring you the low-down on what's happening in New Zealand.
How big a player is Toyota in New Zealand?
Last year it sold just shy of 18,000 vehicles, giving it a 21.3 per cent share of the market. It has been by far the most popular brand for several years, its car sales alone in 2012 being almost twice the number achieved by Ford, its nearest rival.
It's not just about the numbers, though – a recent study by Reader's Digest found Toyota to be the second most trusted brand in New Zealand.
Toyota's top sellers, in order, are Corolla (the same car we call Auris here in Britain), Hilux, Camry and Hiace.
How did it all start?
Toyota first reached New Zealand in the mid-1960s and spent the first 10 years establishing itself as a new name in a market that had traditionally been dominated by British imports. Some models were assembled locally and by 1986 Toyota had grown to become the second largest player in the market.
Since 1987, New Zealand has been a completely open market, with none of the tariffs or legal restrictions that previously limited supply. Subsequently Toyota progressed to become the number one brand.
Two islands, one market – that's a challenge
There's no bridge between New Zealand's north and south islands, which, respectively are home to approximately 76 and 24 per cent of the population. That means Toyota New Zealand has to forecast what demand is likely to be on each island when planning which models to supply.
New vehicles are brought in from Toyota plants in Japan, Thailand (Hilux) and Australia (Camry and Aurion). You'll even find British-built Avensis Tourer models here, shipped all the way from Burnaston.
Eighty per cent of vehicles enter through Auckland in the north and the rest through Christchurch in the south. If anyone's desperate for a car that's on the "other" island, they face an extra wait while it's shipped between the two. Across the country there are 68 Toyota main dealerships.
Advertising you won't forget
We think Toyota New Zealand makes some of the best TV ads you'll see anywhere in the world. A couple of fine examples include the Hilux spot 'Tougher Than You Can Imagine', and 'Feels Good Inside', for Corolla (scroll to the bottom of the page to watch them).
The Kiwi Way
"Believe": that's the tag for New Zealand's take on the Toyota Way, that it calls the Kiwi Way. It's an ethos Toyota uses to connect closely with its huge local customer base through events, sponsorship and even scholarships.
There's a great website that sets out what Believe means and how Toyota is using it to help "make New Zealand a better place". And don't miss this 'Making a Dream Come True' video.
Go Valerie! – Toyota's good sports
Valerie Adams is one of New Zealand's biggest sporting heroes, a double Olympic champion shot putter who's among only eight athletes to have claimed youth, junior and senior world champion titles in their event.
Toyota New Zealand is proud to support Valerie, who became a Toyota brand ambassador a year ago. Here she is wowing the crowds with her medals at a dealership event.
Toyota has also supported New Zealand's America's Cup sailing team for more than 21 years and this year is backing Emirates Team New Zealand in this year's competition in San Francisco.
Closer to home it also supports the popular Toyota Racing Series for single-seater cars powered by a 1.8-litre Toyota engine. Forget petrol, these cars run on a biofuel that's a milk by-product sourced from the national dairy industry.
Find out more about Toyota in New Zealand at toyota.co.nz.