[youvid embded='t' vid='v-1exCdzqRQ']
Think hybrid cars are complicated? Think again. Hybrid cars are so simple that we will let a kid explain.
That's the premise of the latest #lovehybrid TV ad from Toyota. Take a look at the video and let us know what you think in the comments section.
LoveHybrid bumper stickers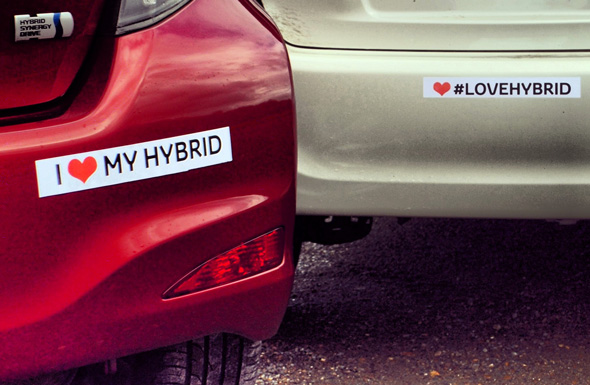 Do you #LoveHybrid and want to tell the world? We've created a set of bumper stickers to help you do just that!
Simply fill in the form with your relevant details, below, and we'll stick a set of free stickers in the post to you. There's no cost, all we ask is that you send us a picture of your car, with the sticker in place!
[contact-form-7 id="35123″ title="Contact form 2″]
IMPORTANT NOTICE:
Apply your vinyl bumper stickers to your car carefully. If stickers are applied to a surface that is covered with anything other than the vehicle's original paintwork then we do not recommend using a bumper sticker. Your car's finish may be damaged.
Toyota (GB) plc cannot accept responsibility for any damage that may arise from the application of these stickers.
INSTRUCTIONS
Apply stickers to a clean surface. Do not apply to a hot surface.
When applying the sticker, peel off the paper backing, align the sticker and place it carefully on your vehicle. Work from the centre of the sticker out.
Avoid using a squeegee, or anything that may scratch your car's bodywork. Bubbles in the vinyl will go down naturally within 48 hours.
REMOVING YOUR STICKER:?
Vinyl stickers can be removed quite easily. Remember, lower temperatures, mean vinyl may become a little more brittle, in which case it may come off in several pieces.
By Iain Reid