Toyota's incredible TS030 Hybrid has scored a historic second win – with victory on home turf in Japan.
A tense battle with rivals Audi lasted from start to finish, but our prototype racing car won its six hour race at Fuji Speedway by an impressive 11 seconds.

The No7 TS030 Hybrid, driven by Alex Wurz, Nicolas Lapierre and Kazuki Nakajima, was quickest in all but one of the official practice sessions and set the standard again in the race, recording the fastest lap.
Victory by just over 11 seconds gave Nakajima the honour of becoming the first Japanese winner of an FIA world championship race since 1992, when Hitoshi Ogawa won a round of the World Sportscar Championship in the Toyota TS010 at Monza.
It is Toyota's third win in world championship endurance racing, following that Monza win and victory in Sao Paulo earlier this season.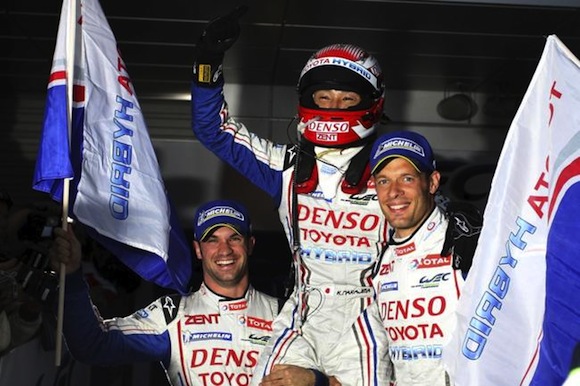 An exciting race with the lead Audi was settled in Toyota Racing's favour late in the day, sealing an emotional win just a few kilometres from Higashi-Fuji Technical Centre, where Toyota's racing hybrid system has been developed.
The drivers were joined on the winners' podium by Takeshi Uchiyamada, Vice Chairman of Toyota Motor Corporation, hybrid pioneer and the man responsible for the Toyota Prius.
The eighth and final round of the FIA World Endurance Championship takes place at the Shanghai International Circuit in China on October 28th, when Wurz and Lapierre will drive the TS030 Hybrid.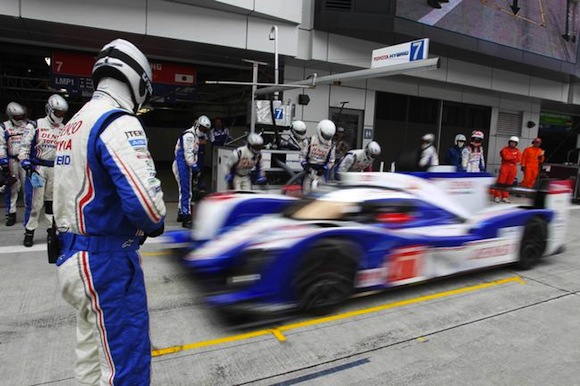 After the win,  Nakajima said: "To win a world championship race as a driver has been my aim for my whole career so it is a great day. The crowd was fantastic; it was great to see so many Toyota flags in the grandstands. I was so excited in the last few laps. I was getting the message from my engineer to push hard because I had to make a gap for our last pit stop, so it was quite challenging. I was pushing like crazy and finally we just made it."
 Wurz added: " We promised to fight for the win but Audi made it very difficult. This win is the result of an enormous team effort. From the start of the weekend everything was targeted on race balance and strategy; we executed it and got the result we wanted so big thanks to the team."
Lapierre said that winning in Toyota's home race was even more satisfying than before: "We are very happy to win here. Since the beginning of the year everyone has been speaking about how important this Fuji race is for Toyota and we made it."
TS030 Hybrid No7 (Alex Wurz, Nicolas Lapierre, Kazuki Nakajima)
Warm-up: 1st (1min 29.137secs), 10 laps
Race: 1st, 233 laps, 7 pit stops. Fastest lap: 1min 28.088secs