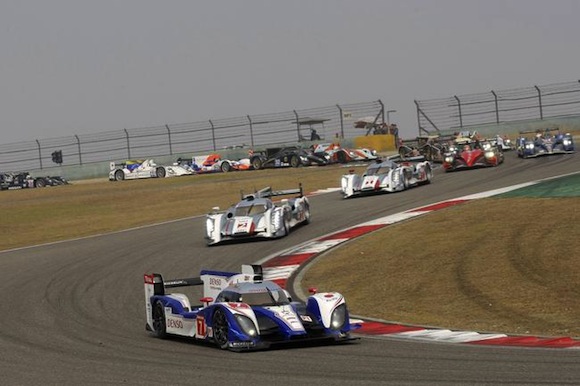 Toyota Racing has more than one reason to celebrate — simultaneously securing its second win of the season in the final round of the FIA World Endurance Championship (WEC), and signing Mike Conway as a test and reserve driver for the 2014 season.
The final round of the World Endurance Championship took place at the Bahrain International Circuit on Sunday, with Anthony Davidson, Sébastien Buemi and Stéphane Sarrazin putting in strong performances in the number 8 TS030 Hybrid, and finishing more than a minute clear of the nearest competitors.
The stage win followed a dominant qualifying performance, in which Nicolas Lapierre, Kazuki Nakajima and Alex Wurz of the number 7 Toyota, claimed pole ahead of their team-mates. Lapierre maintained the lead until being delayed by traffic just after an hour — this allowed Buemi to break through.
Shortly after, the number 8 car then made a clear run to the finish, with Davidson contributing a double stint from just over half distance.  The number 7 Toyota held second until being sidelined by a technical issue after two hours and 64 laps.
Toyota Racing's season tally of 152.5 points puts the team in second place in the manufacturers championship, with two wins, six podiums and three pole positions.
Looking ahead to 2014, Mike Conway, 30, from Kent, will join Toyota Racing at the start of the season, supporting the existing team line-up of Alex Wurz, Nicolas Lapierre, Kazuki Nakajima, Anthony Davidson, Sébastien Buemi and Stéphane Sarrazin.
Conway will help to develop the team's new LMP1 car when testing begins in January. Conway has pedigree, being a front-runner in the LMP2 class at this year's WEC, and performing well in Le Mans 24 Hours. Rounding off an impressive racing CV, Conway has completed three seasons in GP2 and five in IndyCar — he will be compete there again in 2014.