[slider_pro id="81″]
The all-new Toyota TS040 Hybrid has been revealed for the first time ahead of the 2014 World Endurance Championship season.
We've got all the details from the grand unveiling at Paul Ricard in this post, but now it's time to focus on the drivers who will pilot the No7 and No8 cars.
Toyota Hybrid Racing have shuffled the pack for the new season – Stéphane Sarrazin has moved to the No7 car, while Nicolas Lapierre heads in the opposite direction to car No8.
The No7 team now consists of Sarrazin, Alex Wurz and Kazuki Nakajima while Lapierre joins Anthony Davidson and Sébastien Buemi in No8.
The team is clearly ready for a united assault on the WEC – here's a selfie of the team taken by Nicolas Lapierre at today's launch event. (Clockwise from top right: Anthony Davidson, Stéphane Sarrazin, Alex Wurz, Kazuki Nakajima, Nicolas Lapierre, Sébastien Buemi)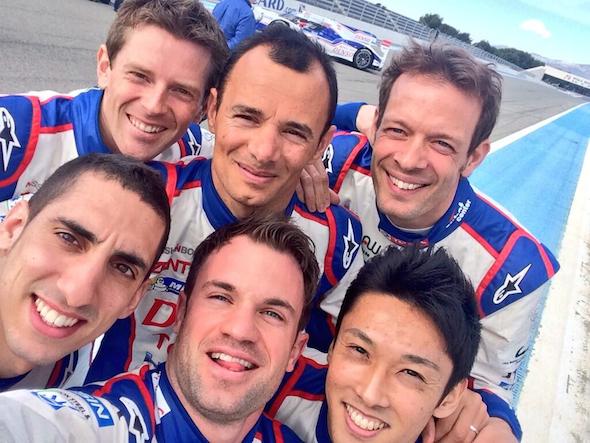 Looking ahead to the prospects for the 2014 season, including a return to the Le Mans 24 Hours  where he secured a second-place finish last year, Davidson said: "It's hard to know where our competition will be performance-wise. We are waiting to face them on track but you have to expect Audi will have done a good job and will probably be the one to beat despite Porsche's heritage in this category.
"The target is clear for us: winning races and of course Le Mans, which remains the main goal and the race I want to win. We just have to make the final step forward after our 2013 result."
He is confident the new car will have what it takes to compete: "When I first saw the car, I was most impressed with the level of detail. The aerodynamics are very advanced and you can immediately see how much effort the team has put into this when you look at the car.
"From the driving seat, the most impressive aspect is the four-wheel drive hybrid; the traction and the power really feel good when you come out of a corner."
We'll have more on the TS040 Hybrid racer in the run-up to the start of the World Endurance Championship season at Silverstone on Sunday, April 20th.