When Akio Toyoda reminded us to pack warm clothes for this second leg of the Five Continents Drive European adventure, he wasn't kidding. Our final week began with constantly changing weather conditions and temperatures as low as -23 degrees Celsius. Nearing journey's end, the goal in Finland was in sight…
Day 19: Arvidsjaur, Sweden, to Rovaniemi, Finland
Distance: 401km
Accumulated total: 17,747km
Refreshed from two days of rest in the peaceful village of Arvidsjaur, we were joined by new team members for the final charge toward Finland. During the weekend the vehicles were exposed to the full force of nature, with temperatures plunging to -23 degrees Celsius. But incredibly they all remained unfazed and started without preheating. Incredible!
After exiting the hotel, we immediately experienced the aftereffects of a Swedish weekend getaway. Smashed by the impact of small-wheeled trailers carrying heavy snowmobiles, the once compacted ice on the R94 had been turned into loose shards of ice that clattered in the wheel arches like knives thrown into a cutlery drawer. Though unpleasant to listen to, the noise provided an effective comparison of noise isolation at speed, something that will be fed back to development teams.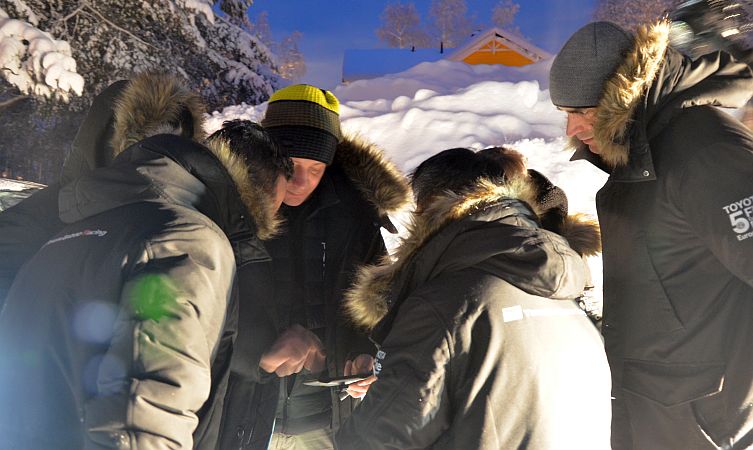 Warmed by a cheery "Welcome to Finland!" played on the radio, we crossed the border near Haparanda. Over the course of the day we would get only three hours of daylight. And this meant our headlights became a vital element in illuminating our path and a source of intense discussion that evening.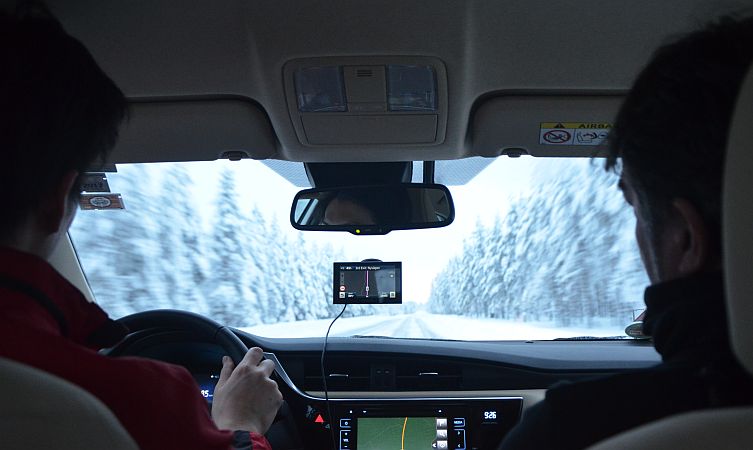 On stretches of the unlit E75 highway we compared the distance radius and beam patterns of the cars in our convoy, marvelling too at how quickly the adaptive headlights in the Prius Plug-in detected oncoming traffic and seamlessly shaded parts of the beam to prevent dazzling. Sitting inside the car in such a dark, rural environment, we also recognised the need for all interior buttons to be illuminated and that in some instances their accessibility could be improved.
Day 20: Rovaniemi, Finland, to Saariselka, Finland
Distance: 258km
Accumulated total: 18,005km
Morning dawned in Rovaniemi with a backdrop of sweeping mist. The day's journey through Lapland began with an impromptu visit to the well-established Tojo Auto dealership, where representative Kimmo Aho gave us an insight into his home country and the local car market.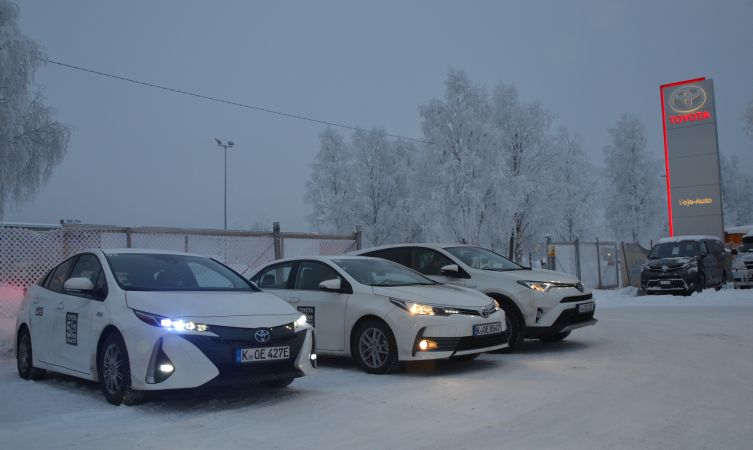 We were delighted to hear that low-emission vehicles are highly sought-after in Finland, meaning that approximately 70% of all Toyota models sold by Tojo Auto are petrol-electric hybrids. Among these, there is healthy demand for Toyota's range of all-wheel drive hybrid models, such as the C-HR and RAV4, as they offer greater stability and ability in fluctuating conditions.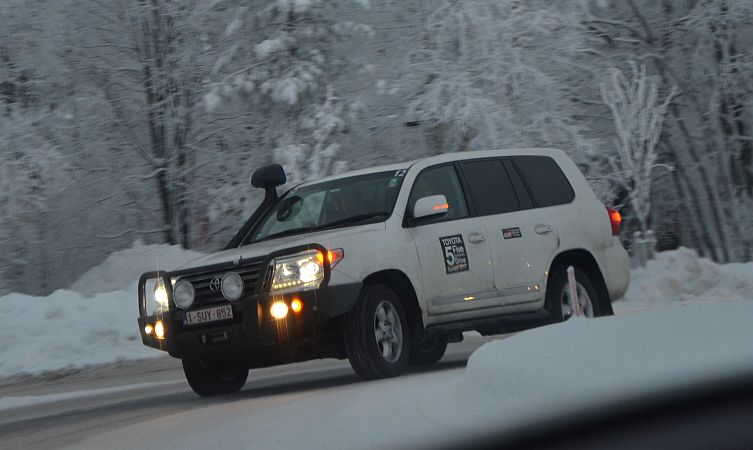 With the cars given a thorough once-over by the local technicians, we set off and encountered the full spectrum of winter motoring, from mildly clear to treacherously icy. Although a subjective measurement, we all know it is important for customers to have confidence in their vehicle, whatever the weather throws at them.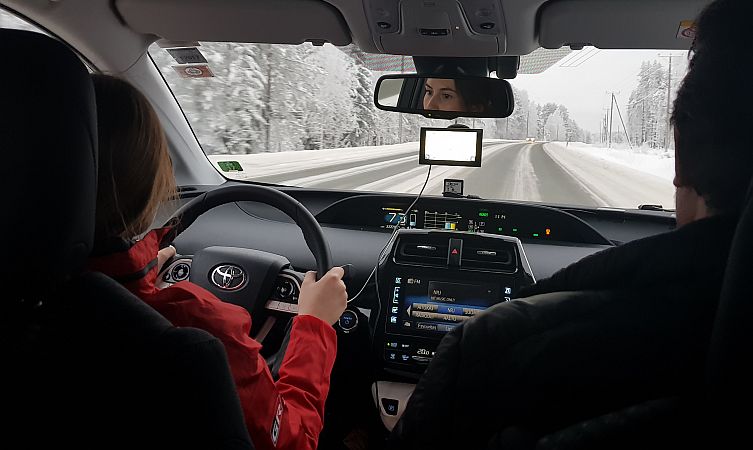 This was experienced by team member Kerry Sainsbury (above) from Toyota GB's internal communications team, who is not familiar with such extremes of motoring yet felt that the Prius Plug-in she was driving was "very comfortable over long periods" and that she felt "safe and secure behind the wheel."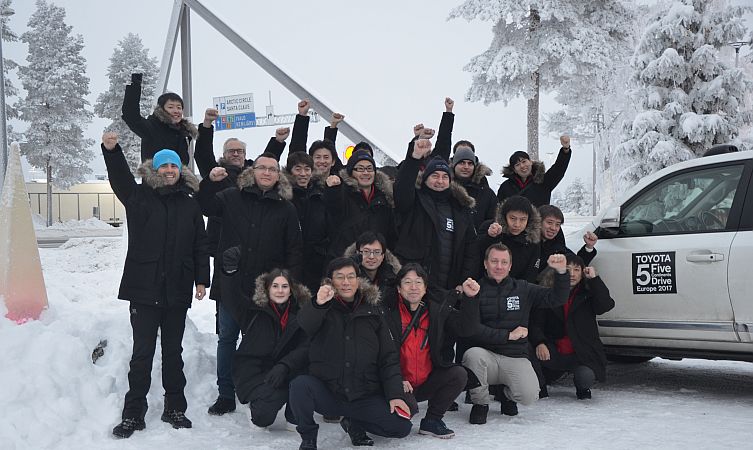 Passing a protractor-like structure spanning the width of the E75, we had reached 66 degrees north – a milestone for the Five Continents Drive team as we were now in the Arctic Circle. It made a great opportunity to soak in the polar atmosphere before venturing even further north.
Day 21: Saariselka, Finland, to Oulu, Finland
Distance: 486km
Accumulated total: 18,491km
They say that the early bird catches the worm. But in our case it's an early start with a slither of breakfast before jumping back on the E75 to head north. In the darkness of the morning and to bleary, dilated eyes, fresh snow makes a tricky first hurdle to negotiate. Nevertheless, the team is getting practiced at tackling slippery roads, and we reached our first stop without incident.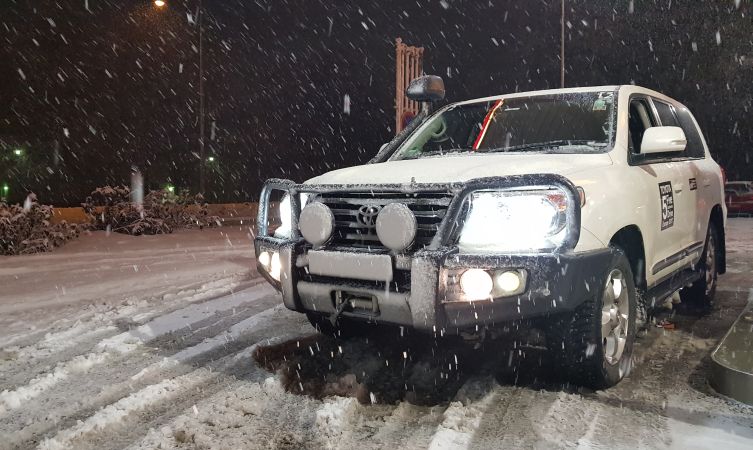 Weather reports predicted a rise in temperature to just above freezing soon after sunrise, so we prepared ourselves for the icy roads to turn into a mushy school dinner of gritting salt and dirt as we approached the Santa Claus Village amusement park. However, the clear skies soon darkened and the weather dramatically changed to conditions that would red-flag any motorsport event.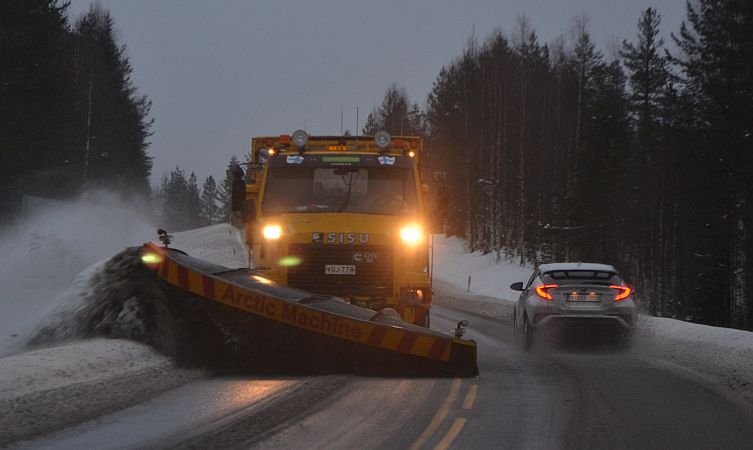 Falling sleet wouldn't normally worry us too much. But when this slush meets the steeped banks of ploughed snow piled on to the sides of the road it freezes, hardens the surface like a shell and prevents water collecting in the road from draining away. What you are left with is a melting ice rink of challenges, with myriads of partially frozen road-lakes begging for us to skate across the surface.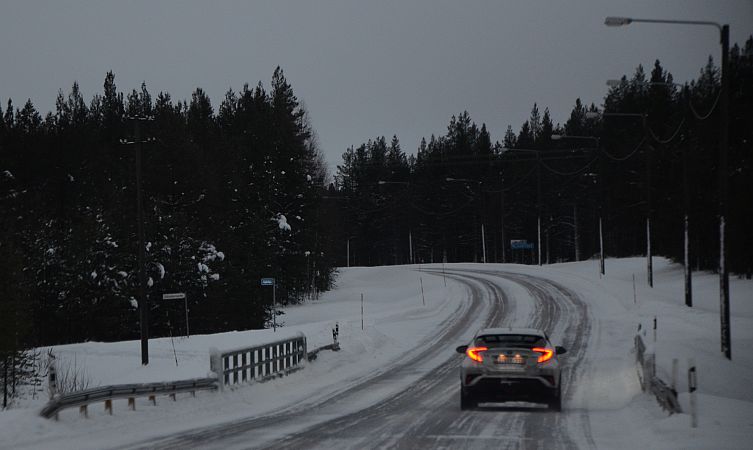 Then as the temperature falls again, the sleet turns to heavy snowfall. Driving through the snowfall feels like you are travelling at lightspeed through hyperspace, a tunnel vision effect being created by the snow whizzing past like stars. Delicate each snowflake may be but the sheer volume of them delivers a relentless assault on each vehicle – a whiteout condition that none of the team will ever forget.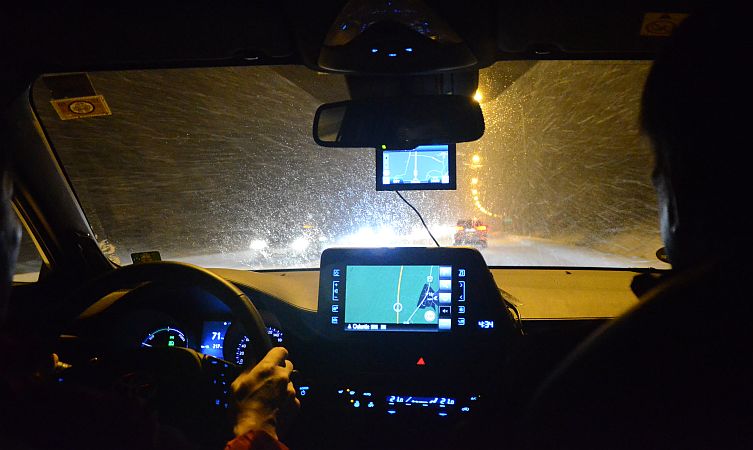 Despite being weary from the early start and constant concentration throughout the day, the team arrived in Oulu for a well-deserved rest before the final push tomorrow.
Day 22: Oulu, Finland to Jyvaskyla, Finland
Distance: 346km
Accumulated total: 18,837km
Overnight the convoy count had grown to 14 as friendly faces from Toyota Russia added a RAV4, Hilux, Fortuna and Land Cruiser models to the mix. Sensing journey's end, the message from our team leaders on this penultimate day was clear: stay focused, keep safety first and do not become complacent.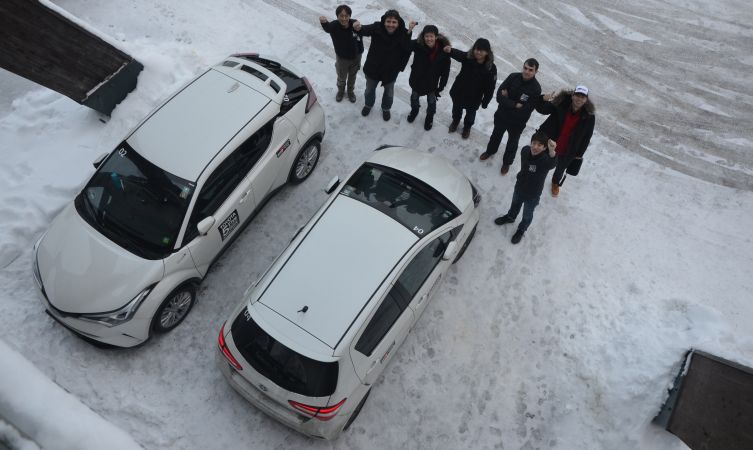 Illuminated by the glare of festive neon lights, we left the city of Oulu and joined the E75. Compared to yesterday, the weather was mild and the rise in temperature created a dangerous mixture of clear and icy patches, not to mention a growing number of potholes.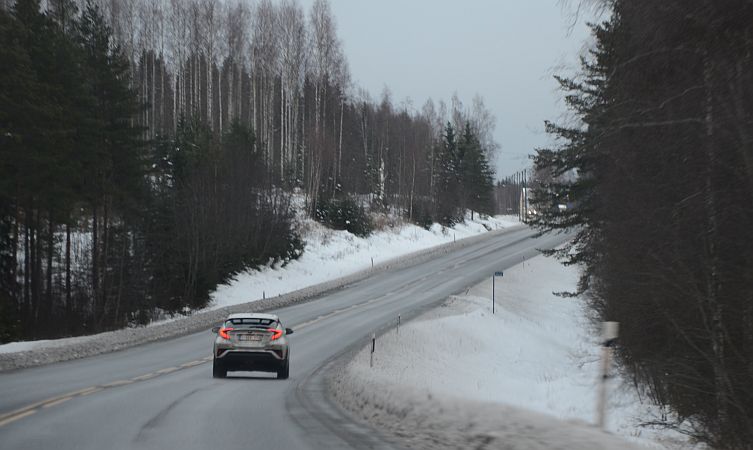 Interestingly, just as water can seep into the road surface and break it apart when it freezes, we discovered an abnormal number of passing vehicles with broken headlamps – the explanation for which was also due to water expansion. It appears that if the small ventilation holes built into the headlights become blocked by snow or ice, condensation cannot escape, and when this liquid freezes, it can shatter the headlight. Once this was understood, the team suddenly took a greater interest in the overall cleanliness of the entire headlamp unit.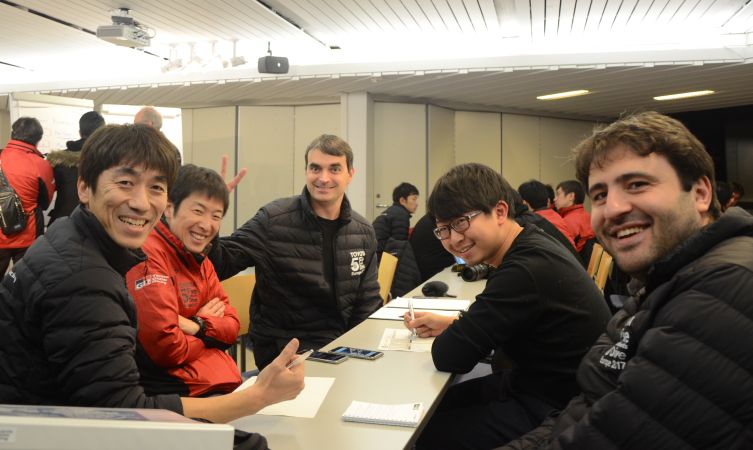 After reaching our hotel, all cars were cleaned inside and out in preparation for the big day tomorrow. At our final debrief we compared team Russia's petrol RAV4 with its petrol-electric hybrid counterpart and discovered that the dual-source vehicle consumed one litre less fuel every 100km, which would have represented a fuel saving of 190 litres over the course of the European trip.
Day 23: Jyvaskyla, Finland, to Puuppola, Finland
Distance: 12km
Accumulated total: 18,849km
Having started our impossible since Portugal and conquered 23 countries, our end goal of Tommi Mäkinen's house was but a stone's throw away. Leading our convoy was the iconic Land Cruiser, the original pioneer that had powered earlier teams through Australia, both North and South America, and now the length and breadth of Europe.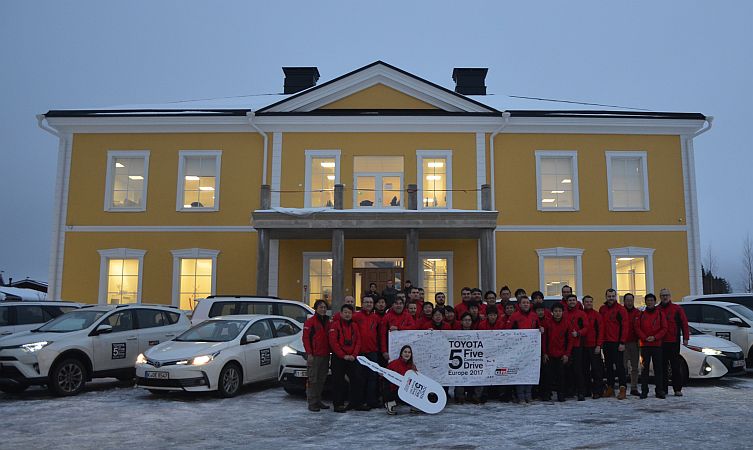 Snaking up a country road to a seemingly non-descript building, we had arrived at our final desination. There waiting for us was none other than the team principal of the Toyota Gazoo Racing World Rally Team, Tommi Mäkinen. And with a glowing smile we were welcomed into a special celebration of our achievements.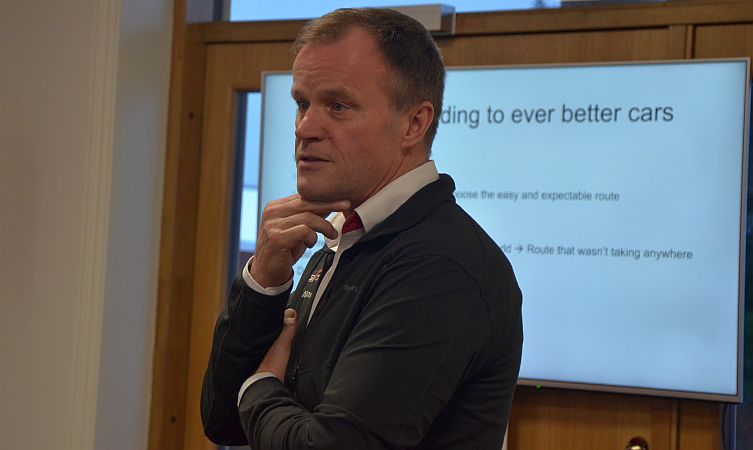 The principle that "Roads train people, and people make cars" resonated more deeply with the team now that we had experienced roads and extreme conditions that would inform the development of future Toyota vehicles. This feeling was also mirrored by the Toyota Gazoo Racing World Rally Team, as Mäkinen reflected on his return to the WRC.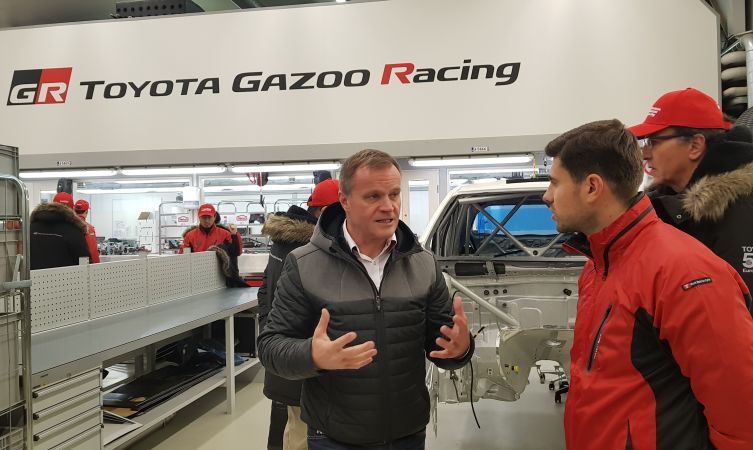 Using a production Yaris as the starting point, the team secured victories and surprised the pundits in its first season. Feedback was analysed from each round, which helped improve performance within the championship, but will also – like the Five Continents Drive project – be fed back to the development teams in charge of future production vehicles. In fact, the new Yaris GRMN offers a glimpse of the future of these new fun-to-drive cars.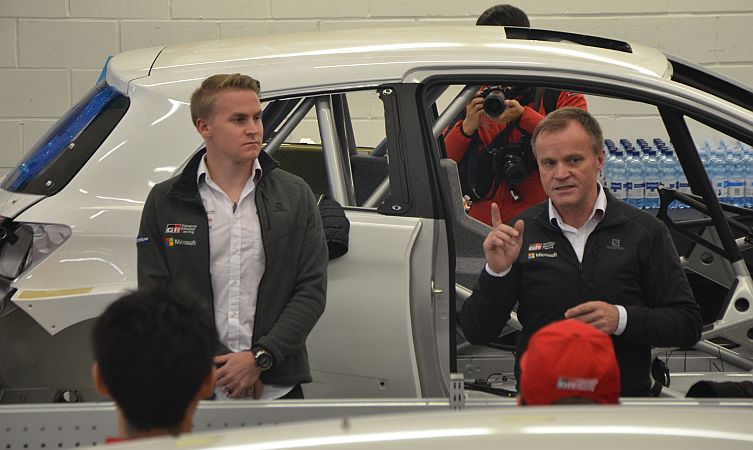 Following the presentation we were taken on a tour of Mäkinen's Puuppola workshop, including a glimpse of the super-secret 2018 Yaris WRC car. Esapekka Lappi also joined and spoke passionately about the 2017 season and how his victory in Rally Finland was but a taste of what is to come.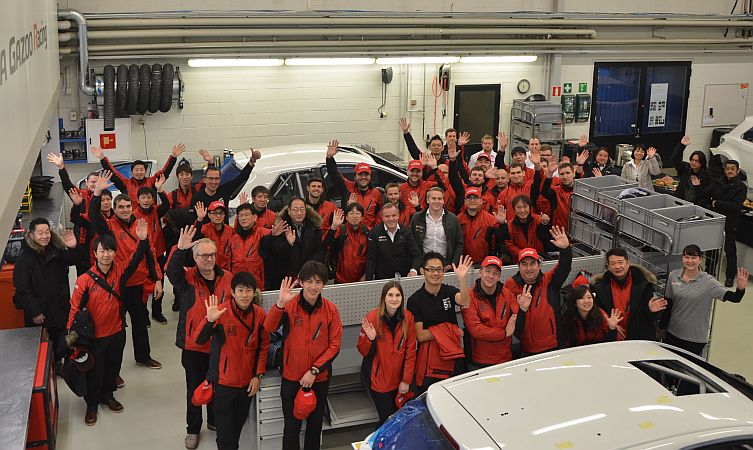 Sadly, our great adventure together had now come to a close. Although we had come from different cultures and walks of life, the Five Continents Drive team had bonded over their mutual love of cars. With two more continents to conquer, we all wondered what further ideas would emerge in Toyota's ongoing effort to create ever-better cars.
Read more: Toyota Five Continents Drive, Europe – Winter Week 1
Read more: Toyota Five Continents Drive, Europe – Winter Week 2
Read more: Toyota Five Continents Drive, Europe – Winter Week 3