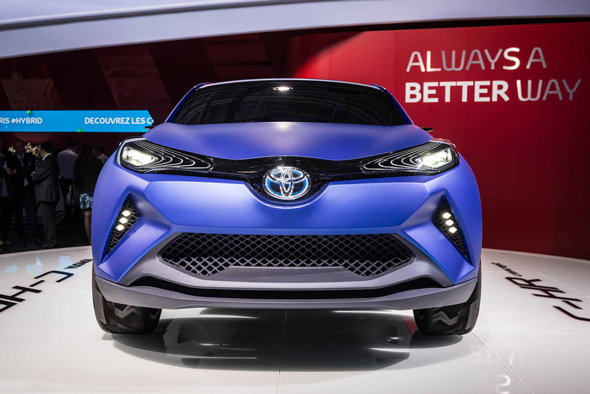 The Toyota C-HR Concept car, revealed at the 2014 Paris motor show, introduces a new Toyota vehicle architecture and hints at a future design direction for the company.
The sculpted lower bodywork presents a precision-cut, faceted look, while the corners of the bodyshell have been cleanly shaved off, reducing overall mass and emphasising the powerful flaring of the wheel arches. Viewed from every angle, the crossover concept has a broad, planted stance.
The frontal styling displays a further development of Toyota's current style language, but with new themes that hint at a future design direction. The slim upper grille design has evolved in to a floating 'wing' graphic that flows seamlessly around the front corners of the vehicle to the apex of each wing. Within this wing shape, the headlamps feature strong detailing, including a high-tech, 3D treatment of the daytime running lights.
Adding emphasis to the corners of the vehicle further reinforces the vehicle's solid look. The large lower grille is flanked by strongly sculpted downward projections, underscored by a floating front spoiler.
The faceted lower body, muscular wheel arches and angular rear shoulders are juxtaposed with a sleek cabin profile. The glasshouse is emphasised by a sweeping, uninterrupted extension of the side glazing into the rear screen. This creates a slim, floating roofline, tipped with a spoiler. Its length is exaggerated by residual C-pillars which taper to needle points either side of the rear screen.
The floating roof has patterned openings that create a lively play of light in the cabin. Seen from the rear, the sharply tapering glasshouse emphasises the car's broad, planted appearance. The rear end displays the same faceted treatment and corner detailing as the front of the vehicle, together with distinctive, aero-inspired floating light clusters.
A dedicated wheel design reinforces the concept's crossover credentials, with blade-style spokes.
New platform and powertrain
The C-HR Concept is built on a new platform and measures 4,350mm long, 1,850mm wide and 1,500mm high. A lower centre of gravity and greater structural rigidity will contribute to much improved driving dynamics.
It uses a new full hybrid powertrain that will deliver significantly improved fuel efficiency.
More from 2014 Paris motor show
Toyota C-HR concept revealed at 2014 Paris motor show
Toyota Fuel Cell Sedan at 2014 Paris motor show
Toyota Fuel Cell Sedan: 9 questions to Matt Harrison
Toyota i-Road at the 2014 Paris motor show