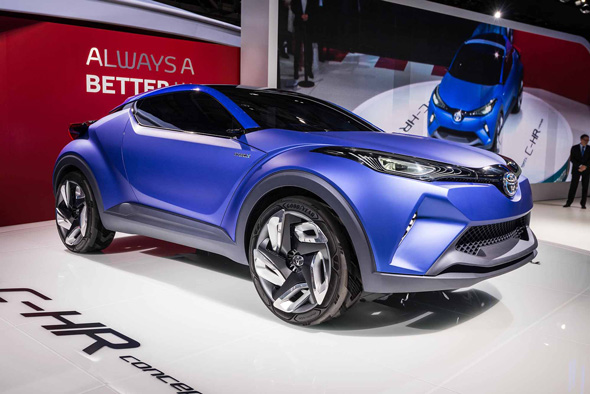 The Toyota C-HR Concept has made its world debut at the 2014 Paris motor show, giving the first hint of a type of crossover vehicle Toyota would like to bring to market.
The concept combines a new, dynamic design language with an agile and engaging drive to create a new proposition for the demanding European car market.
Toyota has a long-established reputation for innovation in landmark vehicles such as RAV4, Prius and GT86.
The C-HR Concept represents a synthesis of 20 years of Toyota creativity. It recaptures the design and packaging ingenuity that produced the original RAV4, introduces the next generation of the sophisticated full hybrid technology that was first realised in Prius, and, inspired by the GT86, targets new levels of dynamism and agility.
It is an innovative design study for a stylish, lightweight C-segment crossover that will stand out in an increasingly homogenous market, and is the next physical expression of the promise Akio Toyoda made when became Toyota President to build cars with stronger emotional qualities that will make their owners fall in love with driving again.
The C-HR Concept has the essential combination of compact packaging and agility required by customers with active, urban lifestyles.
It has been conceived around a new vehicle platform design to satisfy customer demand for excellent handling and control. A new, advanced full hybrid powertrain delivers an engaging driving experience that can deal with 21st century traffic conditions and deliver outstanding efficiency.
A global project rooted in the European market
The C-HR Concept is another tangible manifestation of Toyota's new Global Vision, first advocated by Akio Toyoda in 2011.
Toyota recognises that Europe is the most demanding market for small and mid-size vehicles, so uses the region as the benchmark when defining its future cars for the A, B and C-segments.
Toyota Motor Europe has also become the company's skill centre for diesel engines, perceived quality and vehicle dynamics.
In the case of the C-HR Concept, there was close co-operation between Toyota's product planning centres in Japan in order to gain a good understanding of the latest European customer demands and vehicle trends.
The concept's styling is the result of co-operation between Toyota design centres, including ED2, its European design development studio.
Toyota Europe will continue to work hand-in-hand with Toyota Motor Corporation in Japan to enter the C-crossover segment.
More from 2014 Paris motor show
Toyota C-HR: new design direction and new platform
Toyota Fuel Cell Sedan at 2014 Paris motor show
Toyota Fuel Cell Sedan: 9 questions to Matt Harrison
Toyota i-Road at the 2014 Paris motor show