The first scorching sunshine of the year played a major role in this weekend's rounds of the British Touring Car Championship at Thruxton, where there was no shortage of drama for the five Toyota Avensis racecars.
Thruxton – Round Seven
Saturday's qualifying saw another scintillating performance from Tom Ingram, who piloted his Speedworks Motorsport Avensis to his second pole-position of the season. That's not to say Saturday was a stroll in the park for the young Toyota driver, after his first two flying lap times were scrubbed off by officials for not respecting track limits.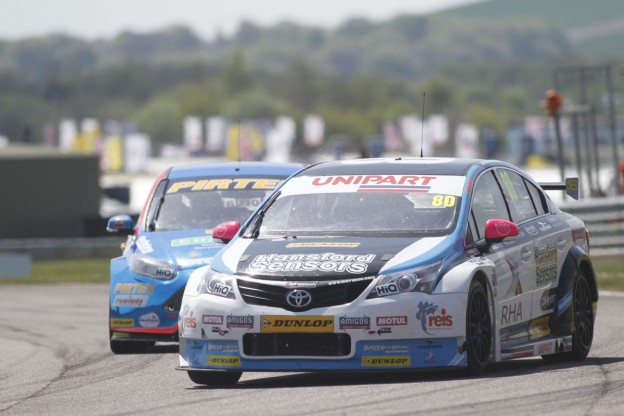 "It was pretty sketchy early on, because I kept getting calls over the team radio saying 'you're quickest', swiftly followed by 'your lap time's been removed', so I knew I needed to calm down a bit," Ingram told the cameras after finishing. And calm down he did – nothing could stop him from claiming his second pole after his blistering pace broke the Thruxton lap record for qualifying.
The drama didn't end there; a frenzied start to Sunday's opening race saw Ingram unable to hold onto the lead. But as the pace intensified, the weather and demanding Thruxton track took its toll on the tyres. As the leaders blasted their way down Brooklands and Woodham Hill, Matt Neal suffered a puncture and, while attempting to pull into the pit lane, was knocked by an unsighted Josh Cook, with Gordon Shedden, Jeff Smith and Jake Hill – among others – ending up involved in the incident.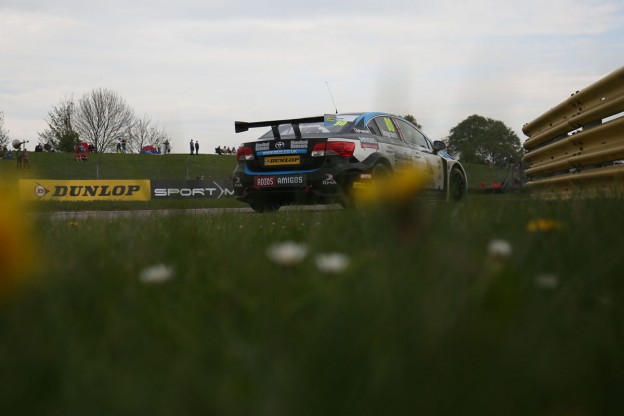 Race officials were left with no choice but to cut the race short, and as the red flag flew Ingram had recovered enough to secure second place, and his third podium of the season. Ingram wasn't the only Avensis to benefit – Jake Hill secured his second tenth-place finish in his RCIB Insurance Racing car, directly followed by teammate Michael Epps in 11th.
Thruxton – Round Eight
The weekend's second race saw a familiar story play out for Ingram. With the weather forcing stewards to reduce the number of race laps to 12, the Speedworks Motorsport racer would have hoped for a better start than the one he had and things only got worse when he was handed a drive-through penalty after being deemed to have jumped the start.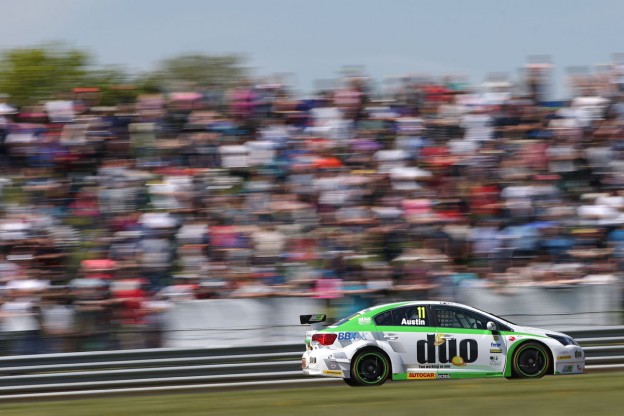 Ingram failed to finish, but Handy Motorsport's Rob Austin secured a tenth place finish, and Michael Epps continued his positive weekend by crossing the line in 14th.
Thruxton – Round Nine
The third and final race of the day was another disappointment for Ingram, who was once again unable to finish the day's racing. But while the Speedworks Motorsport team had little reason for cheer, RCIB Insurance Racing's young driver Michael Epps would have been over the moon after completing his best weekend's racing yet, securing another tenth-place finish and closing the gap on the leaders in the Jack Sears Trophy standings. Meanwhile, Rob Austin continued to show the steady pace of his Avensis with a season-best seventh-place finish.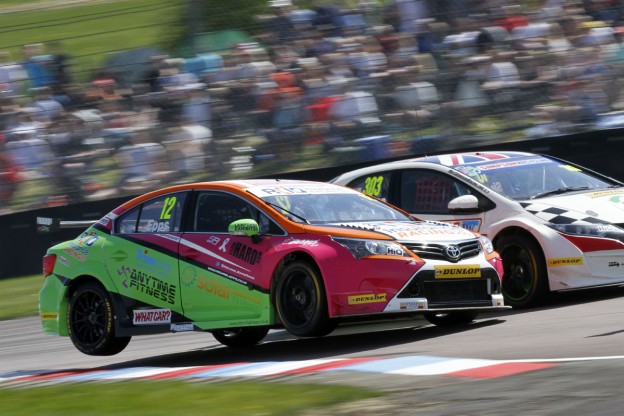 The BTCC now moves on to Oulton Park in Cheshire on 4th and 5th June for Rounds 10, 11 and 12 of the series.
Classifications after third weekend
| | | | |
| --- | --- | --- | --- |
| Position | Driver | Team | Points |
| 11 | Tom Ingram | Speedworks Motorsport | 57 |
| 14 | Rob Austin | Handy Motorsport | 38 |
| 19 | Michael Epps | RCIB Insurance Racing | 16 |
| 20 | Jake Hill | RCIB Insurance Racing | 12 |
| 28 | Chris Smiley | TLC Racing | 0 |