Two stars of Toyota GB's heritage fleet – the Aygo Crazy and the Corolla GT Coupe (AE86) – made an appearance at Goodwood's Hot Hatch Sunday.
The Breakfast Club meet saw a host of hot hatches and thousands of aficionados descend onto the Goodwood Racing Circuit early on Sunday morning and the Aygo Crazy and AE86 caught their eyes in the October sunshine.
The Toyota Aygo Crazy is a one-off concept car which made its world debut at the 2008 British International Motor Show and was a natural draw to the visitors of Hot Hatch Sunday.
Powered by a Toyota 1.8 VVT-i engine from an MR2 roadster, the Aygo Crazy has a Toyota Motor Sport turbo conversion kit which boosts horsepower up to around 200bhp.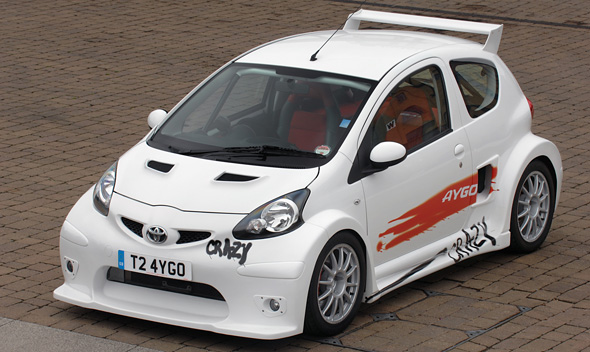 The rear-wheel drive monster has a custom-made body, and a rear wing taken directly from a 200mph Champ Car that raced in the USA. Sporting 17-inch Team Dynamics alloy wheels and beefy Goodyear 225/45 rubber the Aygo Crazy is a one-off that certainly made visitors smile when they spotted the car at Goodwood.
But they were just as keen to hear about what was under the skin as well as see its obvious visual delights. The Aygo Crazy has MR2 suspension and its five-speed manual gearbox. What the car doesn't have is electronic aids. There's no ABS and no power steering. All this combines to make a car that is incredibly fun to drive.
If the Aygo Crazy has in-your-face fun all over it, the talents of the Corolla GT Coupe are more subtle. The car burst onto the British sports car scene in May 1985 and quickly won plaudits for its tuneful 1.6-litre 124bhp twin overhead cam engine and a rear-wheel drive layout that lent itself well to the sports of rallying and drifting.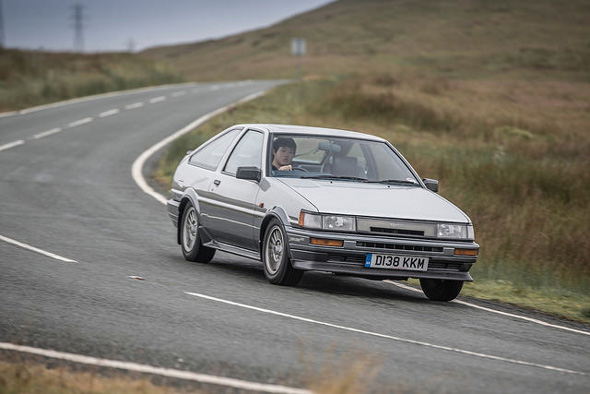 Visually, the car isn't particularly shouty, but the same can't be said for the exhaust note, which, put simply, is loud – very loud.
The car's distinctive and raspy note attracted a lot of attention at Goodwood – it really does sound like no other car.
Were you at Breakfast Club at Goodwood? Share your pictures of our cars on Facebook or Twitter.