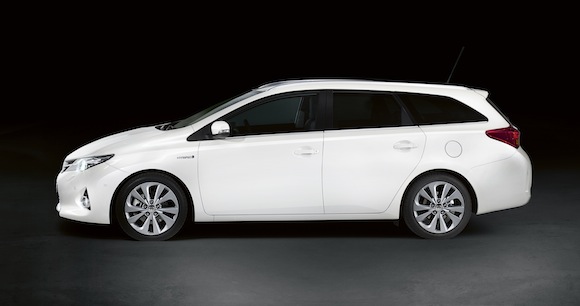 The British built Toyota Auris Touring Sports has made its production debut at the 2013 Geneva Motor Show.
To celebrate, a new concept version of the car has also been unveiled, called the Auris Touring Sports Black .
The design study proves the Burnaston, Derby built model offers more than just space and functionality, offering Night Sky black metallic paintwork and red-accented 19″ alloy wheels.
The car also offers red inserts in the bumpers, and red trim on the front grille.
The practical estate car, which has been awarded a five star euroNCAP crash safety rating, goes on sale this summer.
Toyota Motor Europe Executive Vice President, Sales Group, Karl Schlicht said: "Toyota in 2013 will be boosted by the launch of many new models, including the rejuvenation of our cars in the C-Segment.
"With our advanced Auris, and its hybrid engine, customers will be able to buy an Auris Hybrid that emits just 85g/km – that's why we are excited to take the next step. Today, we launch the Auris Touring sports, which emits just 85g/km and offers 530 litres of boot space."