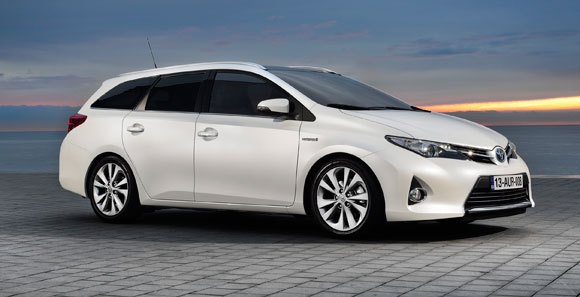 Toyota will unveil the production-ready Auris Touring Sports at the 2013 Geneva Motor Show, having previewed the estate version of its Auris model at the Paris motor show last year. It will also publish full specifications, dimensions and performance data for the new, British-built model, which will go on sale later this year.
Toyota wants Auris Touring Sports to become a new leader in the market for medium-size estate cars, supported by its strong, contemporary styling, excellent luggage capacity and unique-in-segment full hybrid powertrain option.
The model's debut will be supported by the presentation of a special design study, the Auris Touring Sports Black.
For information on the new Auris, check out our previous Auris Touring Sports posts and our round-up of Auris reviews.
Auris Touring Sports will appear at the show alongside the FT-Open concept, a hint at the possibility of a future GT86 convertible, the i-ROAD concept and the new RAV4.
Read our other Geneva Motor Show posts here.