It didn't take long for the blistering pace of the recently revised Toyota Avensis to become evident in the lead-up to rounds one through three of the 2016 Dunlop MSA British Touring Car Championship at Brands Hatch last weekend.
Brands Hatch Indy – Free Practice
Replicating last year's scene-setting performance, 22-year-old Tom Ingram once again topped the timesheets in his Speedworks Motorsport-prepared car during the first Free Practice session. A total of six cars lapped under last year's pole position and 18 cars were within a second of Ingram's time. But it was the Avensis driver that posted this fastest-ever touring car lap around the short 1.2-mile Indy circuit.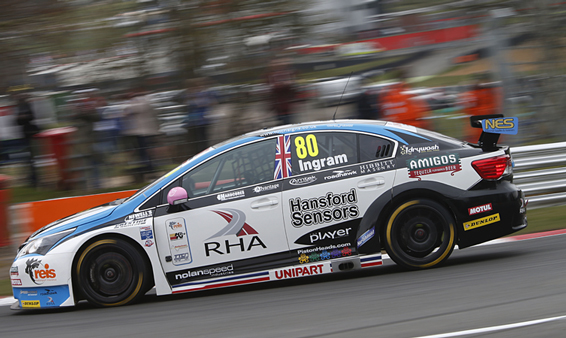 It was a short-lived record, however. During the second Free Practice session West Surrey Racing's Sam Tordoff set an even faster lap, although hard-charging Ingram was only two tenths of a second behind in third place.
Brands Hatch Indy – Round 1
What a start of the season for Toyota, Tom Ingram and the Speedworks Motorsport squad! During the open qualifying session run under base weight conditions, Ingram wrestled back the lap record and secured his first ever pole position.
Ingram was the first driver to set a benchmark time inside the 47-second bracket, however, the session was incredibly close, with 22 drivers within a second of each other.
Commenting on this result, Ingram commented: "We stressed all the way through the winter that we would only see everybody's true pace in qualifying here, and it's quite mental to think I've just taken my first touring car pole! I saw it was going overcast, so I knew we needed to put a 'banker' lap in early to be safe. All the guys at Speedworks have done an amazing job with the Avensis, and this is an absolutely superb result."
Starting in pole for round one, young star Ingram capitalised on his leading position with an impressive lights-to-flag performance to clinch victory. The top three cars remained steady throughout the race, interrupted only by a slowing backmarker and a mid-race safety car spell due to the frenetic bumper-to-bumper action in the middle of the pack.
Ingram crossed the line accompanied by rapturous applause from both the Speedworks team and filled spectator banks.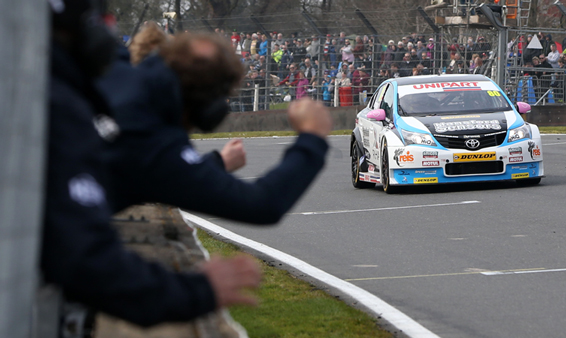 Overjoyed after the race, Ingram said: "This is what all the hard work over the winter was for. We knew we had a good package underneath us, and Speedworks Motorsport is such a fantastic bunch of guys – this result is for all of them. When I saw the team celebrating as I climbed out of the car afterwards, it brought a tear to my eye, and the emotion just goes to show how much this first victory means to us. It's unbelievable."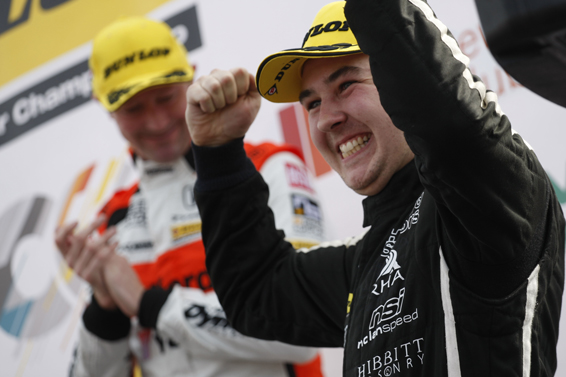 Brands Hatch Indy – Round 2
Unfortunately, Toyota's success in round one was not replicated in round two. Ingram's Avensis maintained its lead off the line but soon entered the sightline of West Surrey Racing's Rob Collard, who had blitzed from sixth to second before reaching Paddock Hill bend on the first lap.
The duo traded paint at Paddock on the second lap before more violent contact was made at Druids, which sent Collard into a spin. Ingram's car sustained damage but soldiered on for half a lap, eventually having to slow and retire from the rest of the race.
Rob Austin in the Handy Motorsport car completed Toyota's round two scoring order in 14th position.
Brands Hatch Indy – Round 3
Action in round three was both fast and occasionally furious, with plenty of contact, punctures, safety car interventions, fines and distribution of penalty points.
Unfortunately, Toyota racers didn't emerge unscathed from these activities, with Ingram receiving a £500 fine and three penalty points on his licence for an incident involving fellow Avensis driver Jake Hill. Meanwhile, Ashley Sutton received an official reprimand and two penalty points on his licence for an incident involving Rob Austin.
Nevertheless, Austin and the Handy Motorsport team were able to carry on and secure their best finish so far this season in 11th place.
Classifications after first weekend
| POSITION | DRIVER | TEAM | POINTS |
| --- | --- | --- | --- |
| 9 | Tom Ingram | Speedworks Motorsport | 23 |
| 15 | Rob Austin | Handy Motorsport | 7 |
| 19 | Jake Hill | RCIB Insurance Racing | 3 |
| 22= | Mike Epps | RCIB Insurance Racing | 0 |
| 22= | Chris Smiley | TLC Racing | 0 |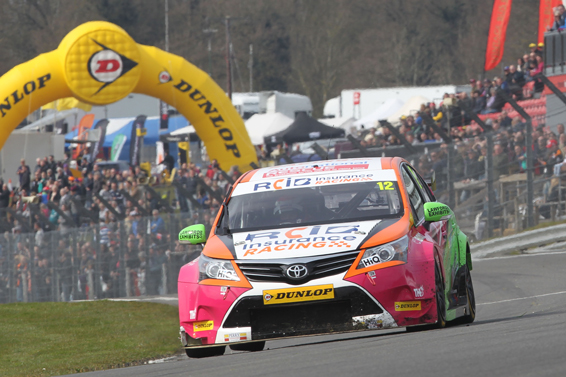 Click the following link to learn more about the Toyota Avensis teams and drivers