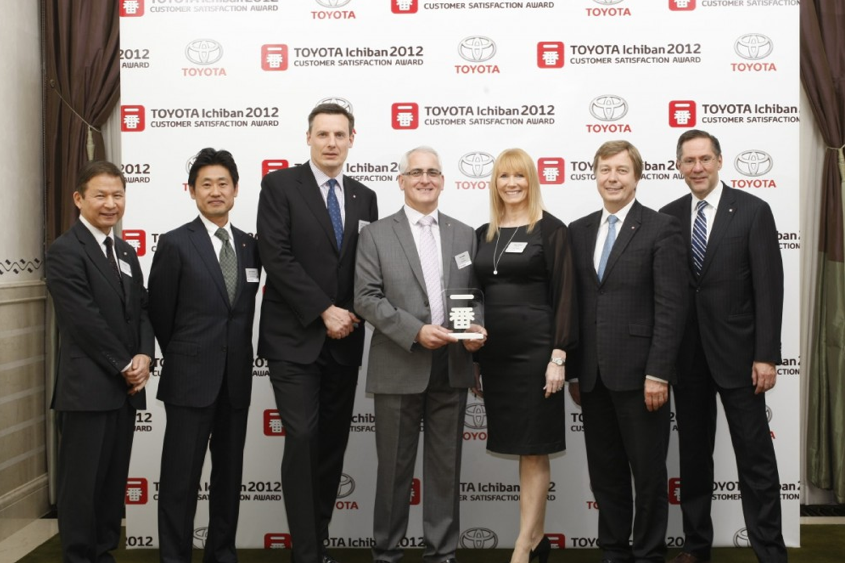 Toyota Centres at Harlech North Wales, Rochdale Lancashire and Boston Lincolnshire have been awarded with the top honours at Toyota's 'Ichiban' European Customer Satisfaction Award event, held on 8 May in the National Assembly Building in Budapest.
Harlech Toyota, RRG Rochdale and Listers Boston were recognised for their exceptional performance in customer satisfaction in both Sales and After Sales areas.
The awards were presented to the winners Gerallt Evans, Centre Principal at Harlech Toyota (pictured above, centre, with Ann Evans and executives from Toyota Motor Europe and Toyota (GB) PLC), Peter Smith Centre Principal at RRG Rochdale and Nick Smiles Brand Director at Listers Toyota, by Didier Leroy, President & CEO of Toyota Motor Europe (TME).
Approximately 2,600 European retailers were evaluated on their results during a continuous performance monitoring, which is included in the company's standards. Based on a very demanding set of selection criteria, 42 retailers achieved this distinct recognition by Toyota in Europe.
Speaking at the awards ceremony, Didier Leroy, President and CEO of TME said: 'We need to exceed customer expectations through our products and at every point of customer contact. It is the customer's choice to purchase a Toyota and we want to make sure that they remain happy with that decision!'
'Ichiban' is the Japanese word borrowed from 'Okyakusama Ichiban' which means 'Customer First', with 'Ichiban' meaning 'first' or 'number one'. Since the beginning of the TME's annual Ichiban Awards in 2007, Customer Satisfaction performance of the Toyota retailers has improved by some 24% points in Sales and 17% points in After Sales.