There were no victories for Toyota Avensis drivers at Donington this weekend, but that doesn't mean rounds four, five and six of the 2016 BTCC  were any less eventful than the season opener.
Donington – Round Four
Tricky weather conditions made for a thrilling qualifying round on Saturday afternoon, with the provisional pole position changing hands almost every time a car crossed the timing line. Tom Ingram's Speedworks Motorsport-prepared Toyota Avensis was in the mix, but ended the session in fifth place as a combination of sunshine and hail caused havoc for drivers and their teams.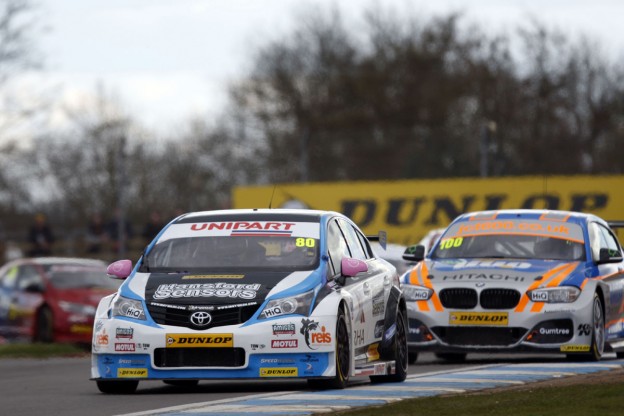 Despite that setback, the first race of the weekend gave Ingram a chance to show off the pace of his Avensis, as he fought valiantly alongside a MG Racing's Ashley Sutton to claim third place, and his second podium of the season. With one lap to go, proceedings were brought to a pre-emptive conclusion after a flurry of dramatic incidents saw the Donington track littered with stationary cars – including the flaming inferno of Silverlines Subaru BMR Racing's car driven by James Cole.
Donington – Round Five
Unfortunately, that was about as good as it got for Ingram, who finished the 19 laps of race two in 15th place. There was no shortage of high-octane thrills, however, with Ingram at one point being one of four cars going toe-to-toe to battle for third place during lap 13. Defending his position from IHG Rewards' Jack Goff, Ingram fought from Redgate, staying side-by-side with Goff all the way up to Coppice, where he was eventually tapped and lost out.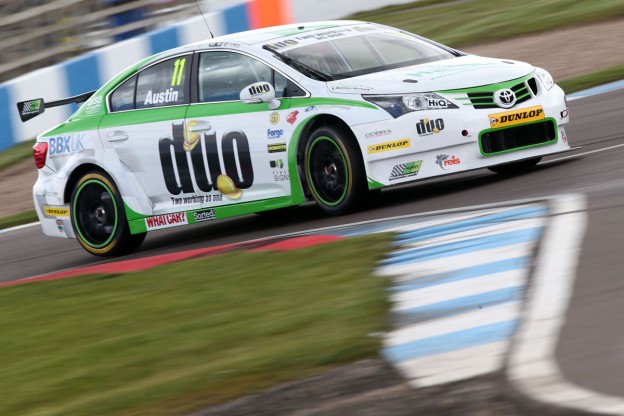 Ingram's disappointing race did give Rob Austin a chance to show what he could do in his Handy Motorsport-prepared Avensis, however, as he kept up with the pack to complete the top 10.
Donington – Round Six
The final race of the day saw tyres play a major role in the positions. The hard compound tyres proved to be the optimal choice, as soft runners – including Ingram – saw their pace plummet as the laps went by. Unable to make an early mark, and struggling with unsuitable tyres, Ingram fell to his lowest finish of the weekend, 19th.
But another solid performance from Rob Austin saw him go two better than his previous race, finishing in a season-best eighth position, while Michael Epps and his RCIB Insurance Racing Avensis also secured a season-best finish of 13th, and his first points of the season.
Classifications after second weekend
| | | | |
| --- | --- | --- | --- |
| Position | Driver | Team | Points |
| 12 | Tom Ingram | Speedworks Motorsport | 39 |
| 15 | Rob Austin | Handy Motorsport | 21 |
| 20 | Michael Epps | RCIB Insurance Racing | 3 |
| 21 | Jake Hill | RCIB Insurance Racing | 3 |
| 25 | Chris Smiley | TLC Racing | 0 |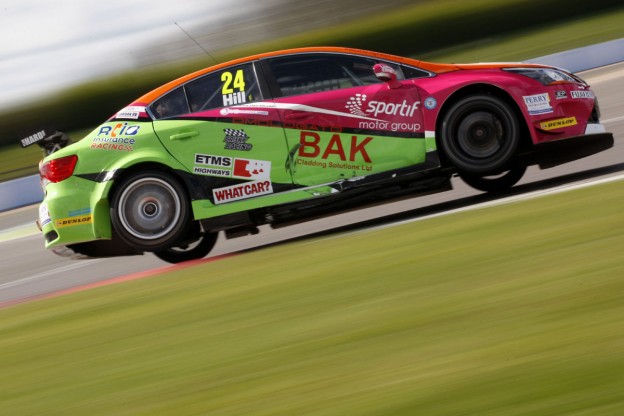 Click the following link to learn more about the Toyota Avensis teams and drivers.