It might be summer but there's no rest for Toyoddities, our monthly round-up of some of the weird and wonderful stories from the Toyota world. From custom-made cross-country campers to ultra-rare racecars for sale, we've gathered together some of the highlights. If you missed any Toyoddities from last month, then click here to catch up.
Toyoddities: Yaris TRD body kit
The all-new Yaris has just gone on sale in the UK, but in Japan it is already possible to overhaul the look of the new supermini. If you want the new GR Yaris but your budget won't stretch that far, the TRD body kit is a great way to give the standard Yaris a sporting vibe.
The body kit includes a front spoiler, side skirts, rear spoiler, decals, sports side visor, and an aero turbulator (a rubber fin installed to the front and rear wheel arches to improve straight-line stability by speeding up the side airflow). These parts are for the Japanese market only.
This body kit comes in a range of colours not currently available for the standard Yaris. You can opt for Bordeaux Mica Metallic, Thermotec Lime Green, or even Ice Pink Metallic – colours which are certain to turn heads in the supermarket car park.
Toyoddities:
Dolphin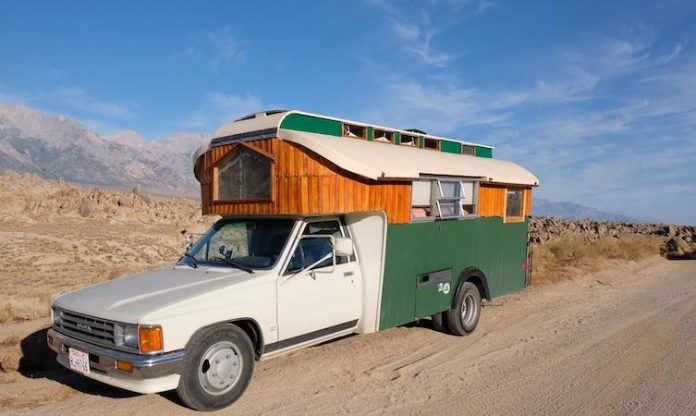 You remember the Toyota Dolphin, don't you? If not, then let us jog your memory. The Dolphin was an RV (or camper van as we call them here) that was built in the 1980s for cruising along the open roads of America. One couple thought that it needed a much more personal touch to make it really feel like a home from home.
Adventurers Adrian and Emily, along with their pet cat Walter and pet husky Avila, have converted their 1987 Dolphin into a unique mobile home. The Dolphin was customised in the heartland of Alaska and now boasts a fold-out bed, cab loft, seating for three, a stove top, a sink, a compostable toilet, and cabinets for storage. All the parts have been hand sourced by the couple to make their road trips as pleasant as possible.
Despite lockdown hampering travel, they have used the time wisely and redecorated the interior of the Dolphin, with repainted cabinets, a new bed foam, resewed upholstery and some new flooring. Here's to 2021 when they can hopefully get back on the road full time.
Toyoddities:
Camry Funny Car hits 322mph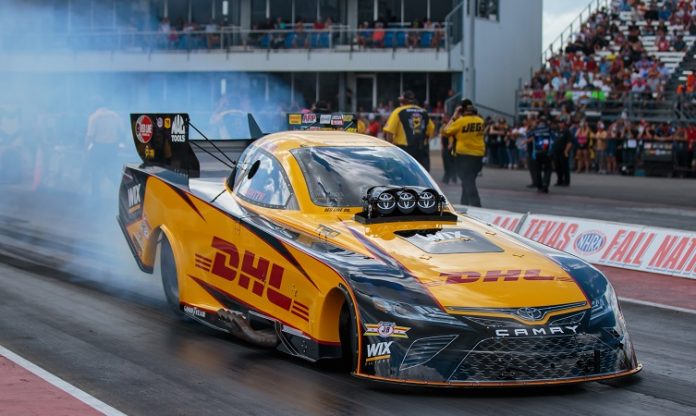 There isn't an awful lot that you'll find in common between a standard Toyota Camry and this single-seat drag machine. For starters, your typical Camry has about 215bhp from its hybrid powertrain, whereas the drag racing 'Funny Car' produces between 10,000bhp and 11,000bhp from its highly specialised, 500 cubic-inch (8.2-litre), supercharged and fuel-injected V8.
Your average Camry tops out at around 155mph (if you could find somewhere to legally drive it that quickly). The Funny Car Camry has recently managed to hit an eyewatering 322mph with former NHRA Funny Car champion J.R. Todd behind the wheel (although even that is still a bit under his highest-ever speed of 334mph). This incredible turn of speed has put Todd into the finals of the NHRA drag racing championship at Indianapolis (3-6 September).
Toyoddities:
Immaculate Celica ST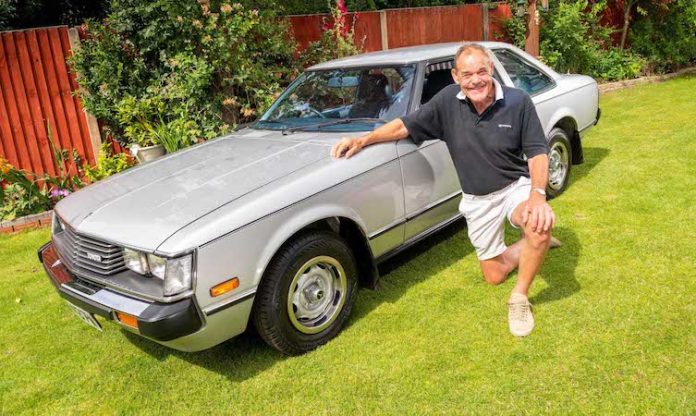 Keeping your car spotless is a task many people wish they had more time for, but sadly many cars are often neglected. If you have kept hold of a car for more than 30 years, then surely it would be in quite a state? This isn't always the case, as the owner of this 1981 Toyota Celica ST has proved.
Roy Gardiner has owned the car since 1983 and has covered more than 120,000 miles in it. Yet, it looks factory fresh: no rust, no paint scratches, or even many replacement parts. The Celica ST has only had windscreen, one new exhaust, battery, and a few other service items along the way. Even the clutch is original. 
All this hard work hasn't been left unnoticed, as Roy's Celica ST is often found as classic car shows and even the Toyota Enthusiasts Club show. The Celica has won many awards for the best modern classic car at several car shows, even beating competition from Ferraris and Aston Martins.
Toyoddities:
Toyota 86C for sale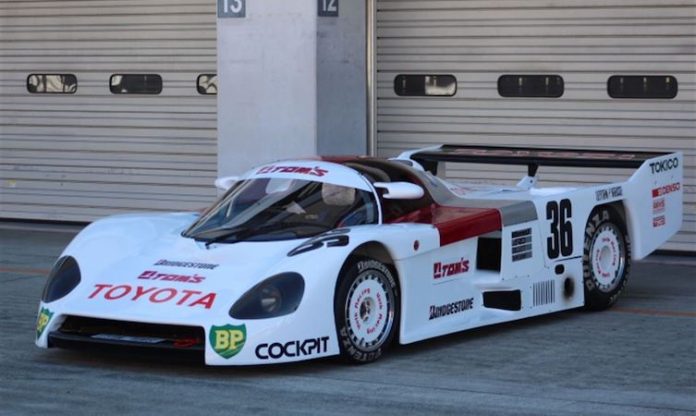 It isn't every day you find a fully fledged race car in the classifieds, so this rare Toyota 86C Group C is a bit of a surprise. Only three 86Cs were built and competed throughout 1985 and 1986 endurance racing seasons, run by the TOM's concern. This example is believed to be one of only two TOM's cars left in existence, standing out as unique in its white #36 livery and use of original 3-SG turbocharged engine.
The car has received a complete restoration, including a fully refreshed and bench-tested engine, refreshed Hewland DGZ gearbox, full suspension overhaul, new AP Lockheed brakes, new master cylinders, new bespoke radiators, new Avon crossply tyres, new hoses, seals, nuts bolts plus a full repaint. If that wasn't enough, the purchase also includes a spares package with a spare engine, cylinder block, wheels various engine and transmission components, and much more.
No price has been listed but given the amount of blood, sweat and tears involved in the restoration, don't expect this 86C to come cheap.
Toyoddities: 'w
orld's fastest' MR2
You may remember that we recently posted about Nathan Freke, who claims to own the World's Fastest MR2. Well, we have found another MR2 which is challenging his claim to that title.
As you can witness in the video above, this MR2 certainly isn't slow. The modified two-seater can be seen hurtling around Tsukuba Circuit in Japan and overtaking every other car on the track. The car's modifications include a 1zz crank (making it a 2.0-litre), wide aero arches, a splitter and a huge wing.
The MR2 managed to lap the two-kilometre Tsukuba track in just over a minute. This is just 16 seconds slower than the official lap record of 44.008 seconds, set by Kamui Kobayashi in a Dallara SF14, a pure thoroughbred track car.
Toyoddities:
Chinook conversion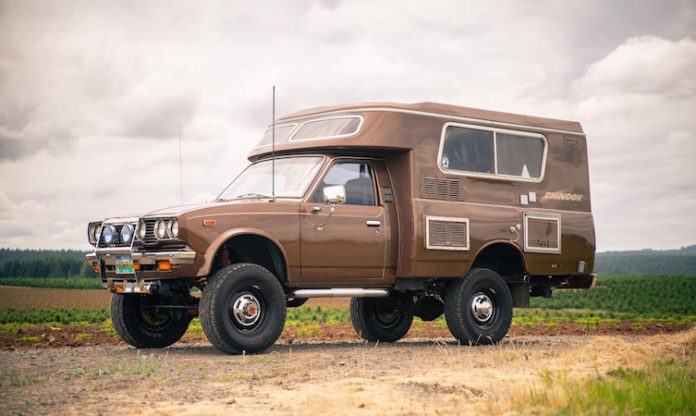 Summer is the perfect time for a road-trip, which is why we have featured not one but two tricked out campers in our Toyoddities round-up this month. This second entry is on a whole other level, however.
Based on a 1978 Toyota Chinook 4×4 (which was custom built by a Toyota mechanic from Oregon in 1991), this Chinook has received mechanical upgrades including the frame, suspension, front axle, and engine. The new 20R 2.2-litre inline-four engine sends power to the rear or all four wheels via a G52 five-speed manual transmission and a dual-range transfer case. The outside of the vehicle has been repainted Metallic Walnut with black 15″ steel wheels with chrome hubcaps.
The driver enjoys a custom centre console plus new power windows as well as a JDM dash clock, aftermarket auxiliary gauges and tachometer, an overhead-mounted CB radio and interior/exterior thermometer, and an overhead control panel. And for the added personalise touch, adjustable Recaro bucket seats with custom red 'Chinook' embroidery sourced from a 1985 Toyota Supra.
If you like the look of the Chinook is currently up for sale on the other side of the Atlantic with the leading bid at just $26,000. That really isn't a lot of money considering all the hours that have gone into creating this epic camper.