It's the question that car fans and Toyota enthusiasts love to debate. What is the best Toyota sports car of all time?
With the launch of our new sports car, GT86, taking place in summer 2012, we thought we would ask you, our  fans, to decide. We ran a poll on our Facebook page earlier this month – and the votes are in…
10.) Celica GT MkI
The original Celica was launched in the UK in 1972, setting the benchmark for affordable Toyota sports cars. Initially only the 86bhp 1600ST two-door coupe was available, followed by the 100bhp twin-cam engined 1600GT in 1974. Two years later, Toyota launched the more powerful 2000 GT with a 118bhp 2.0-litre twin-cam engine capable of taking the car up to a top speed of 114mph.
9.) Celica MkVII
The seventh and final model to wear the Celica name was lighter, smaller and more affordable than the model it replaced. Launched in the UK in November 1999, priced  £19,255, the coupe was powered by a 1.8-litre 16v VVT-i engine that pushed out 140bhp through a close-ratio six-speed transmission. Thanks to a power-to-weight ratio of around 130bhp per tonne, this Celica went from 0-60mph in 8.7 seconds.
8.) 2000GT
Arguably the most famous – and definitely the most valuable – Toyota road car of them all. The 2000GT starred with James Bond in You Only Live Twice (albeit in one-off convertible form) and, over 40 years on, is still helping to redefine sports cars for a new generation. Powered by an in-line six-cylinder engine, the 2000GT was Toyota's first ever 'grand tourer' when it went on sale in 1967.
7.) GT86
It's not even out in the UK yet, but the hotly anticipated Toyota GT86 is already winning awards and enough public support to place it firmly in your top 10. Early reviews are calling it "a stroke of genius" and saying it "might just be the best car Toyota has ever made." A return to affordable, driver focused sports cars, our new front-engine, rear-wheel drive sports coupe is available to pre-order now and will be in Centre showrooms this summer.
6.) MR2 MkIII
The third and final version of Toyota's compact mid-ship sports car went on sale in the UK in April 2000. This time around the MR2 (or MR-S as it was known in Japan) was only available as a roadster, dropping the coupe and T-Bar body styles of the previous two generations. Powered by a 140bhp 1.8 VVT-i 16v engine, the MR2 Roadster launched with a class-leading power-to-weight ratio of 146bhp per tonne, powering it to 62mph in 7.9 seconds and up to 130mph.
5.) MR2 MkI
When it went on sale in September 1985, the original MR2 was the most widely anticipated Toyota ever launched in the UK. Hot on the heels of a hugely successful launch in Japan, which saw double the number of orders than originally expected, the MR2 heralded the return of the affordable, two-seater sports car to Britain. Its well-proven, 1.6-litre 16v engine came from the Corolla Coupe GT. Weighing just 975kg, the car could hit 60mph in 8.1 seconds and go on to 124mph.
4.) AE86 / Corolla Coupe GT
The inspiration behind a drifting generation, the Corolla Coupe GT is best known around the world by its chassis code, AE86 or "Hachi-Roku" (meaning "eight-six" in Japanese). A rear-wheel drive coupe version of the fifth generation Corolla, AE86 was launched in the UK in 1985 and joined by a front-wheel drive version the following year. The UK-spec Corolla Coupe GT was powered by a 120bhp, 1.6-litre twin-cam engine which could fast forward past 120mph. The price? From £7,849.99 in September 1985.
Your top three…
3.) MR2 MkII
It seems fitting that Toyota's MR2 makes the podium. You chose the second-generation 'Mister Two' as your favourite of them all. Retaining the signature mid-engine, two-seat layout of the original car, the MR2 MkII went on sale in the UK in April 1990.
The entry-level model offered 119bhp from its 2.0-litre 16v engine, while the hotter GT and GT T-Bar (targa roof) models featured a 154bhp 2.0-litre 16v engine, later upgraded to 173bhp (then revised to 168bhp in order to meet stricter emissions regulations). The MR2 GT accelerated from 0 to 60mph in 7.7 seconds and could hit 137mph top speed.
2.) Celica GT-Four (ST205)
The final version of the hugely successful, rally-derived Celica GT-Four takes the silver medal. Codenamed ST205, this model represented the pinnacle of the Celica line-up when it went on sale in the UK in 1994. A turbocharged, four-wheel drive coupe, the Celica GT-Four formed the basis of Toyota's World Rally Championship car. With 239bhp from the 2.0-litre engine, the road-going model sprinted from 0 to 60mph in 5.9 seconds and could reach 153mph. WRC regulations stipulated that Toyota had to make a minimum of 2,500 production cars, with 100 models slated for the UK, priced £29,235.
And your winner…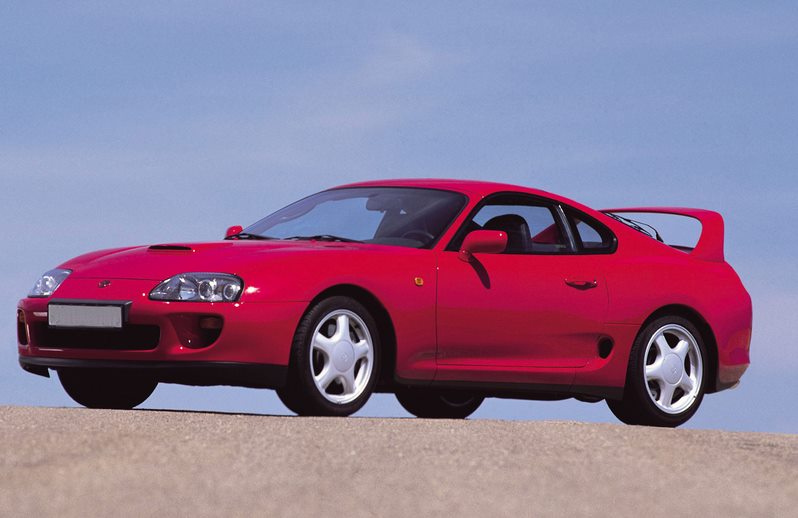 1.) Supra MkIV
You named the fourth-generation Supra as your favourite. A modern automotive icon, the Supra launched in the UK in 1993. An all-new car, the 326bhp front-engine, rear-wheel drive coupe remains the most powerful Toyota production car ever built. Weighing less than 1,600kg, the twin-turbochargerd Supra was capable of reaching 60mph in 4.9 seconds and limited to a top speed of 155mph.
Available with a six-speed manual or four-speed automatic transmission, the Supra officially went on sale in the UK on 24 August 1993, priced at £37,500. An exclusive, range topping sports car, it was only sold in the UK by 25 specially selected Toyota Centres, with supply limited to just 250 cars in the first year.
Don't agree with the order? Register your vote on our Facebook page by clicking here or share your comments below.