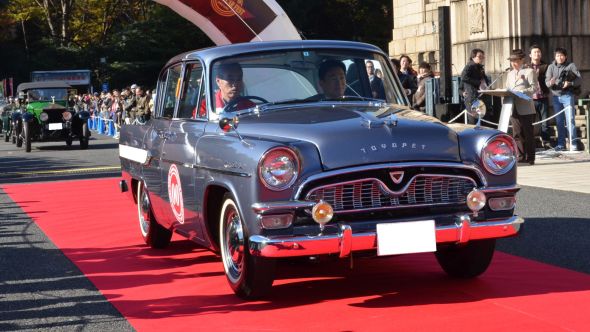 23rd October: 1960 Toyopet Crown
The first-generation Crown model is noted for introducing Toyotas to North America, but as the car was originally developed to tackle the slow, unpaved roads of Japan in the mid-Fifties it failed to keep up with traffic along the fast, super-smooth highways of America.
Toyota's solution was this, the updated RS21 model Crown, launched in July 1960. It came with enhanced engine performance, changes to the interior and exterior design, and higher quality body panels that it made it much more appropriate for export markets. The RS21 is also recognised as the first Japanese car to be equipped with a three-speed automatic transmission and overdrive – a feature that was also seen as essential for success in the States.
Early model Crowns are now exceptionally rare. However, on 29 November you will be able to see this pristine example from 1960 leading a crosstown parade of around 100 classic cars as part of Toyota Automobile Museum's annual Classic Car Festival. The main event will be held at Meiji Jingu Gaien park in Shinjuku, Tokyo, and admission is free.
Read more: What is the Toyota Automobile Museum?
Learn more: 2013 Classic Car Festival
16th October: 1967 Toyota Hiace
Toyota's anticipation that car-like vans would become the commercial vehicles of the future was revealed with the launch of the Hiace in 1967.
The first-generation model was fitted with a relatively small 1350cc engine (1490cc for the passenger version), and the low-slung cab-over-engine body did not use ladder frame construction but a very car-like monocoque with independent coil spring front suspension, both of which was rare in this class of vehicle at that time.
Built to be adaptable, variations later included pick-up trucks, 12- or 15-seat commuters, and nine-seat wagons. Hiace also became very popular with campervan conversion specialists.
Click the following link to learn more about Toyota's latest commercial van.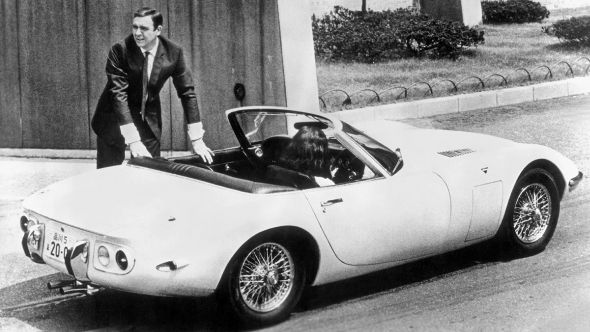 9th October: 1967 Toyota 2000GT Open-Top
When it comes to Toyota rarities, few production models compare to the 2000GT. Only 351 were ever built, 62 of which were in left-hand drive, and the car is widely recognised as the first Japanese supercar.
Of the 289 right-hand drive examples made, two were dedicated to the 1967 James Bond movie You Only Live Twice, filmed and set in Japan. No doubt to improve visuals during driving sequences, it was decided to open up the car's compact cockpit so Sean Connery could be more clearly seen.
There is little hard evidence to support this but legend has it that Toyota developed two targa versions of the car for that purpose, as well as to retain most of the roofline shape penned by designer Satoru Nozaki. Unfortunately, Connery's head still stuck out too far, so within the space of a fortnight Toyota reworked the cars as full open-top versions. No roof was made, so the upholstered lump behind the seats was merely for show.
Read more: Toyota's open-top concept of the GT86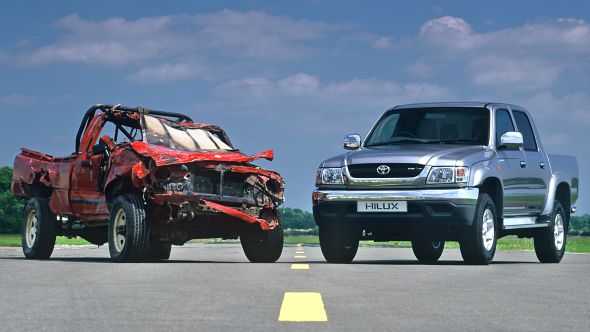 2nd October: 2004 Toyota Hilux Invincible
'Invincible' has remained the top-of-the-range Toyota Hilux since this high-specification model was released on 1 July 2004. Just to clarify that, we're talking about the vehicle on the right…
Designed to combine the Hilux's robust character with premium features and a street style, Invincible grade added a new eye-catching character to a model which by 2004 had sold almost 12 million units throughout the world since its official launch in 1968.
It was a name influenced by the pick-up's legendary reliability, famously put to the test by the BBC's Top Gear programme. That particular Hilux (we're now talking about the vehicle on the left) survived trial by fire, flood, tumbling tower block and deadly caravan, and indeed went on to inspire further antics at the North Pole in the later seventh-generation model.
Read more: Wild camping in a Hilux Invincible
Read more: 'Invincible' name adopted by the RAV4