As you may or may not know, the Toyota Blog team also runs the Toyota UK Facebook page.
To mark the end of 2012, we're taking back a look on the year in pictures by counting down the most popular images we've shared on Facebook.
Here goes…
12. What a way to start the countdown! The Toyota GT86 was hailed as the sports car of 2012 by Top Gear, Autocar, and Auto Express to name but a few. This shot was taken during our video shoot with 'Drift King' Keiichi Tsuchiya, ahead of our Drift School contest.
One word: precision.
Find out what other journalists and road testers made of it in our GT86 reviews roundup.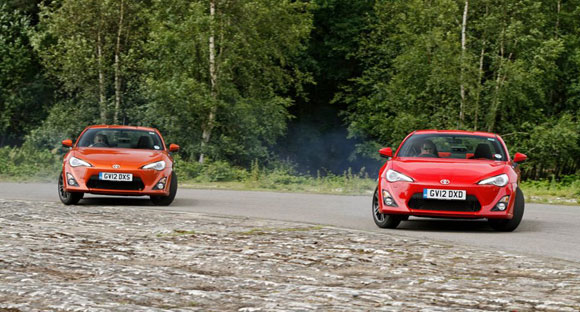 11. Team Toyota Hybrid Racing only came into existence in 2012, but the TS030 Hybrid proved itself a worthy competitor to the traditionally-dominant Audi World Endurance Championship team.
After a tough debut at the 24 Hours of Le Mans in June, when a crash and mechanical failure prevented a finish, the team recorded victories in Brazil, China and on home turf at Japan's Fuji Speedway to take second place over the season, despite taking part in only six out of eight races.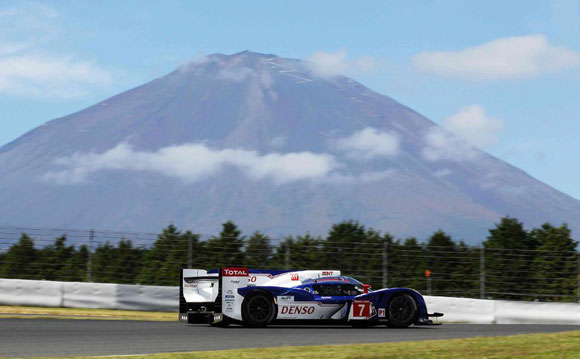 10. Hybrid car ownership became an even more tempting prospect in 2012, as the Toyota Prius Plug-in Hybrid went on sale. It's petrol-electric powertrain allows up to 15 miles of electric-only, zero-emissions motoring.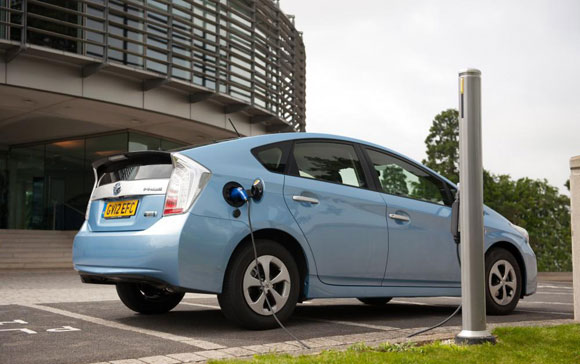 9. When we asked our Facebook fans which Toyota sports car was their favourite – they answered in resounding style. The Mk IV Supra took top spot, taking one third of the vote.
That was before GT86 went on sale, though…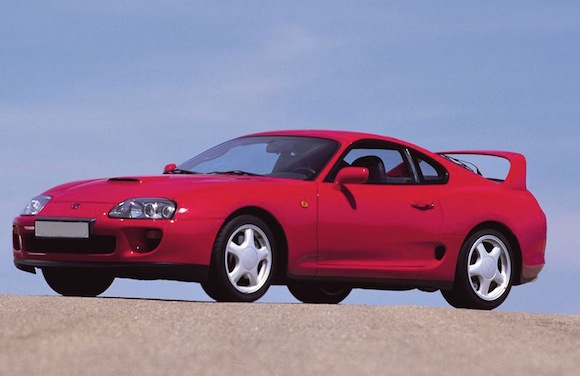 8. The Toyota Previa might not be the go-to Toyota when it comes to drifting, but its front-mid engined, rear wheel-drive layout means this is technically possible, if you try very hard. Not that we recommend that.
John Zhang's photo-editing wizardry made the image even more exciting, so our thanks go to him.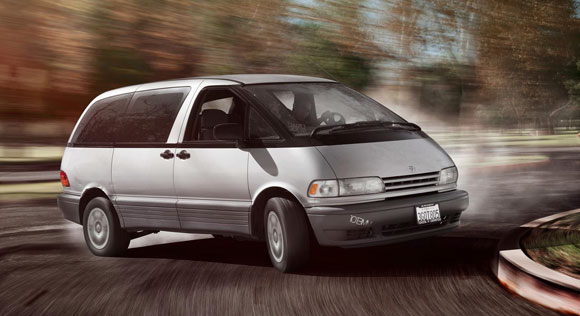 7. It's common knowledge that Toyota 2000GT from the James Bond film You Only Live Twice is one of the most well-loved Bond cars of all time.
We were especially pleased to hear Daniel Craig, the current 007, select it as his personal favourite on the BBC Top Gear Bond special, though.
Earlier this year, we were lucky enough to drive the ultra hi-tech, solar-powered 2000GT SEV, and then took an exclusive look behind the scenes at JD Classics, where a 2000GT worth about half a million pounds has been restored.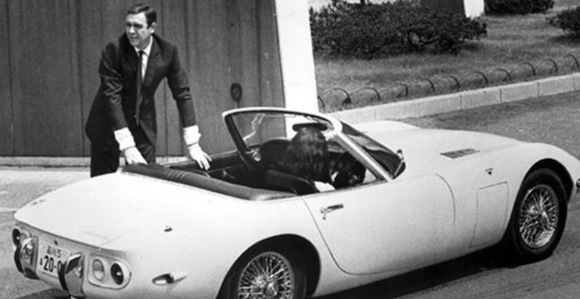 6. New Auris was one of our biggest stories of the year, and this picture of a white Auris Hybrid, the first that we revealed, was one of our most 'liked' of 2012.
We also reported on the start of production at the Toyota plant at Burnaston in Derbyshire, which coincided with 20 years of Toyota building cars in the UK.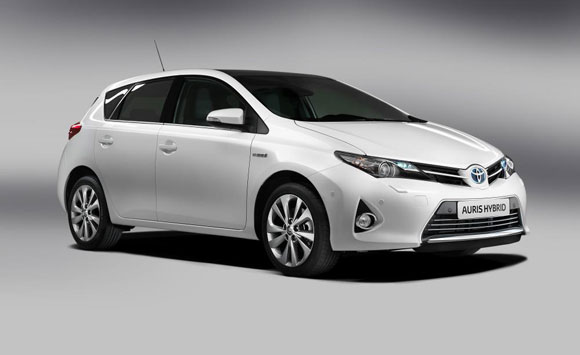 5. …It wasn't just about the production model that took the plaudits, though. This
undefined
 was made to promote the cult Anime cartoon Mobile Suit Gundam, and featured modifications including graphics, alloy wheels and lighting inspired by the series' main antagonist, Char Aznable.
No, we don't know either.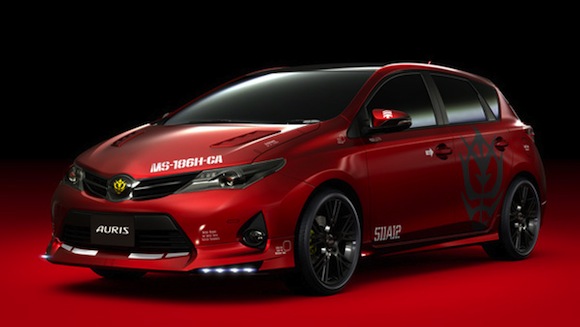 4. If you thought one red Auris was enough, think again! This stunning shot, taken by photographer GF Williams ahead of the car's media launch, really caught the imagination of our Facebook family.
We'd like to think that's down to the car, but maybe it's just because the shot reflected the mid-November weather.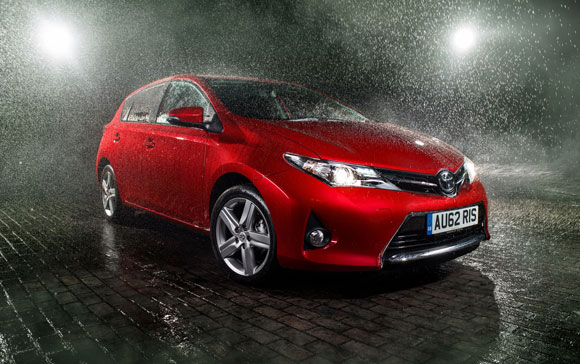 3. We announced in July that Team Toyota GB would be making a comeback in UK motorsport.
The revitalised team, which comprised former Toyota BTCC champion Chris Hodgetts and his son Stefan as well as racer and Travis drummer Neil Primrose and motoring journalist Richard Meaden, took the GT86 to a podium finish at the Britcar 24 Hours in September.
This is the exclusive first image of the finished car, which we published in July.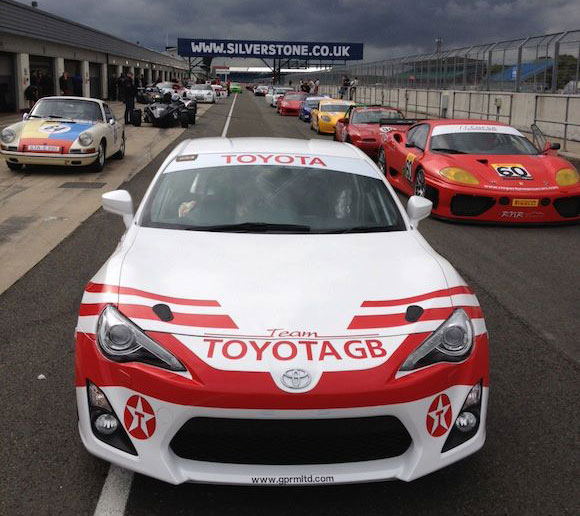 1=. Unbelievably, top spot in our countdown of most-'liked' images is a tie (at least at the time of publishing).
With 362 likes, the first picture of the Japanese Toyota Racing Developments Auris went down a storm on our Facebook page. Although there are no plans to bring the car to Europe at present, it showed off a host of potential future upgrades.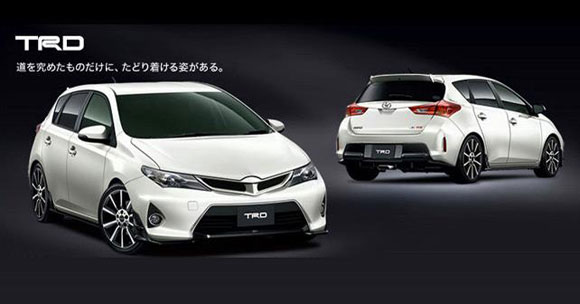 1=. One of our favourite pictures of the year also happens to be the joint most-popular.
This chopped-up Toyota iQ, which lives at the Toyota Europe press garage in Brussels, was made for the 2011 FIFA Club World Cup, which was held in Japan.
It can't even drive anymore, but it's probably the best excuse to play table football that we've ever seen.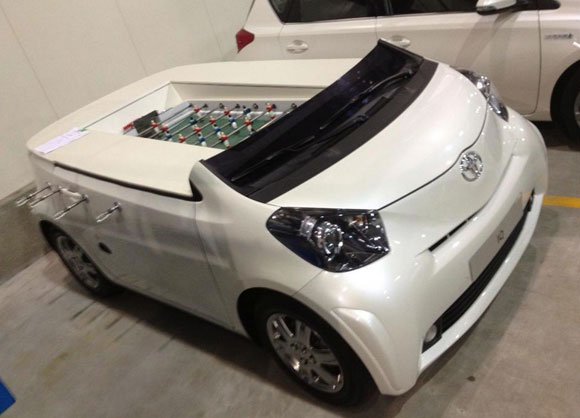 We hope you've enjoyed our top images of 2012, and if you want to see more, why not 'like' us on Facebook?
You can find us at Facebook.com/ToyotaUK. Don't forget, you can also follow us on Twitter at @ToyotaGB.
Here's to a great 2013!
The Toyota Blog team
xxx