Four top Toyota racing drivers were at the Goodwood race circuit at an event that gave real drivers the chance to experience the new Toyota GT86. Here, they give their verdict on the car.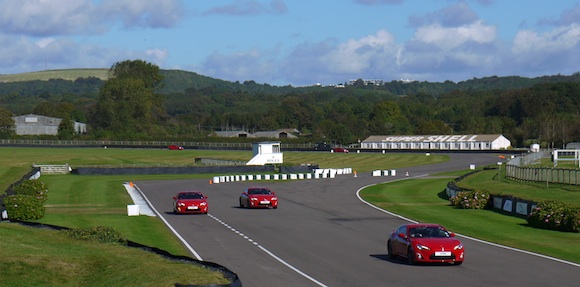 We spoke to Toyota Hybrid Racing team member Anthony Davidson, British Rally champion David Llewellyn, and fresh from their success in the Britcar 24 Hours race, father and son duo Chris and Stefan Hodgetts. Read on to find out what they think of the GT86, and their racing experiences with Toyota.
Chris Hodgetts
Read our driver profile on Chris
"The Britcar GT86 was excellent. It's a great car and really well set up. I'm used to driving things that are a lot faster like the Group C cars and Le Mans cars so to be honest it wasn't the outright speed that was impressive, it was how good it was in the corners and how beautifully it ran. It was a lot of fun and we put in a good performance. I have an idea of what they are going to do with the car next, but I wouldn't say just yet.
"It was really nice to be racing with Stefan because we have never done it before. He's very quick and I think he surprised a few people. Toyota was good for me and I would love for him to be taken into the fold too."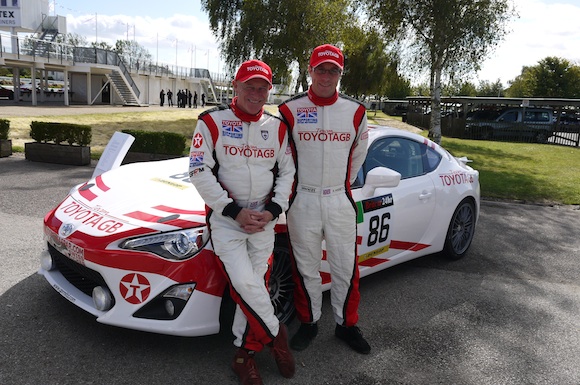 Stefan Hodgetts
"It was nice to be racing with my dad, but to be honest I didn't see him that much because I left for a while after my first stint, to go to another race. That made it a pretty hectic weekend, to say the least!
"Britcar is a little bit different from other types of racing I've done but it's great to get out and do a three-hour stint because you can really build up a nice rhythm.
"In endurance racing your first target is always just to finish the race, but as soon as we drove the car we knew that we should be aiming for a top 10 finish, so coming eighth overall and getting on to the podium for our class was a genuinely brilliant result. The whole team did really well, but so much of it was down to how the car was designed and set up for the race. It's awesome.
"Although it wasn't as heavily tuned as some of the others in our class, that worked in our favour because it was so reliable. I reckon you could take it out again today and do another 24 hours in it without any trouble.
"I'd love to get in it again in another endurance race, maybe in Dubai or at the Nurburgring, so I'll have to keep my fingers crossed and see what happens."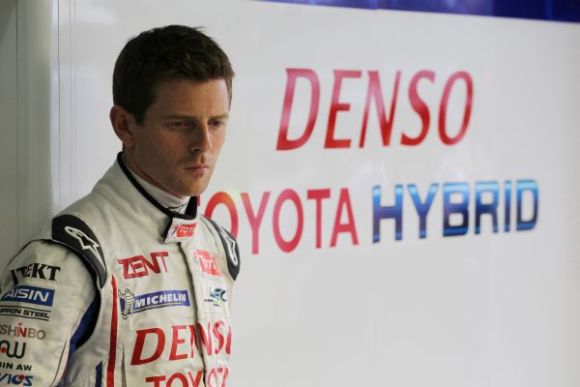 Anthony Davidson
Read our previous interview with Anthony here
"The GT86 is great, it's so light and easy to drive – I think of it as a little Lotus.
"I know Stefan, as we raced before growing up and it's nice to keep in touch.
"I'm really proud to be part of Toyota Hybrid Racing and the team is doing really well, especially after the first win in Sao Paolo. It was great to see the guys take on Audi, who are much more established in endurance racing, and win – particularly after Le Mans and my accident.
"I have done pretty much everything I can do in recovery apart from get in the car and race. Hopefully I'll be doing something again with the TMG team early next year. I'll definitely be at Le Mans, but there might be a few more races with two cars where I can be in the second team."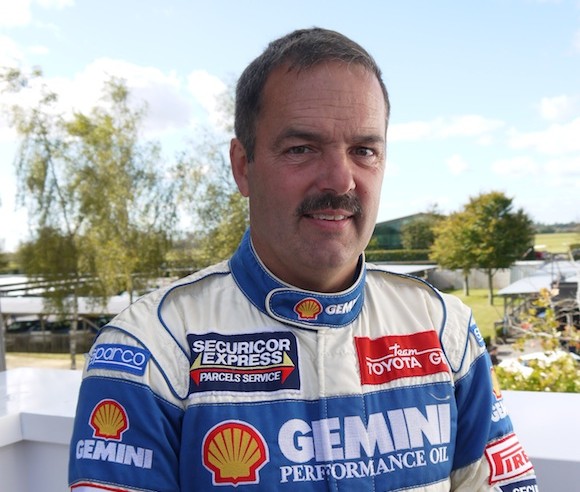 David 'Dai' Llewellyn
Dai Llewellyn won the British Rally Championship in the Toyota GT-Four in 1989 and 1990. At the Goodwood event, he was showing off the GT86's amazing handling abilities in a drifting display.
"Drifting is not exactly my speciality but the GT86 is a lovely car and makes it really easy. I only got into it for the first time yesterday but it's one of those cars that you can tell straight away tell that it's well set up.
"It's front-engined and has rear-wheel drive – and the boxer engine means it has a nice low centre of gravity. It's nice and light so it's much like what I was brought up racing in, which was a Mk2 Escort.
"The GT-Four that I raced in was brilliant. I have been out of motorsport for probably 15 years and I've started doing some hill climb events but it's nice to be back into it and driving the GT86. It's the perfect car if you want to do something like hill climb or track days because you can get into it and drive it really well without doing a thing to it.
"I've spoken to Chris Hodgetts and he's challenged me and my son to a race against him and Stefan. It would definitely be a lot of fun, so we'll have to see if we can make it happen."
The GT86 Real Deal event was organised in conjunction with Top Gear. Find out what they thought about the car here.