Motoring journalist Richard Meaden may be best known for his reviews and road tests of high-end sports cars in evo Magazine, of which is a contributing editor, but he has a long and varied racing CV as well.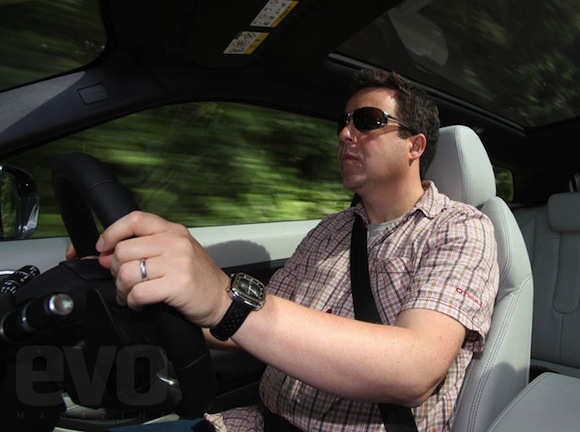 After completing his first race in 1993, Richard entered the relatively humble Volkswagen Vento VR6 Challenge a year later and spent the next 10 years gaining track hours in a range of competitions including one-make series run by Ginetta, Vauxhall, Renault and Porsche.
His first endurance race came at the Nürburgring 24 Hours, where he joined the Maserati factory team in 2006 and has since raced for Aston Martin.
Richard crossed the pond and took part in the Pikes Peak International Hill Climb in 2007 and 2008, and last year he set a new speed record at the Bonneville Speed Week.
Most importantly, he has Britcar experience, having raced at Silverstone in 2007 and 2010. You can follow Richard on Twitter @DickieMeaden.
Career highlights
1993 First race, Cadwell Park, Caterham Roadsport
1994 Full season in Volkswagen Vento VR6 Challenge – best race finish third, Castle Combe
1994-2000 Assorted outings in one-make series including Ginetta G20, Vauxhall Vectra V6 Challenge, Renault Spider UK Cup
2001 Guest drive in Formula Palmer Audi, Brands Hatch GP – first place, class lap record
2003 Guest drive Porsche Carrera Cup GB, Snetterton – second place
2006 Nürburgring 24 Hours for Maserati factory team
2007-present Nürburgring 24 Hours for Aston Martin factory team. Best result SP8 class win and 21st overall in 2009
2007, 2009 Pikes Peak International Hill Climb – best result third in class (fifth overall) 2008
2007, 2010 Britcar Silverstone 24H with RJN Motorsport. Best result third in class, 15th overall in road-legal 350Z in '07
2008, 2009, 2012 Dubai 24H with RJN Motorsport, Nissan 350Z/370Z GT4
2010 Guest drive Maserati Trofeo World Series, Brands Hatch GP – two second-place finishes
2011 SCTA Bonneville Speed Week in Skoda Octavia vRS – new production sedan speed record @ 227.08 mph
If you want to know more about the other Team Toyota GB Britcar drivers, read our other driver profiles.