Frank Wrathall matched his best qualifying result in the Dunlop MSA British Touring Car Championship to lead the challenge of the Toyota Avensis privateer drivers at Thruxton.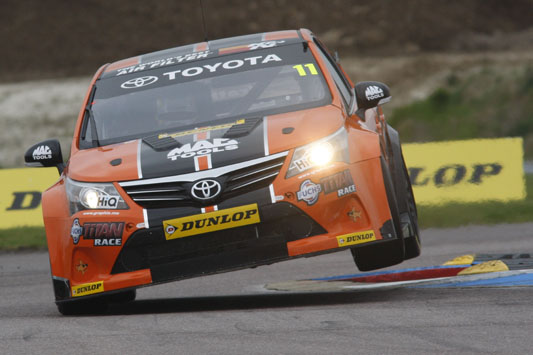 Dynojet Racing ace Frank was one of the stars of a drying session at the quickest circuit on the calendar as he secured a slot on the second row of the grid for the opening race on Sunday, setting the third fastest time behind Andrew Jordan and double champion Jason Plato.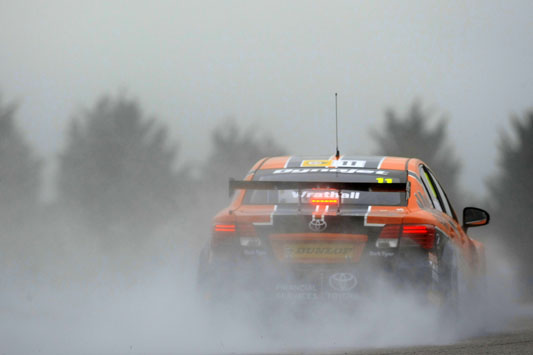 Frank was on the pace throughout the session, starting out on a combination of wet and slick tyres before pitting for dry tyres all round. Setting a time of 1m 18.002s, Frank was briefly knocked back to fourth but when Gordon Shedden was stripped of his times it moved the orange Avensis back into third spot.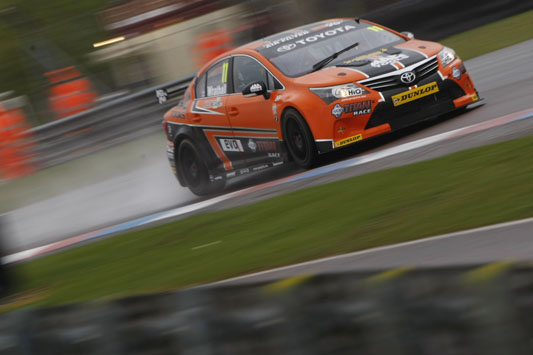 "That session was right up there," said Lancashire-based Frank, 25. "I've equalled my best in the BTCC despite the tricky conditions and the unknowns that there were going into it. The team did a brilliant job with the car and it felt absolutely mega; it gave me loads of confidence to push. I did lose out a bit with traffic towards the end of the session as I misjudged the gap to the cars in front and then caught them up, but I don't know if I would have been able to get ahead of Jason. I can't complain."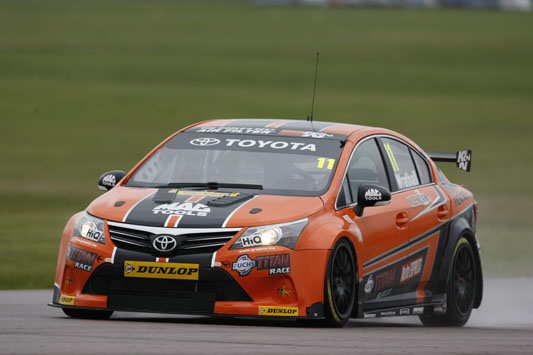 Having impressed in the morning's first practice session, when he ran well inside the top 10 when the circuit was at its wettest, Speedworks Motorsport rookie Adam Morgan had to settle for 14th on the grid having been one of the drivers to lose out when the session was red-flagged mid-way through following an off for Plato at Church.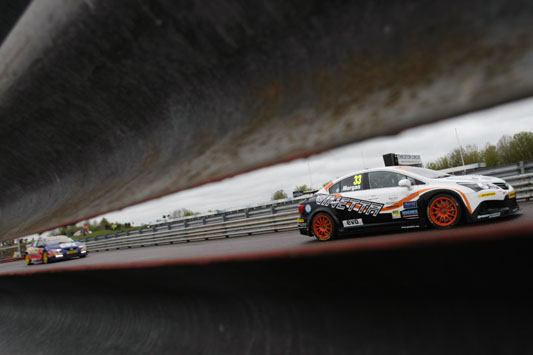 "Conditions were changing all the time," said Adam. "I went with wets all round at the start to give me a bit more confidence but, with hindsight, I should have gone with dry tyres on the front as when I switched to slicks, it then took time to get heat in the tyres and then swap the tyres around. The red flag then came out and I lost all the heat in the tyres and had to start all over again. It's the first time I'd been able to drive around here on the dry tyres, so 14th isn't bad, but I'd hoped to be a bit higher after my performance this morning."
Team-mate Tony Hughes in the second Speedworks car will line up in 20th place alongside the Honda of defending champion Matt Neal, despite a spin in the closing stages of the session.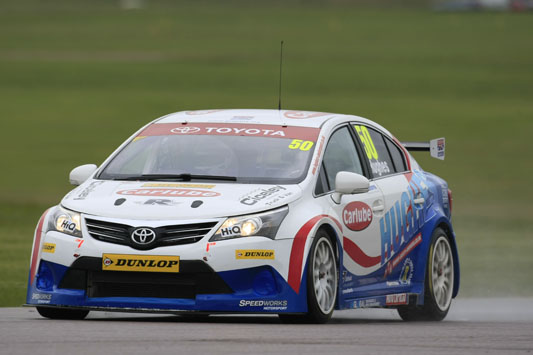 "It was OK on wets at the start of the session but they were overheating and then I was finding it difficult to get heat into the slicks," he said. "The team told me to keep pushing but then I had a spin at Goodwood. Luckily I managed to avoid hitting anything as I'd watched Plato go off earlier and he ended up in the trees."
The first of Thruxton's three Sunday BTCC races starts at 1130, and will be live on ITV4 and itv.com/btcc