Toyota's independent BTCC racer Frank Wrathall and his Dynojet Racing team endured a character-building weekend at Thruxton, venue for the latest rounds of the Dunlop MSA British Touring Car Championship.
For although Frank and his 'Next Generation Touring Car' Avensis showed flashes of strong pace, reliability problems prevented the team from claiming any hard results with which to reward their hard work with the all-new machine.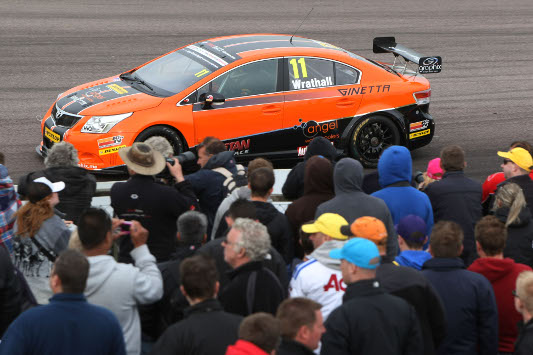 A broken suspension component set the scene in Saturday's free practice, and then a drama-filled qualifying session left Wrathall 19th on the grid. It was very much a case of what might have been for 24-year-old Frank, whose hopes of a grid slot nearer the sharp end were frustrated by a leaking fuel line half way through the session.
Earlier in the day Frank posted a best lap time of 1m 20.680s in free practice and the Lancashire 24-year-old was confident that there was at least a second more to come given a clear run.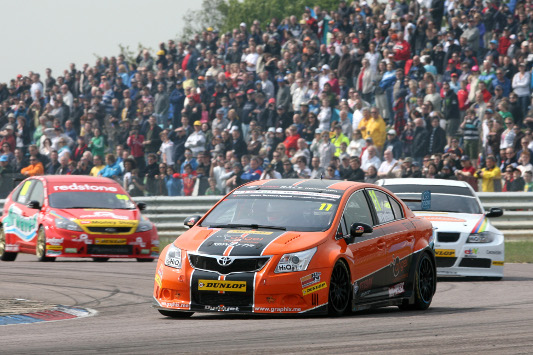 Alas Frank's chance to prove his point was robbed from him by the fuel leak which manifested itself after just eight laps around the super-fast Hampshire circuit. Wrathall's best up to that point was a lap of 1m 21.655s.
"It's so frustrating to go out in a car which you know is capable of great things, and then to not be able to get a decent lap," said Frank. "However, we have to be grateful it was a problem which was not too hard to fix; things could have been worse."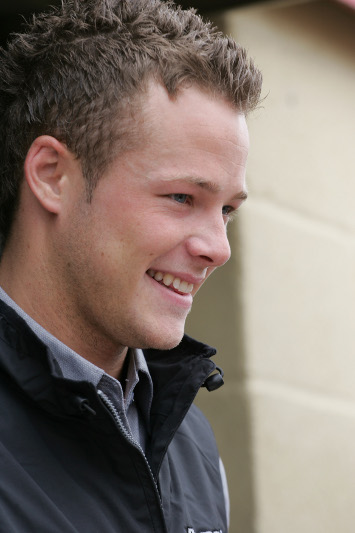 Sunday's first race started well enough, with Frank gaining places on the opening lap and beginning to relish the prospect of picking off some more rivals as the race wore on. Alas, on lap three, there was an overheating problem and Frank was forced to the pits.
"It was going really well," said Frank. "I was making up places and setting my sights on the cars ahead, and then the engine temperature shot up and it went into 'limp mode'."
The problem was traced to a blown gasket – not the work of a moment to repair, and Frank was forced to sit out race two while work continued under the bonnet.
Hopes were high for a clean run in the final race of the day, and again there was an initial flash of speed, several places gained and then a third-lap retirement with a repeat of the overheating issue.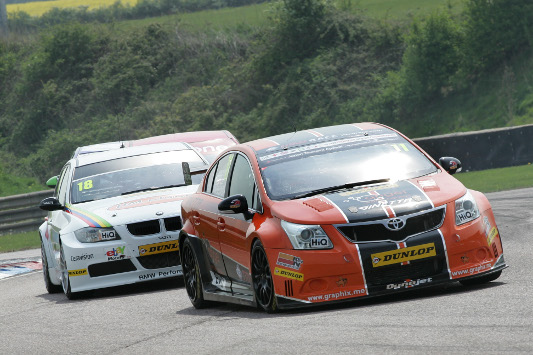 Wrathall's second lap saw him post a time of 1m 19.727s – his best of the weekend, and a top-12 lap time for the race as a whole. "That was a good time, but it was not a good lap," said Frank, "because I was caught up in traffic. The frustrating thing is that I know the Toyota is capable of even better, and I am just longing for the opportunity to prove the point."
Dynojet Racing's machine was the sole Toyota representative at Thruxton, Speedworks Motorsport having chosen not to run the Avensis of Tony Hughes, which suffered major damage in the third of the Donington races a fortnight ago, to instead concentrate on preparation for their home races at Oulton Park.
Both Speedworks and Dynojet Racing now have the relative luxury of a month's break in the BTCC calendar before those races in Cheshire in a month's time (5 June).