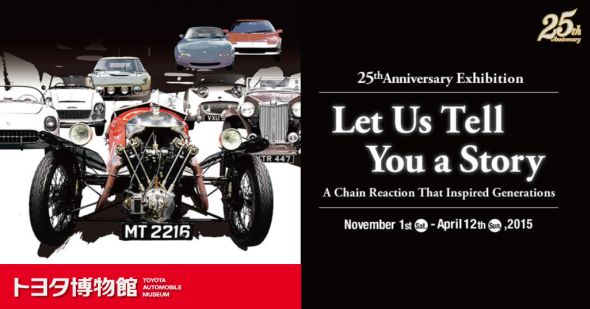 As part of its 25th anniversary commemorations, the Toyota Automobile Museum has opened a special exhibition that celebrates the power of cars to excite and inspire enthusiasts across many generations.
Entitled Let Us Tell You a Story – A Chain Reaction That Inspired Generations, the exhibition is now open and will run until 12 April 2015 from the museum's premises in Nagakute City, Aichi, Japan. The purpose is to promote automotive culture through vehicle exhibits and a series of fascinating presentations by experts. These 'stories' are designed to showcase the historical and cultural significance of various models, as well as revealing the passion that went into their creation.
Primary focus goes to sports cars, and how competition from Japanese, American and European manufacturers spurred creativity within the marketplace. Important chapters described along the way include the 1947 MG TC Midget and other UK models that spearheaded the sports car category in the United States, the 1953 Chevrolet Corvette recognised as the first American sports car, and the 1966 Toyota 2000GT speed trial car that broke several endurance records and got Japan excited about fast cars.
KEY EXHIBITS: