Stoke City star footballers Marko Arnautovic and Steven Nzonzi went head to head racing a Toyota Aygo at the Britannia Stadium to support Red Nose Day.
The Stoke City pair weaved the cars in and out of cones and tried to score into the inflatable goal against the clock for an event organised by local Toyota dealership Pinkstones.
Local children were invited along to watch the fast-paced racing and also got the chance to meet the players afterwards.
Things got very competitive between the pair but it was Arnautovic who emerged as the victor. The 25-year old Austrian international was clearly pleased with his victory, but also highlighted how nice it was to meet the young fans and answer some of their questions.
"Me and Steven love cars and when you can race with the cars it is nice, but also to be with the kids to give them autographs and photos is a nice thing," Arnautovic told Stoke City website.
Nzonzi said he knew he would have his work cut out to beat his team mate but really enjoyed the experience. "I know that he (Arnautovic) is a beast so it was hard to beat him, but we will always be competitive," he said.
"As long as you can help then it is always a good thing to get involved in charity and help the kids, it is always really nice."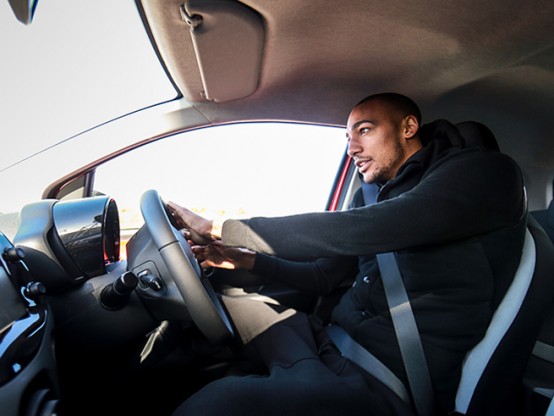 "It was absolutely fantastic and I'm delighted that Stoke City has supported the event in such a positive way," said Simon Pinkstone, managing director of Pinkstones Toyota.
"As a Stoke City supporter myself it was great to see stars like Arnie and Steven turn up – although when I saw Arnie I was a little concerned whether our car would be returned in one piece! They have really entered into the spirit of the event."
"A million pounds is a huge amount to go for but we're all confident that we can get to that goal. This year Toyota dealerships are the only place you can get a car red nose for a small £5 donation you can adorn your car with a nose – whether it is a Toyota or not."
Car red noses can be purchased from your local Toyota dealer or from the official Toyota Ebay store.