Toyota's independent Avensis racers scored their best-yet results in the Dunlop MSA British Touring Car Championship at Oulton Park, with Speedworks Motorsport driver Tony Hughes finishing all three races at the Cheshire circuit and Frank Wrathall achieving a 13th-place finish at the wheel of his Dynojet Racing-prepared car.
Wrathall's result, which came in the second of the day's trio of races, was all the more impressive given that the Lancashire driver had started 24th and last on the grid, the result of a race-one retirement with power delivery problems.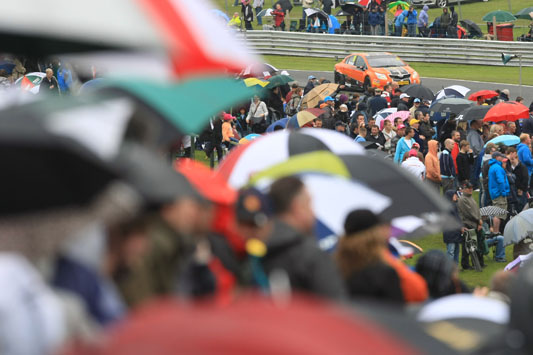 The fault – traced to an engine management calibration problem – was remedied minutes before the start of race two by the technicians from Dynojet and engine builder X CTech R, allowing Wrathall his first real chance of the season to demonstrate his Toyota's pace.
However, the weather did its best to hamper things: Frank gambled on the track continuing to dry and opted for slick dry-weather tyres at the front. Mid-race rain led him to rue the decision: "All the other cars around me were on wet tyres all round, and that made life very difficult. It was a question of managing with what I had and trying to stay out of trouble."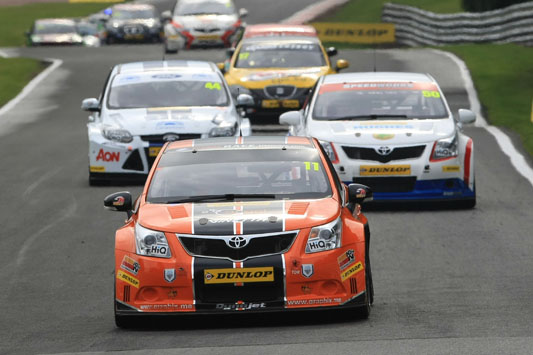 Nonetheless, Wrathall made steady progress through the field and by mid-distance had passed several cars, Hughes included, to rise to 17th position. A late-race safety car period gave Frank the chance to close on to the tail of some rivals, who were swiftly dispatched to promote him to 15th, and then he picked up a further two places on the final lap as others fell by the wayside.
"It was tough out there on those tyres," added Frank, "and my brakes weren't ideally set up either, but all that aside it's great finally to get a decent result on the board." The finish gave Wrathall his first point in the championship's Independents Trophy.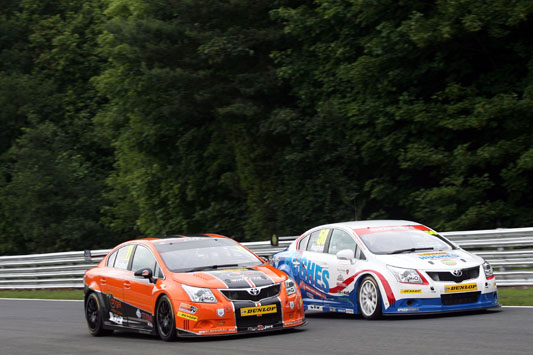 Stockport-based Hughes, who finished 14th to record his best result also, was just 2.2s behind Wrathall at the chequered flag. He was pleased too: "It was a good effort, particularly since it was so slippery out there. I had to make a big effort not to go off on several occasions. The Toyota performed beautifully; Speedworks gave me a great car this afternoon."
Hughes had earlier in the day posted a 16th-place finish in the first Oulton race and then rounded off his home-circuit event with 17th place in the final race of the day, Tony taking advantage of the drier track conditions to set his best lap time of the weekend.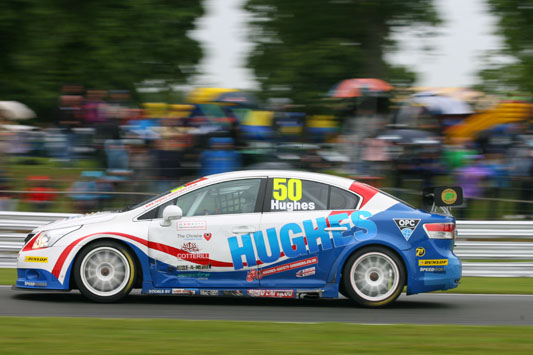 Speedworks boss Christian Dick praised his driver and the squad: "Three race finishes in a row is pleasing progress for us, and Tony was putting in some strong lap times at the end of that race. All in all it's been a good weekend for the team."
Frank Wrathall's weekend did not end so well: he was forced to retire the Dynojet car from race three after only four laps with mechanical problems.
"We're still not sure where the problem lies," said Frank. "I didn't have a great start because they held us for a long time on the grid and the engine was overheating a bit. After that things were going well until the fourth lap; I hit a kerb and noticed a vibration, and then there were oil pressure warning lights and it was best to pull off as a precaution. It's a disappointing end but we are taking positives from the weekend, in particular the car's performance in race two."
The Dunlop MSA British Touring Car Championship is back on track on 19 June at the Croft circuit in North Yorkshire.