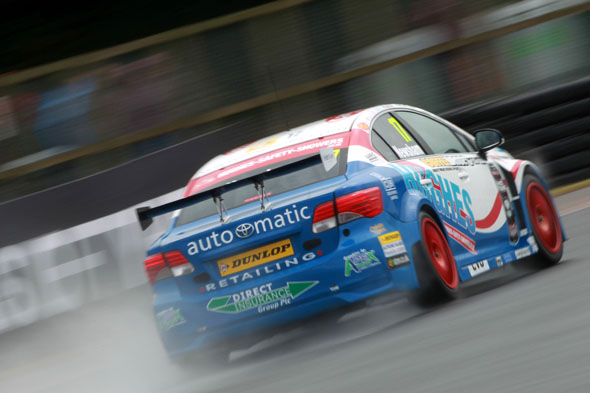 Toyota's quartet of Avensis-driving BTCC independents go back into battle on Sunday, looking to build on a solid start to the season and with the hope of more podium finishes during the second half of the year. Snetterton is the venue for this weekend's action, and the Norfolk circuit suited both Adam Morgan and Frank Wrathall in 2012, and provided solid results also for the Speedworks Motorsport team.
Morgan, 24, holds seventh place in the drivers championship after a phenomenal 14 consecutive points finishes at the wheel of his Ciceley Racing Toyota Avensis. Keeping up that momentum is top of his agenda for Snetterton: "My target for the weekend is three finishes and to get back on track after the mistake I made in the final race at Croft, which I am still kicking myself about. I want to be nice and consistent, hopefully from towards the front end of the grid, and to keep the points ticking over."
Adam recorded his first non-finish of the year last time out, sliding off at Croft in the atrocious conditions which afflicted round 15 and damaging his Toyota. Lancashire-based Ciceley Racing repaired the chassis in time to test at Snetterton last week, where Adam enjoyed a productive time. "We had quite a good day," he said. "It was our first time out since putting the Avensis back together after Croft, so it was a bit of a shakedown to begin with, making sure everything was OK, and then moving on to proper testing. We tried quite a lot of set-up changes, and it was a productive day, our times encouraging compared with others who were there and who have tested at Snetterton recently."
Morgan claimed a personal-best fifth on the grid in qualifying at Snetterton last year. "It is one of my favourite tracks – I love the infield bit – and last year I had my best qualifying there. It would be nice to repeat that and to repay the boys for all their hard work in repairing the car."
Wrathall and his Dynojet-prepared Toyota Avensis claimed their maiden BTCC pole position at Snetterton last summer, and Frank went on to take second place and victory in the Independents Trophy in the first race of the weekend. He says the team made good use of the two-day Dunlop tyre test at Snetterton earlier this month. "We didn't get a lot of running in," said Frank, "because we were experimenting with set-up changes which took a lot of time to make. While we didn't manage to find a set-up with which we were totally happy, we were at least able to eliminate some things. It was useful."
Wrathall, 26, is hoping that the second half of the season will prove kinder to him and his Toyota than the opening 15 races for, while he has qualified consistently in the top eight, he has claimed a top-10 race finish only on four occasions and is still seeking his first podium.
"Traditionally the second half of the season has been better for us. We know what we can do, it's just a case of getting everything right on the day and enjoying a bit of luck. We were on pole at Snetterton last year, and the quickest time set by anyone at the tyre test was not that much quicker than my 2012 time. We have done it once and we can do it again, although it will be hard."
Wrathall heads to Snetterton fresh from success at the Silverstone Classic last weekend, where he raced the vintage FujiFilm Cavalier to twin wins in the Super Touring Car Trophy races.
Speedworks Motorsport Toyota racers Dave Newsham and Ollie Jackson enjoyed very different fortunes last time out – Newsham raced to a best-yet fifth position while Jackson endured a variety of problems and left Croft with no points. Ollie, for whom Snetterton has been a local circuit for many years, is hoping for a change in fortunes: "Croft was pretty much an unmitigated disaster for me, from my driving in qualifying to the car in race one and the weather in race three. You never dare say things can't get worse, but I think it would take some pretty poor luck for us to have another weekend like that.
"I have lived very near Snetterton for many years, have been around there plenty of times, it's my home track and I'm looking forward to it. We tested there recently and got some good info from that. The Toyota was running well and we tried a load of stuff: I think we will have a good, solid car for Snetterton."
Newsham said of his recent Snetterton test: "It felt great to be back in the car again. We started with our base set-up that has been honed since June, and the car was beautiful to drive. The test highlighted that we now have a very well balanced and stable car that I can push really hard with. We will find out this weekend if it is as quick as it feels. My gut feeling is that it will be."
Sunday's triple helping of Dunlop MSA British Touring Car Championship action will be screened live on ITV4; first race is at noon.