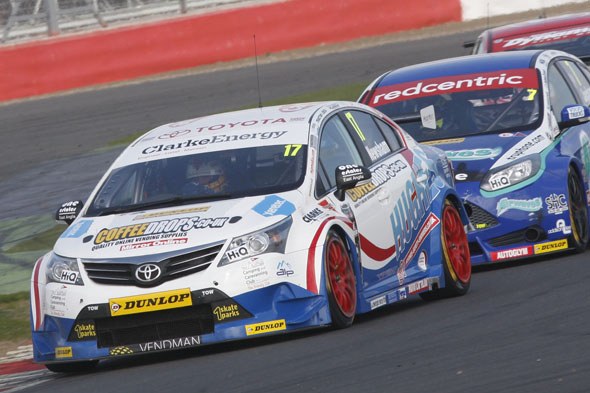 Toyota's independents Dave Newsham and Adam Morgan extended their runs of top-10 form in the BTCC today at Silverstone, with Newsham improving his overall placing in the Dunlop MSA British Touring Car Championship and Morgan consolidating his position as the series nears its climax.
With just three races remaining, Ciceley Racing driver Morgan holds seventh place overall in the drivers championship and third place in the Independents Trophy. Speedworks Motorsport man Newsham heads for the Brands Hatch finale on 13 October in 11th position overall and sixth among the independents.
It was Newsham who hauled in the most points at Silverstone today. After scoring his best qualifying result of the season with third, which was also the best ever by a Speedworks driver, Inverness-based Dave battled back from an early half-spin in race one to take 10th place. "I tried to brake late and left it too late, and the rear end got away from me; to finish only 10th in that one is disappointing," he said. He followed up with eighth place in race two and sixth in the finale after an entertaining late-race duel with Morgan.
Speedworks team principal Christian Dick was pleased by Newsham's progress: "We came to Silverstone with some clear objectives and we've smashed those. We have a good baseline set-up now and we should be able to build on that at Brands Hatch."
Newsham was lucky to emerge unscathed from the second race: he was shoved wide by another competitor at Becketts and the pursuing Dynojet Toyota of Frank Wrathall had to take avoiding action. "I made a really good start and came around the corner to find Dave sideways across the track," said Wrathall. "In trying to avoid him I got a bit sideways, and someone went into the back of me and spun me around. Then I came together with Rob Austin's Audi pretty hard. It was a really big hit and it's made a right mess of the Avensis." Frank, who finished race one in 14th spot, was sidelined for the rest of the day, a major disappointment after a promising Saturday qualifying had netted him fifth on the grid.
Newsham's Speedworks team-mate Ollie Jackson enjoyed little luck, either. He struggled with set-up in qualifying and finished race one 19th – his only finish of the day as accident damage and gearbox problems sidelined him from races two and three.
Morgan recovered from a poor start in race one to battle through to seventh in his Toyota, and got up to sixth in race two before he was forced to the pits with a broken gearbox. His Ciceley crew made short work of repairing the internals of the 'box to get Adam back on the grid for the finale. He started 19th on the quick but shortlived 'soft option' Dunlop tyres, smashing the circuit lap record as he charged through to the top 10.
Adam battled long and hard with Newsham but had to give best to his more experienced rival on the penultimate lap; Dave went on to pass Jason Plato to take sixth and Morgan finished eighth. "I'm pretty happy with that," said Adam. "My tyres were going off towards the end so I was having to take slightly different lines through the corners to try to preserve them. The lap record was a bonus I did not expect. The team did a fantastic job again for me this weekend and the Toyota has been mega."