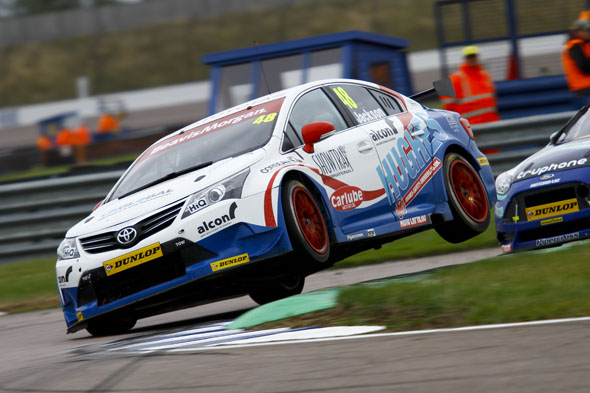 Toyota's quartet of Avensis-racing independents will be in action on the long and punishing straights of the Silverstone National circuit this weekend (28/29 Sep) when they contest the penultimate meeting of the 2013 Dunlop MSA British Touring Car Championship season.
Ollie Jackson, Adam Morgan, Dave Newsham and Frank Wrathall are all hoping to build on the promising performances of a fortnight ago at Rockingham.
Speedworks Motorsport man Newsham is keen to repeat the form which netted him his best points haul of the season so far. The Inverness-based driver scored a hat-trick of top-eight race finishes at Rockingham, and has good memories of previous successes at Silverstone: "Silverstone was the venue for my first win in the Clio Cup, in 2009, and it's the most successful circuit of my BTCC career, too. I was fourth there in 2011 and scored two podiums last year. I don't know why I always go well there, it just seems to suit me. Let's hope we can keep that record going, and build on the solid performance we produced at Rockingham last time out."
Dave's Speedworks running mate Ollie Jackson has meanwhile developed a consistent finishing habit over the last three meetings, with seven points-scoring results from the last nine races at the wheel of his Hughes Safety Showers-backed Avensis.
Key to Newsham's success at Rockingham was his strong qualifying performance, and that is something that Dynojet Racing's Frank Wrathall is keen to replicate this weekend: "We need to be back in the top 10 in qualifying. We have lost qualifying performance over the last couple of rounds and we need to get that back, because starting too far down the order puts you on the back foot."
Lancashire driver Wrathall will have a fresh 2.0-litre turbocharged Toyota engine under the bonnet of his Avensis at Silverstone, and he is hoping it will help at the notoriously power-hungry circuit. "A lot of it is about how well your engine is performing. The Wellington Straight is such a long one… if your engine is strong then you'll be in a good position. We were quick at Silverstone in 2012 and hopefully we can repeat that, but as always it's a question of how our car performs on the day compared with everyone else's."
Having today announced plans to move on to work with Ciceley Racing on another BTCC project in 2014, Adam Morgan is keen to end his Avensis-racing career on a high note at Silverstone and at next month's Brands Hatch BTCC finale. "I have fond memories of Silverstone," says Adam, who secured the Ginetta Supercup Championship title at the Northamptonshire circuit in 2011, "and hopefully we can have a good weekend. I am determined to keep hold of seventh place in the overall championship and third in the Independents Trophy, so I really want to push and be at the front again this weekend."
Ribchester-based Morgan, 24, has enjoyed the most consistent points-scoring record of all of the Toyota drivers, with 17 top-10 finishes, including a best of third, from his 24 races.
Silverstone's track action starts on Saturday with two free practice sessions ahead of official qualifying at 1540. The first of Sunday's trio of races, all of which will be screened live on ITV4, kicks off at 1155.