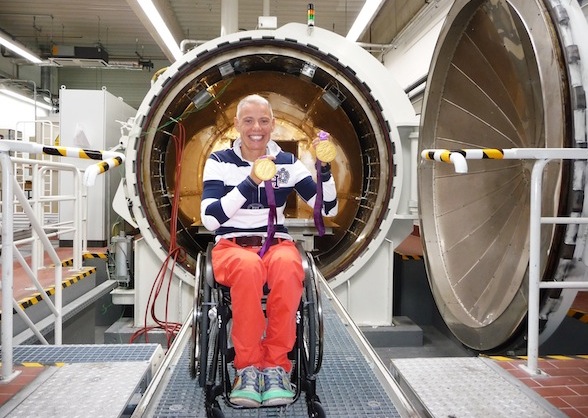 German Paralympian Andrea Eskau won her second gold medal of the 2014 Sochi Winter Games in the women's 5km siting cross-country skiing.
It was an eventful week since her victory in the women's 6km biathlon (sitting), in which she retired from two races due to asthma attacks and forfeited a bronze medal in the 1km sprint event after she felt she had impeded Russia's Marta Zajnullina; so to leave the games with a win was a fitting finale.
Eskau, 42, finished the cross-country race 18.4 seconds ahead of second-placed Ukrainian Larisa Pavlenko, while Oksana Masters of the United States took the bronze medal.
After the race, Eskau was quoted by R.Sport as saying: "I think it is destiny. Before the race I thought, 'if God loves me, he will even out my bad results during the week,'
"I had nothing left in my tank, so I basically ran on love and hot air today. I'm glad that it worked out."
[slider_pro id="45″]
Toyota Motorsport GMbH (TMG) helped develop the carbon-fibre sled that Eskau used throughout the Paralympics, creating a comfortable, light and figure-hugging design that could stand up to the harsh treatment of the biathlon and cross-country skiing events she took part in.
Read more about how TMG co-developed Andrea's ski sled in this post.
The two golds Eskau won in Sochi take her overall Olympic medal tally to seven – she previously won a bronze and a silver at the 2010 Vancouver winter games, two cycling golds at the London 2012 summer games and one in Beijing in 2008.
Read more about TMG's everyday work of developing the Toyota Le Mans Prototype racing cars here and get a sneak peek at its 2014 competitor, the TS040 Hybrid, here.