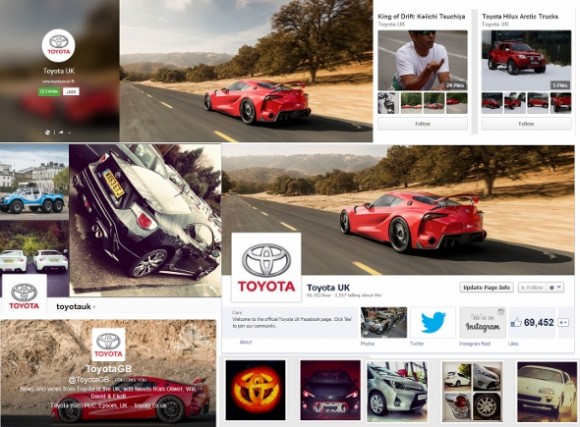 We're big fans of social media at Toyota, and get a buzz out of sharing and discussing some of our most exciting news with fans on our Twitter account, Facebook page, and YouTube channel.
Now, a new wave of social media media channels, such as image-enhancing app Instagram, social network Google+, and photo-sharing website Pinterest are growing in popularity, and we're up-and-running on them.
If you're a Toyota owner, proud petrolhead, photography fan, or all three; you'll find much to enjoy on our official Instagram account. Highlights include an exclusive behind-the-scenes GT86 drifting shoot-out, and hybrid driving videos, motor show round-ups, and behind-the-scenes photos of life at Toyota in the UK – including a look at our heritage fleet, and participation in special events such as the Goodwood Festival of Speed. You can also share your own Toyota photos with us by using @ToyotaUK.
Google+ now boasts over 318.4m global active users, and the mobile-friendly platform is a great way to access our news and features on the go. Eagle-eyed readers may have noticed that the Toyota blog team now has Google+  linked-up to the articles that they author, meaning you can get to know each member a little better. Over the coming months, we'll be posting more and more to Google+ – check out our latest here.
Finally, we hope that you'll be 'Pinterested' to know that Toyota is on Pinterest. Have you got a dream Toyota garage that you'd like to share with us? Or do you want to see a round-up of some of the coolest and most inspiring Toyota-based content from across the web? If the answer to either of those questions is "yes", then our official Pinterest page is the place to be.
If you have any feedback on our social media activity, please leave a comment below – we'd love to hear from you.
In the mean time, information on all of the models in Toyota's range is available on the Toyota UK website. If you'd like to test drive a particular car, leave a comment below and we'll get back to you shortly.