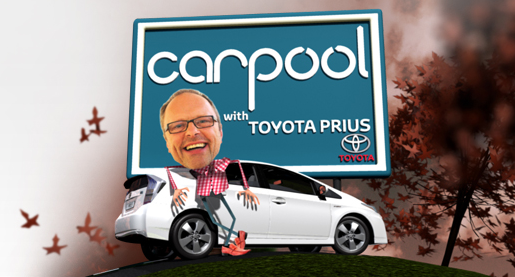 This week Carpool heads north as Robert Llewellyn and his Prius find themselves in Edinburgh with two more very funny guests.
Joining Robert tonight is comedian and team captain on BBC 2's Never Mind the Buzzcocks, Phill Jupitus. The two of them take a drive through the Scottish capital and invent an alternative version of the history behind some of the city's famous (and not so famous) sites.
Next up is comic actor Toby Williams, who is better known as the terrifyingly funny Dr George Ryegold. The good Doctor has been raising laughs and eyebrows at the Edinburgh Festival Fringe – now it's Robert's turn to sample Toby's bedside manner…
Carpool airs at 8.30pm, every Wednesday on Dave (Sky 111, Virgin 128, Freeview 19). Don't worry if you miss it, you can catch the episode an hour later on Dave Ja vu (Sky 158, Virgin 129, Freeview 25).