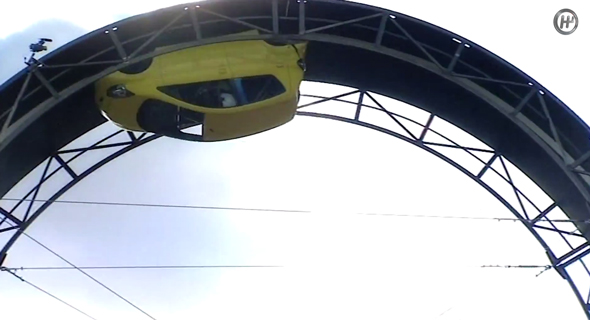 Fifth Gear has celebrated the milestone of reaching 100,000 YouTube subscribers by releasing a five-video playlist of its attempt to recreate a Hot Wheels loop the loop in a Toyota Aygo.
It was described as Fifth Gear's most dangerous stunt ever, when stunt driver Steve Truglia attempted the world-record breaking loop the loop in an Aygo that had some previous form.
The Aygo was actually a substitute in Top Gear's famous car football match but was diverted to Fifth Gear for its stunt.
The track was a 40ft high loop that took the car and driver through forces up to 6G. It was a delicate task for Truglia, who not only had to hit the ramp at the optimum spot, he had to do it at an exact speed too, so had to switch between looking ahead and at the speedo to make sure he could complete the stunt.
Watch Fifth Gear's playlist to see how he and the Aygo got on.
By Iain Reid